Former Scripps Networks International president Grey Moyer (pictured) has launched Blue Chalk Media, a production company focused on creating short-form documentaries and other forms of digital content for news outlets and non-profits.
Moyer will work as CEO alongside his business partner and chief operating officer Pam Huling, formerly the head of business development at multimedia studio Mediastorm and director of photo services for Discovery Communications.
The company is working with clients such as NPR and ProPublica, and prodcos Part2 Pictures and Wall to Wall to create what Moyer calls "picture-led" stories for digital platform that will incorporate elements of documentary and photojournalism.
Blue Chalk has six full-time staffers working in its New York headquarters and satellite office in Portland, and its roster of freelancers hail from the worlds of photojournalism, documentary film, cable TV and digital communications.
Moyer began his career in television at Discovery Communications in 1985 and rose to the position of chief creative officer. In 1999, he moved into programming at AMC Networks and joined Scripps a decade later, where he oversaw the roll out of Food Network in the UK and Asia, and Fine Living Network across Europe, the Middle East and Africa.
The decision to launch a company focused on journalistic and documentary-style storytelling was a response to the documentary's shifting role in the media landscape.
"What I'm sensing lately is the success and popularity of scripted reality series is pushing real documentary off the channel guide and on to digital video," he explained in an interview with realscreen. "I'm following that trend by building a company that will work with journalism brands and other entities like non-profits that want to use journalism and real-world storytelling to get a message across."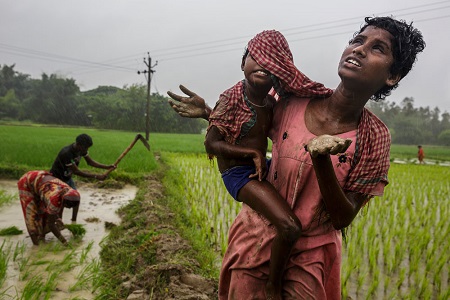 Blue Chalk's inaugural project is First Sight: Sonia & Anita (pictured), a collaboration between photographer Brent Stirton, cinematographer Robert Wilson, editor Greg Snider, composer Tyler Strickland and executive producer Rob Finch for non-profit WonderWork, which provides low-cost intervention surgeries for children.
Content will primarily take the form of short videos distributed via digital platforms and social media, though Moyer is not ruling out producing long-form documentaries at some point in the future.
The goal is to build a client roster of news outlets interested in supplemental video content to round out editorial packages. He is in the midst of negotiations with "major news brands" and hopes to finalize deals in the coming weeks.
"There is an opportunity for news brands to become curatorial in the way they source and then distribute high-quality visual storytelling consistent with their brand," he said. "That's what I'm selling to companies that have for many years prided themselves on their print product. They may have done some video but haven't yet done the full range of possibilities, not all of which they commission themselves.
"It's not inconceivable that the next reality hit show is going to come from Condé Nast Entertainment as opposed to a lifestyle cable network," he added. "I think that same possibility exists for stories that are more information-based, coming from news brands."
"They have an opportunity to become video curators on the web and to put together stories and submissions that are brand consistent, but not necessarily commissioned by those entities. Nobody can commission enough content to succeed in the digital world. That might be how we help people innovate."