44 Blue Production's president Rasha Drachkovitch talks realscreen through the pitch for Wahlburgers, a forthcoming A&E reality series following the infamous Wahlberg brothers Mark and Donnie, their brother Paul, and their mother, as they open up a burger restaurant chain.
The idea for Wahlburgers came to Rasha Drachkovitch, 44 Blue Production's president, when he read an article announcing that the three Wahlburg brothers – Mark, Donnie and Paul – were opening a burger restaurant. Interested in a series in that space, the producer reached out to his agent, WME, which he shares with Mark Wahlberg.
The youngest Wahlberg sibling – who is famous for acting in films and producing TV series including Entourage and Boardwalk Empire – met with Drachkovitch at The Polo Lounge in Beverly Hills and said something to the effect of: "You really think there's a reality show with our restaurant?"
Once Drachkovitch had assured him the idea to follow his family launching a burger franchise was solid, Wahlberg gave him one instruction: go to Boston and meet the rest of the Wahlberg family.
"They took me in as only a Boston family does, very loving and entertaining," Drachkovitch tells realscreen. "From day one, it was meeting the characters – Paul; Alma, the mother; Donnie and the local real-life Entourage, the real-life Johnny Drama, Mark's buddy Nacho, who's an extreme eater, Billy the investor… and it was fantastic, so we did a sizzle."
The sizzle was originally pitched to History before it landed on A&E Network, which David McKillop, executive VP and general manager of A&E Network, explains was the result of the new leadership of Nancy Dubuc, president and CEO of parent company A+E Networks.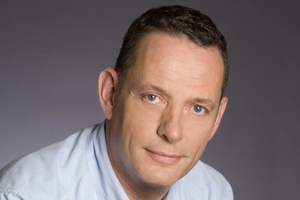 "[Dubuc] really put it on the brand heads to manage the brands as a portfolio, rather than silos. So sometimes a project comes into one of the brands and they end up as a better fit, content-wise, on another," says McKillop (pictured, left).
"[Wahlburgers] came in to History and we looked at it and thought, it could be a History show, but because of the family element, it's probably a better fit for A&E. We took over the project and did some additional shooting to bring it into compliance with the A&E brand."
Drachkovitch says the sizzle didn't have to explain who Mark and Donnie are, and focused more on Alma – who he says is the glue of the family – and Paul.
"She's got this gravely voice and big personality, and she's very humble," he says. "And what we loved about Paul was that he really cares about one burger at a time, that's his whole thing, pleasing each customer.
"We really found in the sizzle that the dynamic is Mark wants to go global, Paul wants to stay in Boston, and there's a scene at the dinner table with Mark saying 'I want this to go big,' and Paul weighs in and says, 'but I want to do one burger at a time' and then Alma speaks and says 'this is who we are, and this is where we're from.'
"Mark hears that and says, 'I run my business, and I have so much going on, but when my mom talks, I listen.' That's the sweet spot, that you get to peek into this famous family to see how they get along."
The peek into the family carried into the pitch itself, when Drachkovitch brought Mark, Alma and Paul Wahlberg to the A+E office in New York.
"Alma took a train down from Boston to Union Station and Mark didn't get her and she had to walk to A&E from Union, which is about 10 blocks," he recalls. "I was standing outside of A&E waiting, and Mark had just arrived. We're standing there and we see Alma walking toward us and you hear Mark go, 'Oh, s**t. I'm in trouble.'
"She comes up to him and hits him on the shoulder, 'What kind of son are you, not even getting a car for your own mother?' They fought playfully through security, up the elevator and into the conference room. Meanwhile it's a pitch to A&E."
It's that family dynamic that appealed to A&E, McKillop says. "You'll see in this show how the rest of the brothers and the mom have rallied to give Paul the support he needs. It's a celebration of family, it's a celebration of brotherhood, and a celebration of entrepreneurial-ism and success."
The nine-episode series Wahlburgers, produced in association with Closest to the Hole Productions, Leverage Entertainment, and Donnie D Productions, will premiere on January 22 on A&E Network in the U.S., airing after Duck Dynasty.