This March, Fox and National Geographic Channel will bring one of the most venerable science documentaries back to a new global audience via Cosmos: A Spacetime Odyssey, with help from the team behind the original 1980 series, and executive producer Seth MacFarlane. Realscreen offers a first look at what should be one of the year's most awe-inspiring and entertaining television events.
The universe works in mysterious ways.
Some 34 years after Dr. Carl Sagan presented the 13-hour science series Cosmos: A Personal Journey on PBS, a combination of creative vision and hard work, spiced with a dollop of cosmic chance, is resulting in a 21st century reboot of the series – Cosmos: A Spacetime Odyssey.
The new 13-hour edition, debuting on Fox in the U.S. on March 9, National Geographic Channel on March 10, and globally via National Geographic Channels International during that week, brings together Ann Druyan – widow of Carl Sagan and co-writer with the astrophysicist of the original series as well as six New York Times bestsellers – with renowned astrophysicist and cosmologist Neil deGrasse Tyson, and Seth MacFarlane, best known for creating the animated Fox comedy hit Family Guy, as well as the feature comedy Ted.
With the original Cosmos being the most globally successful American public television series of all time, having been seen by some 800 million people around the globe, one would think that the impact of the original might cast an asteroid-sized shadow over any thoughts of adding to the saga.
But to hear Druyan and Tyson tell it, the question wasn't really if there would be another chapter to the Cosmos saga. It was merely a matter of when.
Druyan says she and Mitchell Cannold, president of Cosmos Studios, embarked on the mission to create a new Cosmos some seven years ago, enlisting Dr. Steven Soter, a co-writer with Druyan on the original series, to come on board, and shortly afterward, the new host.
Tyson says he doesn't remember a specific day in which he was asked to take part in a future Cosmos; rather, he says it was something that was always "in the air" once he became better acquainted with Druyan. Shortly after Sagan's death, Tyson (pictured below) was asked to join the Planetary Society, an organization co-founded by Sagan and devoted to, in Tyson's words, "promoting public interest in, and access to, space."
From there, says Tyson, "Given that I would now see her two or three times a year at board meetings, it became a natural conversation to explore what the next Cosmos would look like in time." Druyan, for her part, says Tyson "was always the first choice for me. He has that passion to share his knowledge, a charismatic personality, he's got the scientific cred, and also that desire to connect."
In shopping the project to prospective networks, Druyan says: "Invariably they all had the same outcome. This or that network really wanted it but they weren't prepared to do it on a scale that would be commensurate with the breakthrough that the original series was for its time, and that wouldn't allow me to have the creative freedom to do what I wanted to do."
Enter Seth MacFarlane. The Family Guy creator had first met Tyson through an organization called The Science and Entertainment Exchange, created to facilitate communication between producers and directors and the scientific community. A later lunch meeting led to talk of the new Cosmos, and the assorted networks that the team had been presenting the project to.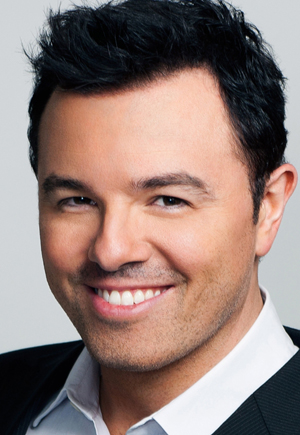 "It seemed to me that as great as a revival of Cosmos would be, if it were only on a science-oriented network, you'd be preaching to the converted, so it seemed that a larger audience would be something to shoot for," recalls MacFarlane (pictured, left).
"I felt the regime at Fox was, and is, particularly open-minded and visionary, and if anyone was going to bite it would be these guys. And sure enough, Kevin Reilly and Peter Rice have really championed this project in a section of media where educational content isn't always the most popular and commercially viable thing. They've taken the leap with us."
The deal also brought National Geographic Channel, jointly owned by Fox Cable Networks and National Geographic Television & Film, to the table. Network president Howard T. Owens, who calls himself "a lifelong fan" of the Cosmos brand, says bringing the new 13-part series to his net fits in perfectly with its "smart is cool" agenda, as exemplified through such recent hits as Brain Games and series such as The Numbers Game and the upcoming Showdown of the Unbeatables.
With the partners in place, work began in earnest and the team behind the project was bolstered by the addition of Brannon Braga (the Star Trek franchise, 24) as an exec producer and primary director along with Bill Pope (who worked on the Spiderman and Matrix franchises); Jason Clark (Ted, 42) as producer; Rainer Gombos (Game of Thrones) as VFX supervisor and a host of respected VFX and animation companies – BUF, Framestore, Atomic Fiction and Tippett Studio among them – bringing Cosmos into the 21st century.
The news of the brand's return, and the players involved, was greeted with global media attention, and a sizable portion of that devoted to MacFarlane's involvement.
While his work to that point, including a recent stab at hosting the Academy Awards, was bound to spike interest, Druyan says she was somewhat surprised by the reactions of some press pundits.
"Family Guy is known for its wit and willingness to have a perspective which ridicules pretense and phoniness," she says. "And there's no greater phoniness detector than science. So it surprised me that people didn't put those things together."
"I expected some degree of eyebrow-raising from some of the mainstream media," says MacFarlane. "The fans of Family Guy and people who have followed my career over the years know that I have an interest in science, and certainly in the popularization of science, so I don't think it was as much of a surprise to them."
MacFarlane says his role is akin to being a test audience, looking at cuts and offering insight into what he feels the strongest moments are. Both he and Tyson say Druyan is the major creative force behind the new series – "She has the 'genetics,' as co-author of the original series," says Tyson – and her oversight provides a thread between A Spacetime Odyssey and the original that goes far beyond names in the credits.
"It's those twin engines of skepticism and wonder, never one at the expense of the other," she says about that thread. "That's what Carl and I strove to imbue every episode of the original series with – the idea that you don't have to feel something at the expense of what you know, and the more you know, the more you can feel."
While the series isn't aggressively targeting a younger demo that typically flocks to whiz-bang, CGI-saturated content, given its roll-out both via a general entertainment broadcaster and a global cable network, the Cosmos team is investing heavily in bringing a cinematic flair to the science within, but not at the expense of the science.
"That harkens back to Carl's mission statement – at one point he said he wanted people with no interest in science to watch it anyway because it was such a spectacle," says MacFarlane. "He hoped Cosmos would be something that would have such a P.T. Barnum flair about it that the science would go down with a spoonful of sugar."
"It got great buzz at Comic-Con in San Diego when Neil screened the clip," says Owens. "But Cosmos is not about an age, it's about a mindset. One of our tenets is to rekindle one's childlike awe of the world, and nothing does that more than Cosmos."
Beyond the advances in VFX wizardry that will give some Cosmos hallmarks as the Ship of the Imagination and the Cosmic Calendar a fresh coat of paint, the other most obvious difference between the two series will be seen in the host. An author of 10 books, a former host of PBS' NOVA Science Now and a frequent guest on such chat shows as The Colbert Report and The Tonight Show, Tyson's high profile – he's also the first scientist to attract more than a million Twitter followers – makes him a smart choice to be the face of the new Cosmos.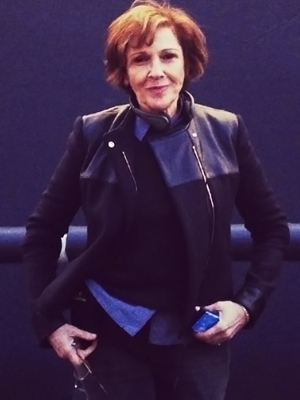 And even though the brand and Carl Sagan are inextricably linked, Tyson says he doesn't find it daunting to step into the host role.
"I can't be Carl Sagan, but I can be an awesome version of myself," he says with a hearty laugh. "If Cosmos to you was only Carl Sagan, then we can never satisfy you. But Cosmos was more than that. It was a manifesto, a statement on how to embrace science and how to become a good shepherd to this earth that sustains us. If that's the message you got from it, then we will continue that message in this next Cosmos, and you will have a new host that will deliver it."
With work on the series now firmly in the post-production phase, that delivery is eagerly anticipated by scores of fans, and doubtlessly by the Cosmos team itself. Druyan (pictured, above), Tyson and MacFarlane all say they hope the series will, to use Tyson's words, "reignite people's curiosity for the unknown."
"As Carl used to say, we are 'star stuff,' having come from the hearts of distant stars to be recycled into this form of consciousness that lives for maybe 100 years at the most," sums up Druyan. "And the greatest thing you can learn from science, from my point of view, is the miracle of existence, and also that feeling like a part of the universe is much better than pretending to yourself that you're the center."
Cosmos will premiere on Fox in the U.S. on March 9 at 9 p.m. EST, encoring with bonus footage and behind-the-scenes content on the National Geographic Channel on March 10 at 10 p.m. EST.
Austin-based festival South by Southwest will host a special preview event for Cosmos in March.
This article first appeared in the January/February 2014 edition of realscreen magazine, which is out now. Not a subscriber? Click here for more information.