Director Stanley Nelson (pictured) tells realscreen how his latest Sundance doc Freedom Summer takes viewers back to the summer of 1964, when thousands descended on Mississippi to push for African-American voter rights.
Screening in the Sundance Film Festival's Documentary Premieres section, Freedom Summer is a follow-up of sorts to Stanley Nelson's previous film Freedom Riders, which screened at the fest in 2010, with both documentaries exploring the Civil Rights movements in the U.S. South during the 1960s.
"It's the 50th anniversary this year [of the Freedom Summer of 1964], so it seemed natural to make this film," Nelson tells realscreen. "It feels like on the heels of Freedom Riders comes Freedom Summer."
The film, made for PBS's 'American Experience,' features archival footage and interviews with volunteers who were there, and is presented without narration. The director says his team had a bounty of footage to select for Freedom Summer, which was a drastically different experience from Freedom Riders.
"Freedom Riders took place in 1961 and Freedom Summer in 1964, in those three years, the Civil Rights movement had really taken off and become big news," he says. "So there were a number of independent photographers who attached themselves to Freedom Summer and went down there and took pictures. A lot of them [were] young guys who cut their teeth taking pictures in Mississippi."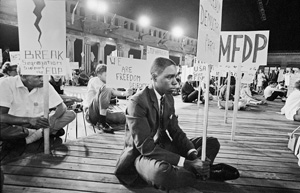 Nelson adds that while most of the footage came from news channels – NBC, CBS, ABC – his Firelight Films team did get a fair amount from a Canadian broadcaster.
Another great resource was the Mississippi Department of Archives and History, which provided letters, stills and Super 8 footage. All told, it took a year to round-up the footage and find the interview subjects.
He says other festivals have been in touch, although nothing is confirmed yet, and the U.S. television premiere is set for June 24 on PBS.
Currently, Nelson is working on a PBS 'Independent Lens' film on the Black Panther Party, as well as a film on the history of black universities and another on the Atlantic slave trade.
"We're doing three really different films in three different eras and it should be really interesting," he says.
Freedom Summer screens at the 2014 Sundance Film Festival on January 24 at 9 a.m. MST and January 25 at 6 p.m. MST
Check out the trailer for the film below.