As Print the Legend, a doc on the fast-paced race for 3D printing domination, enjoys its world premiere at SXSW, directors Luis Lopez (pictured, left) and Clay Tweel (right) tell realscreen how they hope their film will be a time capsule of the emerging industry.
Focusing mainly on two upstart companies, MakerBot and Formlab, Print the Legend follows the evolution of these competing businesses as they aim to dominate the market for 3D printers, which have the potential to give people an opportunity to print everything from chess pieces to human organs.
And in some cases, guns, as the documentary shows when it makes room for controversial anarchist Cody Wilson, who began posting YouTube videos showing how to make and use weapons created from 3D printers.
Here, the filmmakers talk realscreen through how the film started out as an Apple documentary, and explain why SXSW is the perfect venue for Print the Legend's world premiere.
What's the origin story behind Print the Legend?
Luis Lopez: "Clay and I had worked with Seth Gordon and executive producer Mary Rohlich on Freakonomics in 2010, so the producers of that film came to us and were interested in doing an Apple documentary. We started the development process and we started to think about wouldn't it be cool to find the Apple of the next generation.
"We started sniffing around different technology and hacker spaces to find out, and quickly stumbled upon 3D printing."
Clay Tweel: "Bre [Pettis, CEO of MakerBot] was just on the Wired cover and that put him on our radar pretty early on. Right around the same time, Formlabs had their Kickstarter campaign that went so well. We were interested in this technology and then two of these companies really popped up in pop culture in a really interesting way."
What was the timeline of production?
CT: "Right around the end of 2012. It's been about a year and a half journey for us. That's a pretty short amount of time to see such massive growth and change at a lot of these companies. It just goes to show how fast 3D printing is moving as an industry, to be able to catch that Silicon Valley idea, of people going from garages to big offices and millions of dollars.
"Our style of filmmaking, there's a lot of trying to get verite moments. We didn't know where the story was going, we just knew it seemed like a rich environment. Some of the other conversations we had earlier on were software versus hardware start-ups.
"With the dot com era boom of the late 90s, software startups can get going and make a lot of money [quickly] and I think with 3D printing, we're seeing where hardware start-ups can get moving and make money really fast."
How did you finance the film?
LL: "The producers of Freakonomics funded the film."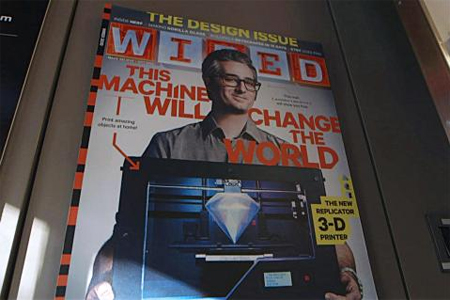 Can you talk about the access? Your film documents office upgrades and management changes.
LL: "We were given a lot of access. I think Max [Lobovsky, co-found of Formlabs] was a little hesitant at first, because he doesn't like to be on camera or the center of attention. That relationship developed."
At what point did you decide to include anarchist Cody Wilson?
CT: "Cody is a fascinating guy and he started popping up at the end of last year, when he started releasing his AR-15 lower receiver videos and we weren't exactly sure how he was going to fit in the story. We just thought he was a compelling person, and through a lot of serendipity we were able to capture a lot of those amazing events as they unfolded as he was releasing designs and uploading videos."
LL: "It's worth mentioning that part of our methodology isn't specifically going towards one story or agenda. Once we started getting excited about 3D printing and looking around, following our noses and meeting everyone, [Wilson] is a pretty electric character."
Where does the film go after this? Do you have a distributor?
CT: "We are currently trying to play in that ball field and we don't have a distributor as of yet but we're looking for one currently."
What does this world premiere at SXSW mean to you?
CT: "SXSW is what we were shooting for all along, knowing that they have a very strong maker culture and the tech culture is all tied in with music and film. I think we often talk about it in our grander dreams, [that] hopefully we might've been able to capture a time capsule of this emerging industry. It'll be interesting to look back five to 10 years from now to see which of these companies are still around and thriving."
Print the Legend had its SXSW world premiere yesterday (March 9) and screens again in Texas today (March 10) and on Wednesday (March 12).
Check out the trailer for the film below: