Canadian festival Hot Docs is to kick off this year's 197-film program next month in Toronto with the international premiere of Brian Knappenberger's The Internet's Own Boy: The Story of Aaron Swartz (pictured).
The film, about the life of the late computer programmer and Internet activist, will launch an 11-day documentary slate, running from April 24–May 4, that will showcase films from 43 countries across 12 programs.
In the Canadian Spectrum program, notable films include Thomas Wallner's Before The Last Curtain Falls, which portrays the off-stage lives of six ageing Belgian transvestites and transsexual performers; Vic Sarin's The Boy from Geita, the story of a young Tanzanian boy with albinism surviving a brutal attack; Ray Klonsky and Marc Lamy's David & Me, following a filmmaker's quest to prove a man's innocence 28 years after his incarceration; and John Kastner's Out of Mind, Out of Sight, a follow-up to last year's Hot Docs title NCR: Not Criminally Responsible, which follows the filmmaker's return to the Brockville Mental Health Centre to capture patients struggling for control of their lives.
Meanwhile, in the International Spectrum program, docs will include Robert Greene's Actress, a hybrid, present-tense portrait of The Wire actor Brandy Burre; Gabriel London's The Life and Mind Of Mark DeFriest, a look at the titular Florida jail-breaker who is determined to escape the violence and despair of prison; and Helen Simon's No Lullaby, which promises to look at three generations of a family that are silenced by a horrific secret.
The festival, which as previously reported is this year honoring Danish commissioner Mette Hoffmann Meyer as its Doc Mogul, will also screen a Made In Denmark program, featuring docs such as The Agreement, A Different Kind of Boy, and Songs for Alexis.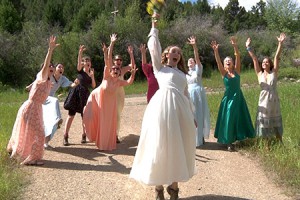 Hot Docs will also host a section entitled 'Love, Factually,' featuring romantic-themed documentaries such as Doug Block's 112 Weddings (pictured, left), Philip Cox and Hikaru Toda's Love Hotel, and Geeta V. Patel and Ravi V. Patel's Meet the Patels.
"We are so proud to be showing these incredible films and combining them with amazing live events and experiences," said Hot Docs director of programming Charlotte Cook in a statement. "We truly hope it will be a festival of ideas, discussion and amazement and we're looking forward to bringing the best filmmaking in the world to the world's greatest audience."
The 2014 festival will also play host to a number of special events, including the international premiere of Sam Green's 'live doc,' The Measure of All Things, which will be presented for one night only on Saturday, April 26.
The project will feature Academy Award-nominee Green and New York musicians The Quavers taking the stage to present a 'live doc' inspired by "the most curious, wonderful and shocking stories from the Guinness World Records book," weaving together portraits, interviews and archival footage of the book's most memorable characters, with Green narrating over The Quavers' live soundtrack.
The festival will also be teaming up with Entertainment One (eOne) and Cineplex Entertainment to bring back its Hot Docs Live! Simulcast initiative, with the Canadian premiere of Super Duper Alice Cooper.
Directors Reginald Harkema, Scot McFadyen and Sam Dunn will join rock icon Alice Cooper on-stage in Toronto for the premiere and a post-screening Q&A that Cineplex Entertainment's Front Row Centre Events will simulcast to 47 theatres across Canada.
"If I said we had a secret plan to bring Alice Cooper, three great Canadian filmmakers, and the Hot Docs Festival into communities coast-to-coast, I'd be lying," said Brett Hendrie, Hot Docs' executive director. "But, happily these pieces came together and now national audiences from Saint John to Victoria will be able to attend Hot Docs."
As previously reported, Hot Docs will this year be honoring Adam Curtis and John Zaritsky with retrospectives.