Two of the biggest stars in recent months haven't been actors, but daredevils carrying out death-defying stunts before live global audiences. In a post-Baumgartner and Wallenda world, realscreen investigates whether networks and productions companies can carve out new stakes in the stunt arena and not get anyone killed in the process. 
For climbers on Mount Everest, the atmosphere-scraping area above the 26,000 feet mark is called the death zone. There isn't enough oxygen to sustain human life, and shifting ice, crevasses, avalanches and hurricane force winds threaten every step. It's an unforgiving environment for even the world's most seasoned and able climbers.
Now imagine doing a live television show there.
This was the challenge Discovery Channel presented to Sharon Scott, president and general manager of NBC's production arm Peacock Productions, which produced highwire artist Nik Wallenda's harness-free walk across the Grand Canyon for the cable network in June 2013. This time, Discovery – with Scott's help – was determined to document high-altitude climber Joby Ogwyn (pictured below) and his attempt to make the first wingsuit flight off the Everest summit.
"Having it live is one thing, but actually making it happen is a whole other thing," says Scott. "How do we get six cameras up Everest if helicopters can only fly so high? How do we ensure we don't lose the signal as soon as he flies in the air? Where does he land? And how will we get it all back to New York?"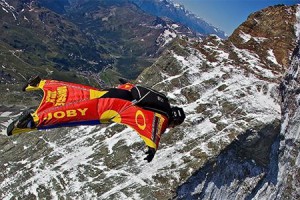 Scott's countless considerations ahead of the May event reflect the reality for networks and production companies eager to join the live programming arena and reap the exposure and ratings these specials virtually guarantee.
"There was a time in cable where live was expensive and perishable and not worth the money, because everyone was building brands and successful strands, and live is a big chunk of money just for one night," says Scott. "But now, given that there are so many different ways to view, and no one views in real time, the only way to get people to do something as a group and talk about it the next day at the water cooler is to go live."
In a landscape of rapidly shifting television viewing habits and a social media-obsessed culture, high risks can mean high pay-offs, and stunt-based live television could have an exceedingly bright future, as long as its myriad hazards are kept in check.
"We have to make sure it's not all death-defying stunts," says Scott. "It's a great category and there are some excellent experts in the world who are willing to do record-breaking stuff that we'll cover, but we would never say 'yes' to everything."
Heather Moran, executive vice president of programming and strategy at National Geographic Channel (NGC), spoke to realscreen a week away from the March 14 airing of Live from Space, the network's real-time broadcast from the International Space Station (ISS) and NASA Mission Control in Houston, Texas.
The event, produced by London-based Arrow Media, is one giant leap for the brand, which last went live with Nat Geo Wild's 2011 special Shark Attack Experiment.
"Logistically, [Live from Space] is a very ambitious thing to do, so we have a team that's focused on it here at the channel that's pretty much working 24 hours a day, seven days a week," says Moran.
The ISS's orbit of Earth every 90 minutes lends itself well to the two-hour event, which promises audiences a "trip around the world." Astronauts Rick Mastracchio and Koichi Wakata will give viewers a tour of the facility and conduct experiments that demonstrate the scientific breakthroughs achieved on the ISS, while astronaut Mike Massimino will be in Houston for an on-the-ground perspective.
The only problem, which is inherent to the genre, is that despite exhaustive planning, there's little control over what might happen on-air.
"The space station has blackout periods where you lose the signal and those blackout periods change," explains Arrow co-founder and producer Tom Brisley, who approached NGC with the concept 18 months ago, and is also producing the event for the UK's Channel 4.
"We're a week away from the eve of the live program and we still don't know for sure what those blackout periods are," he says.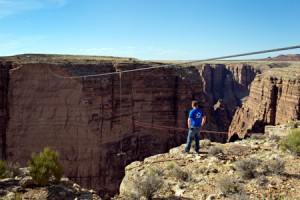 Howard Swartz, VP of production and strategy at Discovery Channel, can relate. Having overseen Discovery's coverage of Felix Baumgartner's world record-breaking jump from space in 2012′s Red Bull Stratos project and, most recently, the aforementioned Skywire Live with Nik Wallenda (pictured left), in which the daredevil walked 1,500 feet above the Little Colorado River and across a distance of about 1,400 feet, Swartz is quite familiar with the stress inherent in producing live shows.
"What was a surprise was how difficult the walk appeared to us watching it in the control room," he says of Skywire Live. "I think Nik had to work really hard for most every step on that walk and that was really unnerving for us, especially when he had to kneel down once or twice."
Now, just a few months away from Everest Live – a firm date can't be finalized until a good weather window opens on Everest in May – Swartz and his team are gearing up for another, more literal, uphill climb.
"The jump is what's getting the most attention and headlines, but in truth, summiting Mount Everest in and of itself is an absolutely enormous undertaking and a hugely dangerous feat," says Swartz. "Part of the drama of what Joby is undertaking is not just the jump, but also the ascent."
But despite the stress of live stunts, these high-stakes events pay their dividends. Skywire Live was Discovery's highest-rated special since Walking with Dinosaurs and Raising the Mammoth in March and April of 2000. Swartz adds that the walk generated 1.3 million tweets, peaking at about 40,000 tweets a minute – numbers likely boosted by a second-screen strategy which involved an online-only show with host Chris Jacobs from a separate Grand Canyon set that played when the linear program cut to commercial breaks, providing viewers with a non-stop immersive experience.
"It really created this online community that got behind us, making a lot of noise as the event was unfolding," says Swartz, adding that the network is planning similar assets for the Everest jump.
National Geographic Channel launched its own second-screen plan a month before the Live from Space premiere. Beginning February 18, fans could post a video question to the astronauts using Instagram, with selected questions sent to the ISS for a personal response during the live show. The website, livefromspace.com, is also optimized for multiple platforms and will allow viewers to track the ISS and learn about the countries it crosses in its path.
But regardless of whether audiences hear about a program through Facebook or Instagram, they are tuning in to stunt-based live specials because they break free from typical, pre-packaged content – with live, anything can go wrong. The key for executives such as Swartz is to draw viewers in while ensuring nothing does.
"We would never undertake a project that had the risk levels of a Nik Wallenda walk or a Joby event from Everest unless we had confidence that the folks undertaking these events were absolute masters of what they do," says Swartz. "We would never do something with a 20-year-old yahoo with a death wish, who was just an extreme athlete wanting to do something crazy."
Peacock's Scott adds that it also falls upon producers to assess the risks involved from two different perspectives: the audience's point-of-view and the safety of those physically involved in the stunt.
"From the audience's perspective, there's that absolute, complete plan on 'What do you do if…' and that plan is pages and pages long. It's rehearsed and scripted and it's everything we could possibly do to make sure the viewer doesn't see or feel something that shouldn't be on television," says Scott.
"The other side – for us as a production company and Discovery as a partner – is how do we protect every single person who goes out there."
But what are the limitations? Are there some boundaries that simply can't be crossed, or is anything fair game with the right amount of preparation?
"We have to be very judicious and circumspect about the type of projects that we can do," says Swartz. "We get pitched projects in the live space every day that we say 'no' to."
Moran, though, is more welcoming of high-risk projects. While the executive allows that vigilance is crucial in the conception of live events, she adds that National Geographic Channel's core is about exploration and expedition, which constantly involves pushing people's boundaries and comfort levels.
"As television producers and responsible producers of content, we want to make sure safety is always first," she said. "But I think there's an element of risk that's connected to the heart of the National Geographic brand that makes a lot of sense for us."
For her part, Scott says some things are too risky and inappropriate for television, and networks and production companies need to assess all aspects of a stunt idea, such as who is doing it, whether they've done it before and what the liabilities are.
She often turns down pitches from stunt people wanting to free-climb large buildings because it takes too long, is too dangerous and doesn't work for television.
The question now, for networks and producers entering the live space, will be how long they can keep saying 'no' in a stunt-dominated genre. In order to keep pressures in check, Scott says the field will have to widen its scope to other uses of live, or eventually pay the consequences.
"I don't think stunt live television is the end-all," she maintains. "I think it's going to be a niche, otherwise something terrible is going to happen and that'll be that. We're all trying to avoid that."
This article first appeared in the March/April 2014 edition of realscreen magazine, which is out now. Not a subscriber? Click here for more information.