L.A. filmmakers and siblings Ravi and Geeta Patel's real-life romantic comedy Meet the Patels addresses issues around arranged marriages in Indian culture and puts their own family firmly in the spotlight. The pair sat down with realscreen ahead of the film's world premiere at Hot Docs to discuss culture, marriage and family therapy. 
Six years ago, L.A. comedian Ravi Patel had run out of material in front of a room of 400 Indian lawyers when he started joking about his mother trying to set him up with an Indian girl. He thought he'd bomb, but instead he reached his audience on a completely different level.
"There was a visceral, tragic emotion behind the laughter that I'd never felt before," says Patel. "And afterwards people are coming up to me being like, 'Oh my God, I'm so glad you talked about this.'"
Soon after, Patel broke up with his secret Caucasian girlfriend of two years and was on a family trip to India when he began discussing dating and marriage in South Asian culture with his filmmaker sister Geeta.
"We'd heard stories from our own community about people running away from home because their parents were so traditional and wanted them to marry, or get arranged marriages," explains Geeta. "Parents not talking to their kids and disowning them when they married outside of their culture. Suicides happening. There were serious things coming out of this."
So the siblings did the unthinkable – "It went against every grain in my body as a South Asian," admits Geeta - and made a documentary revealing the minutiae of an intensely private culture.
But unlike the cliché films about arranged marriages that make mockeries of Indian traditions and perpetuate harmful stereotypes, the Patels set out to make an accessible film that reflected the heart of these values. 
"People don't understand South Asian culture," says Geeta. "They don't understand the diaspora. They don't understand why we [care] what our parents think, why we care about our culture… And so for us, we were in a position to do something about it."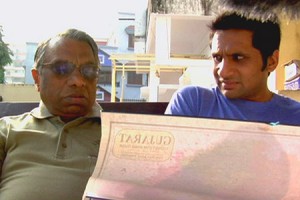 Their documentary Meet the Patels follows Ravi as he flies around North America and goes on dates with various women – all of whom must meet the criteria of being from the same "Patel" caste in India as him – set up for him by his parents through a network of exchanging super-personal resumes called "bio-datas." Ultimately, Ravi is the doc's protagonist, but it's his outspoken parents – determined to find a proper match for their 30-year-old bachelor son – that steal virtually every scene.
Upon showing their initial footage to PBS, the Patels received funding immediately, and garnered the support of American Splendor producer Janet Eckholm and executive producer Geralyn Dreyfous of the Academy Award-winning Born Into Brothels.
But even a reputed team could not prepare the Patels for the challenges of making a documentary about family.
"One thing we had to decide was what came first: family or the film. And we decided family, friendship came first," says Geeta. "Then, when we made the film, we showed it to all the people who were in it. And that was hard, and wrong and dangerous, and the people who worked with us were professionals and I understand everyone was really upset about it, but we did it because that was the rule."
Both Patels reason that the doc is about trust and relationships – parts of their lives that would persist long after the camera stopped rolling – so they wanted to ensure that everyone featured not only loved the film, but were represented fairly.
"Everyone's approval really mattered," says Ravi.
Another, more crucial outcome of the doc was how the project united an otherwise distant family. Until making Meet the Patels, Ravi had kept his relationship with girlfriend Audrey – who is Caucasian American – secret from his parents.
"This was like a miracle, this experience, because we had to talk so much and punch away at the conflict," says Geeta. "It's sad because it took a film for us to try that hard and look at what was on the other side. We went to war for this relationship. We worked so hard to get along and really understand each other."
Ravi added: "When you make a project with your family, you don't have any choice but to get through it and get along. So you're forced just to love everyone a little more and communicate more openly."
The film has not yet secured distribution, but the Patels say early reactions have been positive, and they are currently fielding offers for everything from a reality show starring their parents to a Broadway play on the family.
Whatever Meet the Patels' trajectory, the siblings say they've succeeded in making a film that tackles a serious cultural issue through comedy. The family therapy was just an unexpected bonus.
"I'm so thankful that the making of this film happened because my relationships with my parents and brother became so much more true," says Geeta. "And you think your parents always sees you a certain way, and you think, 'Oh, they're never going to change.' But that stress goes away. That permanent stress you think will never go away, it goes away."
Meet the Patels screens at the Isabel Bader Theatre on Thursday (May 1) at 9:30 p.m.