Stars of today's social experiment series are stripping down, hooking up and embracing vulnerability (and each other) in a bid to bring authenticity back to unscripted. Realscreen asks the producers of Are You The One?, Friends to Lovers?, Sex Box and more what they forecast for the risqué reality trend. 
More than two decades after The Real World introduced TV viewers to the idea of strangers living in a house together, unscripted producers have built many more houses for many more strangers.
Considered the forerunner to many subsequent reality hits including Big Brother and America's Next Top Model, the show is MTV's longest-running reality show and was recently greenlit for a 30th season.
Since its debut, unscripted producers have tweaked the variables in so-called social experiments to find out what happens when friendships, marriages and familial bonds must contend with an artificial situation.
Of course, as unscripted programming evolved, other trends emerged: docusoaps such as The Real Housewives, transactional shows such as Pawn Stars and docucomedies like Duck Dynasty.
But judging from the social experiment titles rolling out on networks across the United States and Europe, the industry is looking back in order to move forward.
Fox's recently appointed executive vice president of alternative entertainment, Simon Andreae, has greenlit the reported US$50 million social experiment Utopia from Big Brother creator John de Mol as well as Couples Retreat, a swingers series with shades of Temptation Island.
Meanwhile, the summer upfront slates for cable networks Syfy, A&E, Bravo, MTV, VH1 and WE tv are peppered with social experiment projects.
"Reality TV has gone down a path of being more heavily produced and the audience is having a tough time with the authenticity on those overly produced shows," explains Rob LaPlante, EVP at Lighthearted Entertainment. "Seeing a bunch of women scream at each other and tip over a table isn't really loud anymore because there are dozens of shows with that happening."
LaPlante, who started his TV career as a casting director on The Real World, is producing two social experiments: season two of Are You The One? for MTV and the new Dating Naked for VH1.
On Are You The One?, 20 young singles living in a house in Hawaii undertake a series of challenges to determine which of their peers is their "perfect match" to win prize money. The matches were made prior to the shoot through compatibility testing and consultations with matchmaking experts, as well as interviews with friends, family and exes.
The concept behind Dating Naked is simpler: cameras follow couples who – having apparently exhausted all other dating options – agree to go on blind dates in the buff.
Both series exemplify the trend of welding social experiments on to other unscripted genres, such as the dating show, the docusoap and the talk show – much like how Discovery Channel's hit Naked and Afraid put a social experiment spin on the survival genre.
"The key now is to find a new way of doing things," says LaPlante. "How do you create a show where a bunch of single people live in a house in a way we haven't seen before? The key to selling that show was the game element."
Whereas a docuseries begins with characters and casting, social experiments are born in the development room. The overarching parameters are ultimately what should foster the drama rather than interventions by producers.
Dating Naked was one such idea. The format features a primary dater going on naked dates with several suitors and then choosing one at the end.
The primary daters will be single women who are unlucky in love and looking for the vulnerability and honesty that the nudity angle offers.
"Naked is the new loud," says LaPlante. "There is literally nowhere to hide. You're in your most vulnerable state and therefore what a brilliant way to start dating someone."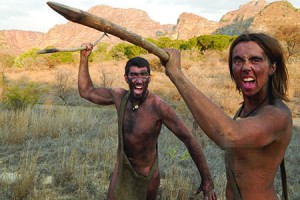 The nudity parade kicked off with Naked and Afraid (pictured, left), which premiered in June 2013. Each episode follows a man and woman who meet for the first time and must survive in the wilderness – naked – for 21 days. Now in its second season, the show averaged 2.14 million total viewers this past April.
Meanwhile, Discovery Channel's sister network TLC announced in May that it will be getting in on the nude action with an eight-episode series order for the real estate-themed Buying Naked, which began life as a limited special.
With Naked and Afraid, the naked angle adds an extra layer of difficulty to the casting for Discovery and producers at Renegade 83 Entertainment. The cast members must not only be in good physical shape and committed, but also willing to put themselves in a vulnerable position.
During the shoot, a bare-bones crew comprised of a camera person, sound person and a producer are instructed not to interfere with the cast except in the case of an emergency. The chosen location has already been deemed 'survivable' – i.e. the environment must have a temperate climate, contain food sources, drinkable water, means of building shelter and starting fire – in order to minimize medical issues.
The key to the show's success is not the nudity per se, but the way it affects the team's relationship.
"Our research shows a dual audience is coming to Naked and Afraid," says Luis Silberwasser, former exec VP and chief content officer for Discovery Networks International. "It's that whole thing about Mars and Venus – the stereotypes of how men and women behave and how their instincts are different. It has less to do with survival and more with relationships."
For example, producers were surprised at how tough the female contestants have proven. The male contestants are lean and strong with very little body fat and without a high-caloric protein diet, their bodies consume muscle quickly. Women, on the other hand, have a higher percentage of fat than men.
"My view on this is that it's a physical thing as well as a mental thing," says Renegade 83 executive producer Steve Rankin. "Even a woman who is very slender has fat reserves she can call on that enables her to physically get through the challenge better than some of the guys do. We were expecting some differences in the physiological changes but the dramatic contrast took us by surprise."
Although both Naked and Afraid and Dating Naked hook viewers with the promise of nudity, it's the vulnerability of the situation that keeps them viewing.
"A good social experiment potentially gives you an answer to a fundamental question that human beings want to know the answer to," says LaPlante. "If dating was taken down to the most fundamentally vulnerable place possible, could it work better?"
NBCUniversal-owned cable network Bravo will ask such a question when Friends to Lovers? debuts this summer. Produced by World of Wonder, the docuseries is about friends who decide to take their relationships to the next level.
The idea arose during a development brainstorm session last summer, after a Bravo staffer who was frustrated with the Los Angeles dating scene decided to consult her personal black book for a possible solution.
The development team found the idea relatable – after all, many people have a friend in their lives who is their 'What if?' – and easy to grasp.
"Gone are the days of, 'Here are six friends! We hope you like 'em!'" explains Lara Spotts, Bravo's head of development. "You're seeing the social experiment trend again because ideas need to be loud enough to cut through the clutter.
"It's almost pre-sold," she adds. "It almost doesn't even matter who your cast is because you're buying into the concept before you get to know them on the show."
Programs that hinge on deeply personal relationships can incur a backlash, but Spotts is not worried about Friends to Lovers? because the couples on the show are genuine in their intent.
"The casting for this was one of the most fun processes I've had in a long time. You can really tell which sets of friends have couple chemistry," she says. "In some cases, it is cringe-worthily obvious which one has had the crush but totally downplays it."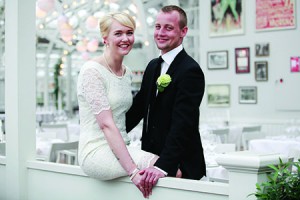 By contrast, the creators of social experiment format Married at First Sight (pictured, right) at Red Arrow Entertainment Group-owned Snowman Productions went to great lengths to stave off cries of exploitation ahead of the series' premiere on Danish pubcaster DR3 last year.
The show follows three couples who undergo a match-making process overseen by
psychologists, anthropologists and theologians and then meet their partners for the first time at the altar. Cameras follow the relationships for six weeks at which point the couples can choose to divorce or stay together.
Danish TV critics initially branded the concept as a new low for television but the series was a game-changer for DR3. Ratings were a whopping 495% above slot average and three weeks after Red Arrow International brought the format to MIPCOM in Cannes last fall the distributor had closed 15 straight-to-series deals.
Nine versions of the show are in production in markets including Germany, France, Benelux, Australia, the United Kingdom and the United States, where FYI is adapting the format with Red Arrow-owned Kinetic Content.
"I've never experienced a sales success like this since I started working in television," says Red Arrow managing director Henrik Pabst. "This program was so strong that we weren't accepting option deals because we knew it will work as long as it goes along legal borders in certain territories."
As with Friends to Lovers? the people who sign up to get married at first sight are singles who are tired of the dating grind and intrigued by the concept, which in this case, challenges the idea that marriage should come later in a relationship, not as a starting point.
In the first episode of the Danish version, viewers followed the seven-day casting process in clinical detail as the matchmaking experts met and interviewed each contestant. Once the three couples were paired up, they took the plunge on episode two at a blind ceremony attended by family and friends.
If cast members feel exploited during the matchmaking process, they are able to say "I don't" at the end of the seven days.
"We legally marry them and that comes with repercussions, ramifications and with legal problems. If you want to be responsible to that as a producer you need to find the right people," says Red Arrow Entertainment Group's managing director for creative operations Michael Schmidt. "We are not promising a loud, wild, crazy experiment with naked people and a lot of sex on the wedding night. That's the opposite of what the show is."
Once the couples say "I do," producers give them space to develop a relationship. They are not filmed 24/7 like the cast of Naked and Afraid.
"If we are interested in taking this seriously, we need to give them privacy," says Schmidt. "It's not like another format that says it's a social experiment but really it's casting with a nice, loud twist. The social experiment is at the core of the format."
The twist on WE tv's upcoming Sex Box pilot, meanwhile, is as loud as they come.
Based on a one-off special that aired on Channel 4 in the UK last fall, the show asks three couples to have sex in a soundproof box on a studio stage and then talk about the encounter immediately afterwards with a panel of experts in front of a live audience.
Part talk show, part relationship show, part social experiment, Sex Box attracted an average audience of 1.2 million viewers when it aired on Channel 4. Catfish producer Relativity Television snapped up the U.S. rights and sold the format to female-skewing cable net WE tv, where Relativity Television CEO Tom Forman believes it has a greater chance of being a hit than on a more general interest network.
"I'm sure people are going to go completely nuts because it's certainly the most outrageous log line of all time," says Forman. "But it's rooted in real research and science. People are genuinely more open, honest and forthcoming about their sexual experience if you can talk to them right after they've had sex."
Relativity has put out a national casting call for the show. Casting directors in 11 U.S. cities are on the lookout for couples experiencing problems in the bedroom. Whereas the UK version featured average couples discussing sex, the U.S. version will zero in on specific issues.
"In a social experiment you're typically looking for people who don't present as different or outrageous," says Forman. "You're looking for regular people who may have interesting problems and circumstances but who are very much like the viewer."
The U.S. version will drop the presenter and speed up the pacing, but one thing that will not change is the sex box itself, which viewers never see inside.
"One of the places the British version gets it exactly right is in treating the sex box itself as a sacred space – and I realize as I say that that it sounds kind of absurd," says Forman.
"If this is going to work and people are going to feel comfortable and thus open up to us, the inside of the sex box has to be awesome," he adds. "We're going to make it awesome – and air conditioned."
Sex Box, Married at First Sight, Friends to Lovers?, Dating Naked and Fox's Utopia have yet to air, but producers and network execs are confident the unscripted television world's focus will have shifted to social experiments come the fall.
Red Arrow's Henrik Pabst will have three new social experiments – including a commission to announce – at MIPCOM in October.
"You walk in and talk to network executives and they'll look you in the eye and tell you they're interested in social experiments. I don't think it's a secret that it's the next big trend," says Forman.
"You've beaten performance to death. You've beaten adventure to death. To an extent it's time to find something new and promptly beat that to death too."
 This feature appears in the May/June 2014 issue of realscreen magazine, which is out now. Not a subscriber? Click here for more information.