Few trends in unscripted television programming are able to challenge the timeless attraction of the circus.
As live events increasingly become cornerstones of TV schedules, daredevils are finding new lives as multi-hyphenate television stars. Nik Wallenda, a life-long circus performer and descendant of famed wire walker Karl Wallenda, has parlayed his penchant for risk-taking stunts into cable ratings gold and a book deal.
In 2012, the 35-year-old's wire walk across Niagara Falls for ABC attracted 13 million and a year later roughly the same number tuned in to Skywire Live with Nik Wallenda on Discovery Channel to watch him walk – untethered – across Arizona's Little Colorado River Gorge.
Up next: a walk between skyscrapers in Chicago in Skyscraper Live, the second in a series of three planned untethered live tightrope walks for Discovery (Wallenda is negotiating to do more). That will air this fall, but before that feat, he will accept the 2014 Realscreen Awards Personality of the Year honor in Santa Monica today (June 4).
Why did you choose Chicago for the next tightrope walk?
Growing up I performed there many times in circuses. I love the city. I love the skyline. My family's career has always been surrounded by skyscrapers. My grandfather built a career and a name on skyscrapers. As I did more research on where to do my next walk, I thought, "Where was the first skyscraper?" And it was Chicago [the 10-story Home Insurance Building, erected in the late 1800s]. All these things came in play and I was like, "This was meant to be."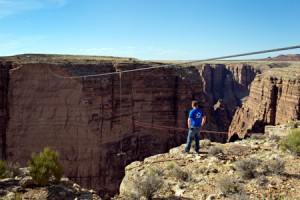 How involved are you in the planning?
It's my life, so I'm involved in every engineering meeting and every rigging meeting. I'm hands on with most of my rigging as well and definitely 100% hands on in design, the testing and obviously, the training. My uncle is my lead engineer. My father is my safety coordinator and he oversees all the rigging. He's a genius when it comes to that stuff. It's a family thing. Who do you trust with your life? My father would be the first and foremost.
What does the training entail?
Wind machines. I've trained in winds of 120mph in the past. I've trained in snowstorms and a tropical storm in Florida with 60mph winds with heavy downpours. The only thing I can't deal with is lightning. I'm a lightning rod
so that's what I avoid.
Why does the walk have to be life or death?
That's part of the thrill that people watch for – the fact that this dude could lose his life.
But on a personal level, why do life or death scenarios appeal to you?
I'm carrying on a legacy that's over 200 years old. I want to make sure the next 10 generations are still going strong and that people don't forget who the Wallendas are. I'm confident in the training that I have. It's life or death when I get in my car and drive home. When I get on an airplane, it's life or death. We never know if it's our last day so I look at it all as being relative.
I walk on a cable the size of a nickel in the clouds and I'm comfortable doing that because I've done it my whole life. You don't get scared when you get in a car and drive because you've done it for so long. I'm very in control of what I do – other than Mother Nature – but I'm not in control of the driver in the other car. I consider what I do to be a very calculated risk.
 This feature appears in the May/June 2014 issue of realscreen magazine, which is out now. Not a subscriber? Click here for more information.