With theatrical-on-demand providers Gathr and Tugg picking up steam, realscreen looks at how doc-makers are increasingly being encouraged to ditch traditional distribution in favor of crowdsourcing an audience and releasing their films in cinemas directly. 
For years, conventional wisdom has been that if you wanted to get your documentary in American theatres, you would need to sign a deal with a major distributor.
Only with the backing of a notable player like Sony Pictures Classics, The Weinstein Company or IFC Films could a documentary really get a proper pan-U.S. release. Even then, the number of docs per year that warranted such a release were few and far between, and those that were released rarely saw significant grosses.
But times are changing. The rise in recent months of Gathr Films and Tugg – two companies specializing in the emerging realm of theatrical-on-demand (TOD) – is presenting a new opportunity for the creators of issue-based docs.
Using the companies' respective websites, filmmakers can crowdsource an audience to put on a film screening in almost any part of the U.S.
Potential audience members book tickets for a screening, but the screening only goes ahead (and credit cards are only charged) if a certain number of tickets are sold – thus offering a safety net for both the cinema and the filmmaker, by eliminating the risk of an empty theater.
In short: if you can prove that you've got an audience beforehand, then any film can get into a theater.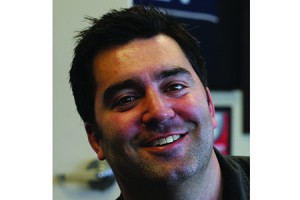 "The beauty of our model is that we're essentially optioning the cinema, and saying if we get 'x' amount of people on Tuesday night, they'll punt, say, Blue Jasmine aside," explains Gathr Films founder and CEO Scott Glosserman (pictured, right). "The cinema may say to us, 'Gathr, anytime Monday through Thursday that you guys can cover $325, you get a screen. Just give us six days notice.'"
Gathr's breakout documentary to date has been Richard E. Robbins' Girl Rising, an advocacy film which uses storytelling in a bid to get more girls across the world into classrooms.
So far, the film has brought in an impressive US$1.73 million at the American box office, becoming the fourth highest-grossing doc of 2013. Other docs being screened via Gathr have included Sundance winners Who is Dayani Cristal? and Return to Homs.
Meanwhile, rival service Tugg has hosted festival hits such as Andrew Rossi's Ivory Tower, Lucy Walker's The Crash Reel, Sarah McCarthy's The Dark Matter of Love and Freida Mock's Anita.
On May 29, Tugg launched Under the Electric Sky (pictured, top) – a 3D feature documentary looking at the electronic dance music scene, directed by Magical Elves founders Dan Cutforth and Jane Lipsitz – which quickly sold out its opening night screening in LA.
Part of the appeal of the two companies is that they cater to different tiers of documentary films. For the bigger docs (such as Dayani Cristal and The Crash Reel) which already have distribution deals or have already had a preliminary theatrical run, the TOD services provide an opportunity to reach a broader audience in markets that the initial theatrical distributor had perhaps passed over.
But the services also work for smaller docs that distributors and festivals have passed on. Glosserman cites the success Gathr has had with Greg Williams' little-known documentary The Anonymous People, which looks at substance abuse addiction and recovery.
"The filmmaker really didn't expect to sell more than a few hundred DVDs," he recalls. "It never had a festival screening or a theatrical profile. But he was getting screening requests. So we were introduced to the film and started working with the filmmaker, and he alone was able to generate close to $300,000 in box office for that film over about six months."
Indeed, the films that tend to work best on TOD services are docs that can galvanize a particular community that is passionate about an issue or cause. Glosserman says that Gathr averages about 150 people per screening for its docs (Girl Rising, which is still screening theatrically after more than a year, is averaging 175), and adds that the average tipping threshold – the point at which a screening becomes viable and will go ahead – is the sale of about 65 tickets.
The company takes 25% of ticket sales, and filmmakers deliver their DCP master and/or Blu-Ray master, trailer, digital assets and other deliverables to Gathr just as if it were a distributor. Once a film has been registered on a site, screenings can be set up either by the filmmaker or by 'movie captains,' who campaign for screenings in their local towns.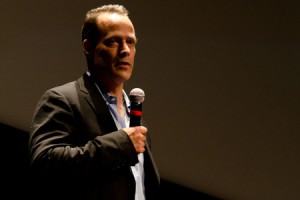 The success of TOD is starting to draw significant attention. In one of the highest profile cases to date, doc-maker Sebastian Junger (pictured, left) in April announced plans to launch Korengal – his follow-up to Oscar-nominated Afghan war doc Restrepo – on his own, without the aid of a distributor.
Junger, alongside his late Restrepo co-director Tim Hetherington, built up a notable fan base and mailing list during the film's initial release in 2010, much of which comprised soldiers and veterans. If he and his partners at New York-based indie Goldcrest could convince that audience to come to screenings of the film's sequel in large numbers, Junger reckoned, then why would he need a middle man?
"We didn't want to lose editorial control, and we also felt like things were shifting," he says.
"Filmmakers are starting to have a chance to really make money on their work, rather than have most of it go to a distributor."
Junger says he was inspired in part by "the Louis C.K. model" of self-distribution, which saw the comedian shaking up the comedy world by eschewing a traditional network deal in favor of streaming his self-produced stand-up comedy special, Louis C.K. – Live at the Beacon Theater, on his own website for $5 – a strategy which netted him a reported $1 million.
"He just bypassed the whole power structure in media, which is pretty amazing, so that's what we're going to try and do," Junger says. "Documentaries don't get the opportunity to do that that often, but I think that we can because we have an enormous fan base from Restrepo. So we're in a great position to leverage that."
The first step for Korengal was a crowdfunding campaign on Kickstarter, in a bid to raise funds to help with the release and also sell tickets directly. The campaign easily made its $75,000 target in less than three days, and with 15 days to go at press time, has raised more than $102,000 from more than 1,870 individual backers.
Looking to the future, Glosserman predicts that more and more big filmmakers will take the route that Junger has, just as the music industry has seen a raft of established musicians turning their back on record labels and self-releasing their music.
"We have created tools that allow filmmakers to truly sink or swim," he says. "We hope that we've created a meritocracy and that we have democratized theatrical distribution."
 This feature appears in the May/June 2014 issue of realscreen magazine, which is out now. Not a subscriber? Click here for more information.