University professor-turned-filmmaker Jason Osder (pictured) spent more than 10 years making Let the Fire Burn, a documentary examining a controversial 1985 clash between police in Philadelphia and a radical black liberation group. Here, he talks to realscreen about the legal and technical challenges involved in making his all-archival debut.
For many documentary makers working with archival material, the challenge is in restoring the footage to make it look as good as possible.
And while this was true for Let the Fire Burn, the debut documentary from Washington DC-based Jason Osder, the filmmaker also found himself heading in the opposite direction, roughing up footage by adding visual noise and artificial deterioration, in a bid to give the film a uniform and time period-appropriate look.
The doc focuses on the events surrounding a 1985 stand-off between the Philadelphia Police Department and MOVE, a radical, back-to-nature, black liberation group.
At the film's core is a violent clash that took place on May 13 of that year, which saw Philadelphia officials dropping an incendiary bomb on MOVE's headquarters and making a decision to "let the fire burn," resulting in the destruction of some 60 homes in the city and the deaths of 11 people, including five children.
The doc is comprised entirely of archival footage, consisting of news clips, interviews conducted at the time, and footage from a post-disaster investigative committee hearing.
Osder, who is an assistant professor at George Washington University's (GWU) School of Media and Public Affairs, remembers news coverage of the incident from his childhood. "It always kind of stuck with me and bothered me," he says.
The filmmaker found the majority of the archival material used in the film housed at Temple University of Philadelphia's Urban Archives division, but gaining access was no small feat. Osder said it took time to earn the trust of the staff working there, and over the course of years spent researching the material, "eventually I had been looking at the stuff longer than anyone who's been working there on staff."
In all, the Archives housed about 80 to 100 hours of material – "not that bad by documentary  standards," he offers. In addition, all of the footage of the hearings had already been transcribed.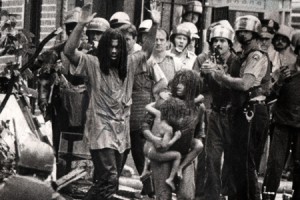 "They were actually transcribed on a typewriter," he says. "We scanned them all in and did optical character recognition (OCR), so they were searchable by keyword for the first time."
The film aired on PBS in May after winning acclaim on the festival circuit last year, but it took Osder more than a decade to make. He raised financing for it piecemeal, and compares the process of making an indie doc to "making a teepee – you lean the sticks together and hope it kind of holds."
The director received an initial US$20,000 grant from GWU and a $30,000 grant from the Sundance Institute, as well as a Garrett Scott Documentary Development Grant from the Full Frame Documentary Film Festival.
He also pitched the doc at the Hot Docs Forum in Toronto and the Realscreen Summit in Washington DC, winning the 2010 edition of the So You Think You Can Pitch? competition at the latter. He also got "a lot of in-kind work" and invested his own money into the project.
Beyond financing, another challenge came in tackling "a knot of licensing, fair use and clearance issues" surrounding the archival footage housed at the Urban Archives. Osder explains that the post-bombing hearings were akin to South Africa's Truth and Reconciliation Commission, but were not actual legal proceedings.
This meant that the copyright status of video of the hearings – and of the news footage subpoenaed by the commission – existed in an uncertain legal space. "The commission was an extra-legal body – it's not a court of law – so there's very little precedent in the U.S.," he says. "It was a one-off thing designed to deal with an issue in an ethical and moral way. If they'd been a court of law and they'd subpoenaed that footage, it would've passed into the public domain unequivocally.
"But because they're not a court of law, it was a very gray area. And the other thing is, the commission doesn't exist anymore, so who do you even talk to? Plus, they had ceded [the footage] to a university, and the contract between the university and the commission was very strange – I had a lot of lawyers look at it over the years."
Nevertheless, Osder and his editor Nels Bangerter sensed there was gold to be found in those commission hearings, which the director describes as being "dramatic and iconic, and almost Shakespearean."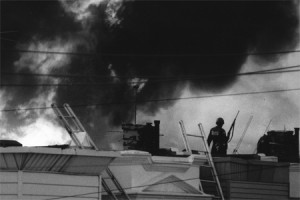 It was Bangerter who helped convince Osder that he should consider scrapping the handful of talking head interviews that had already been shot, and instead embrace an all-archival approach.
And while there have been hit docs released in recent years that have taken similar routes – such as Senna, The Black Power Mixtape 1967-1975, The Autobiography of Nicolae Ceausescu and Our Nixon – at the time that the filmmakers were making the doc, there was little in the way of precedent for such a film.
Bangerter "looked at everything together and he helped me see both the limitations of the interviews, and more importantly, the potential to do something really special with the hearings," Osder recalls.
"I give full credit to him, but I also think that is the job of the editor: to see it early and see it new. I'd like to see editors get more credit – a good documentary is synonymous with a well-edited documentary."
Fortunately, GWU was able to support Osder with a team of legal fellows: young lawyers who come to the university straight out of law school, seeking interesting legal projects. The filmmaker also employed California-based indie film specialists Donaldson + Callif to help clear material.
In addition to the legal and copyright challenges, the other key hurdle Osder faced in making Let the Fire Burn was in the quality of the 25-year-old archival material.
Though the film uses footage from a variety of sources – including one-inch VTR, VHS and VHS LP – Osder and Bangerter figured that if they could make the footage seem consistent throughout, the audience would be less likely to take note of the overall quality. As such, they took a number of small, unusual steps to actually add noise and decrease the quality of some of their footage.
"Some of the footage is quite distressed and quite low resolution. What we realized was that you're going to notice that quite early on, but if we never cut to the high-def interview, you're never going to be reminded – you'll get used to it," Osder explains.
"So then not only does that not become a liability, but it becomes an asset. People's eyes are retrained – you're learning how to watch the film, both in an intellectual way, but also in a visual way.
"One of the things we did was, anywhere there's a dip to black or there's a card over black, was choose to have no 'HD black' in the film. We actually had a VHS tape that had a bunch of black leader on it – like, snowy VHS – and the clip in the edit room was called 'VHS black.'
"We went in and we plugged in that underneath any time it dipped to black, so you never get a pure, clean black."
Other steps included adding vertical rolls – the white horizontal lines that would appear on well-worn VHS tapes – for masking and consistency.
"If you look closely, there are a couple of places where at times there are jump cuts covered by fake vertical rolls or fake tape hits," he reveals. "Sometimes we were just straight up cheating, but sometimes it was because the footage we worked with in the editing room had the vertical roll, making it permissible to cut it that way, and then when we replaced it, we just had to rough it up again to make it look good.
"There's a scene where the words 'video calibration' come up on the screen, and that was really there, but it popped up twice, and we felt we wanted it to blink three times, so we cloned it and put it in a third time; little things like that."
The unusual approach appears to have paid off. Among its honors to date, the film won awards from the Tribeca Film Festival and the International Documentary Association for editing, as well as the Independent Spirit Awards' Truer than Fiction prize.
"Every film has its own language," Osder reflects, "and you have to learn how far you can take it."