As awards season gains traction with the launch of the 39th annual Toronto International Film Festival (TIFF) tomorrow (September 4), Thom Powers – who programs the fest's Docs and Mavericks sections – has tipped films about manipulative corporations and a Soviet Union hockey team as festival heavyweights.
Thom Powers (picture above, right), who has been programming for the Toronto International Film Festival (TIFF) since 2006, says audiences this year should particularly watch out for Gabe Polsky's hockey doc Red Army (above, left) and Robert Kenner's Food, Inc. follow-up Merchants of Doubt, on the influence corporations wield on public opinion.
TIFF has an impressive track record of premiering documentaries that go on to be high-profile contenders for awards. Both Joshua Oppenheimer's Indonesia-set The Act of Killing and the final cut of Jehane Noujaim's Egyptian revolution doc The Square premiered at the 2012 and 2013 festivals, respectively, and went head-to-head for best documentary feature honors at this year's Academy Awards (ultimately losing to Morgan Neville's 20 Feet from Stardom).
"I cite those two films from this year's line-up because I'm pretty confident they're going to wind up qualifying for this year's awards seasons," Powers tells realscreen, noting that Oppenheimer's The Look of Silence – the director's follow-up to The Act of Killing – will also resonate on the awards circuit, but will likely qualify for the 2015 season.
Powers adds that Charlie Siskel's Finding Vivian Maier, which enjoyed its world premiere at TIFF last year, will also be an awards heavyweight. In a year with markedly fewer doc world premieres at TIFF, titles such as The Look of Silence, the Ethan Hawke-directed doc Seymour: An Introduction, and Marah Strauch's Sunshine Superman are coming to Toronto with partial or full distribution deals already in place.
Powers, however, says his "gut feeling" is that there are more docs that could draw buyer interest at this year's festival as opposed to last year's, when a lot of films were picked up ahead of TIFF. "Some of the world premieres I'm excited about include Nick Broomfield's Tales of the Grim Sleeper, which I think is one of the stronger films that Nick's ever made," said Powers about the doc, which looks at a serial killer who terrorized South Central Los Angeles for 25 years.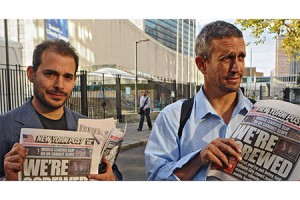 The programmer also notes climate change doc The Yes Men are Revolting (pictured, left) from Laura Nix and activist filmmakers The Yes Men – a follow-up to 2009′s The Yes Men Fix The World – as a "very funny film" that's been a welcome addition to the doc selection. Finally, Powers said David Thorpe's Do I Sound Gay? in the Mavericks section, which examines the cultural place and history of the gay voice, will also stand out to buyers.
When asked whether TIFF's new policy of only screening world and North American premieres in the festival's first four days affected the doc selection, Powers assured it wasn't an issue and said he approves of the "semantic adjustment."
"Years ago, it was a different time," he says. "For a film playing at Telluride it could be considered a sneak preview and no-one really talked much about it because you didn't have the same Internet culture of blogging that was really reporting heavily on Telluride. "But that's changed and it got to the point where it was a little bit silly for Toronto to be saying it had the world premiere of a film when it was playing at Telluride a week before, and it was widely advertised and written about by critics," says Powers.
And on the topic of TIFF's sixth annual Doc Conference, the programmer says he looks forward to a focus on short-form documentary, with sessions featuring ESPN Films and Condé Nast Entertainment.
"One of the things I think about when programming the conference is the audience that is primarily documentary filmmakers, and I want to bring these doc filmmakers new opportunities to be placing their work and getting work," says Powers. The conference moved from a school classroom to the expansive Glenn Gould Studio last year – a move Powers believes established a new model for the conference.
"I'm really proud with the way it's grown and blossomed in the last two years," he said. "It's a tremendous asset to have this world-class line-up and for people to come together."
TIFF kicks off tomorrow (September 4) in Toronto and runs until September 15