Four years after Force of Nature, his film on activist David Suzuki, won TIFF's People's Choice Documentary Award, Canadian director Sturla Gunnarsson returns to the festival with Monsoon, his love letter to India.
When a distraught man descended into his flooded house in Kerala, India, chest-deep in water, to show Sturla Gunnarsson the damage wreaked by the monsoon, the Canadian director (pictured below) took his cellphone out of his pocket and promptly waded in after him.
In what is one of the most haunting scenes in the documentary Monsoon – which enjoys its world premiere at the Toronto International Film Festival (TIFF) on September 7 – Gunnarsson patiently tracks the man's route through a submerged home now overrun by river creatures slinking past in murky water.
The sense of loss is searing, but also reflective of the monsoon's all-encompassing effects on the lives of Indians – a gravity Gunnarsson had been keen to document for almost 15 years, when he first visited the country to shoot the narrative film Such a Long Journey.
"I sort of thought of Monsoon as a book-end to Such a Long Journey," Gunnarsson tells realscreen. "I was there just before the monsoon arrived and that was when I first became fascinated with it, and I've been thinking about it ever since. So this was an opportunity to follow-up on the sort of romance I'd had for it."
Between that film and the Intuitive Pictures- and Point du Jour-produced Monsoon, the Reykjavik-born director says he visited India at least 15 times, including a research trip two years back with his son – who pulled double-duty as his camera assistant – in order to figure out a route for the doc and find compelling characters.
Last May, the director returned to India to follow the monsoon from its entry around the southern tip of the country to the northwest region, where the clouds dispel.
Over four months, cameras were housed in waterproof jackets, battery-operated electric blankets warmed lenses and a "snake bite guy" came along for the ride in case of emergencies. In mid-September, having traveled tens of thousands of miles, Gunnarsson had 90 days' worth of material on his hands.
Reflecting on a journey that, for most people, would have been arduous, an unfazed Gunnarsson laughs.
"It was a lot of gear, a lot of schlepping and a lot of Indian airports," he says. "We were all healthy; we were mainly just wet."
The result of all that schlepping, however, is a remarkable, moody, 4K-shot film that explores both the turbulence and beauty of the monsoon, as well as the people it touches. From a bookie whose livelihood depends on betting on the weather, to an effervescent 12-year-old girl whose family loses their home to flooding, Gunnarsson's Monsoon is, as he says, a "love letter to India."
"I knew going in that it was this system that governs the conditions of existence for a billion people in every way," he says. "The stock market is affected, government policies are built around it, songs are written about it, fishermen live and die by it. That was the appeal of it. That was why I went."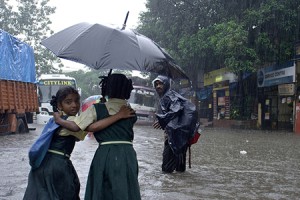 The director adds that because the film's objective was to experience the monsoon through the lives of Indians, he made a "very strong effort" to achieve a level of trust with his subjects.
"At the outset, people are very curious and open," Gunnarsson explains. "I find people in India are very interested. So it begins with that. But once the system sets in and the drama begins, you're all in the same boat having the same experience. They're not really thinking about us when they're trying to save their homes."
Few would be surprised if Gunnarsson returned to India for a project in the near future. For him, it's a challenging place, but also a sacred one. In India, Gunnarsson says, he feels alive.
"The question of faith, of mystery, of awe, of a sense of forces that are bigger than oneself – the monsoon puts all of those things in high release," says the director. "For me, that's what the monsoon embodies and this was a way to see it in a very dramatic way, and to reflect on it."
Monsoon screens in Toronto on Sunday (September 7) at 6:30 p.m. at the Scotiabank Theatre
Check out the trailer for the film below: