Canadian filmmaker Alanis Obomsawin talks to realscreen about her latest TIFF doc Trick or Treaty? (pictured), her experiences revisiting a century-old document, and being on the front-lines of the Idle No More movement.
Alanis Obomsawin (pictured below) has spent decades covering native Canadian issues, and is accustomed to seeing her people lose their voices, particularly in courtrooms. But in the last year and a half, as a result of movements such as Idle No More, the 82-year-old says she is noticing a respect afforded to First Nations that is unlike anything she's seen before.
This spirit of change is present in the Canadian filmmaker's 43rd film, the National Film Board of Canada-produced Trick or Treaty?, which is enjoying its world premiere at the Toronto International Film Festival (TIFF), just a year after the premiere of 2013′s Hi-Ho Mistahey! - the runner-up for TIFF's People's Choice Documentary Award.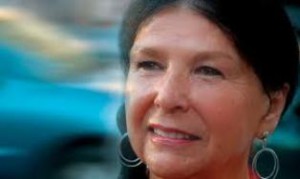 Obomsawin's latest effort focuses on Treaty No. 9, a 1905 agreement between the Canadian government and First Nations people that saw the  latter give up sovereignty over their territories. Through key interviews with experts, scholars and band leaders, the filmmaker revisits the document and questions whether its clauses were clear – or even comprehensible – to First Nations signatories.
Obomsawin's journey into the past is balanced with coverage of Idle No More and a march made by First Nations teenagers from northern Quebec to Ottawa in the dead of winter.
The filmmaker spoke with realscreen about revisiting a century-old document, being on the frontlines during Idle No More and some very distant retirement plans…
Do you think more people will be receptive to Trick or Treaty? in light of the Idle No More movement?
I know that the history of treaties and the people, in regards to the ones who were part of those treaties, is important for all places where they had the treaties. And often our own people don't know the history of it, so it's very important to educate so they can understand it and the history. So I feel that no matter when the film came out, it would be interesting because it had to do with knowledge of something very important to the people.
There are some disturbing revelations made in the film about just how inaccessible the treaty really was. Is this something you were prepared for before filming? 
This history is in every film I make. For young people who are going to school but don't really learn about these things, it's important to know and to understand the whole reality of our lives, and how making documentaries can bring about changes, in terms of law and everything that concerns the rights of people. It often influences people that can really make change.
Was there a particular experience when shooting that really made an impact?
When I saw the details of Treaty No. 9. I read it, and when I attended the conference on it and people were trying to reenact it, I thought it was fascinating and [realized] just how important it was to all the people. Even today, after more than 100 years, some of the people just aren't learning about what really happened.
In terms of filming the group that made that march, did you follow them for most of the journey?
I met them when they were in a town not so far from Ottawa… I went there and walked with them.
What was the reception like?
People were so naturally overwhelmed with happiness and pleasure. I felt a very special groove. And especially after having walked 1,600 kilometres, you can imagine. They went through a lot of hardship on this trip. They started at the coldest time of the year. And David, the one who decided he was going to walk, he told me that he sprained his ankle, and couldn't put weight on the foot.
The guy who was following them had a skidoo, and David said he refused. He said, 'My ancestors walked through all kinds of even worse situations than this, and I'm going to walk.' There's a very strong will for young people to go and find out about their traditions and make it a part of their lives today, and that's where the big changes are now.
Do you feel changed after having made this film?
I certainly feel that something great is coming. I think we are all going to a different place now. It's just a strong movement. It's like a mission. Students talking to other students their own age and influencing young people's lives in terms of hardships people have with alcohol and drugs. So there's a change coming through that's incredible.
For Canadians going to see this film at TIFF, what will they take away that they might not have learned from the Idle No More movement?
I think a better understanding of what's happening and treaty-making. It's a real education to watch the film, with a lot of context and to see all these people uniting and walking. It's such a strong feeling that all those walked had in their own spirit to want to be part of it and want to influence the change. It's marvelous. It will make anybody who watches it feel it.
Is there any particular political action you hope comes out of the film?
I think it's going to influence some changes. I think people being more aware of their power and not being so afraid and to assert themselves and feel good about who they are. The future is going to be different. I remember sitting in the courtroom many times in different places, watching what was happening to all these Indian people in jail, in courts. It was so appalling to see how they were treated in court.
Once I counted 58 people lining up one after the other. It was 'guilty, guilty, guilty,' like they had no voice. And for me, the silence said, 'You shut up. We know all about you. You're guilty.' And you got that feeling from the lawyers, judges, everybody – our people were just nothing. What I can't get over is that I've been filming in court now for a year and a half and I see the respect and the voice that our people have in court. And I can tell you that if there's any gift I have in my life, it's to see the difference of our people having a voice in court.
Are there still subjects you'd like to pursue in the future? Any plans to retire?
Not right now. But I'm working on two or three other films as it is now. It's all important. I'm going to make several films on the court hearings about the rights of children. I'm lucky because I'm still very healthy. As long as I'm healthy, I will continue working.