With 2012′s The Act of Killing, Joshua Oppenheimer (pictured) created one of the most controversial and talked-about documentaries in decades. Two years later, he talks to realscreen about navigating "a minefield of clichés" to make the follow-up, The Look of Silence.
When realscreen interviewed Joshua Oppenheimer in September 2012 about his hopes for The Act of Killing, a documentary premiering at the Toronto International Film Festival with substantial buzz around it, the American director had modest aims.
Oppenheimer hoped the Indonesia-set film would "open a space for a radical reimagining of the country's present." Few could have predicted the effect the film would have.
Two years later, Killing has become one of the most talked-about documentaries of the past 25 years. In addition to an Oscar nomination and awards from more than 60 festivals and critics groups, it has also achieved the filmmaker's desire of opening up a discussion in Indonesia about the mass murders of 1965-66, which left at least half a million so-called communists dead.
And though the Indonesian government condemned the film, the fact that it was forced to comment at all is a testament to the conversation the film has provoked.
Now, Oppenheimer has returned with a companion piece to Killing, entitled The Look of Silence.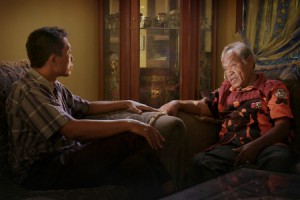 Where the first film – in what the director is billing as a diptych – focused on the perpetrators of the genocide, controversially challenging them to recreate their war crimes in the style of their favorite Hollywood movies, Silence (pictured, right) instead takes a softer approach, shadowing a survivor named Adi as he looks for answers, confronting the men who killed his brother nearly 50 years ago.
"This is a less flamboyant film," Oppenheimer tells realscreen, talking by phone from Denmark, "but it is as lyrical as the director's cut of The Act of Killing – maybe more so."
The director began working on both films more than a decade ago, in a bid to understand the massacres of the mid-1960s. Shortly after starting the process, however, the director says members of the Indonesian army started threatening the survivors that he was attempting to interview, ordering them not to participate in the filming. It was at this point that he changed tack and instead started filming the perpetrators, leading to 2012′s Killing.
As such, Silence is "in a way, the film that I set out to make when I first started working on 1965 and working with the survivors of the genocide," Oppenheimer explains. "I began my work in Indonesia trying to make a film about what it's like for the survivors to live with the perpetrators all around them still in power."
As he went about filming self-professed mass murderers boasting about their deeds for Killing, the director says he showed this material to survivors, who urged him to press on with the project.
"They said, 'You must continue filming the perpetrators, because anyone who sees the way they're speaking and hears the way they're behaving will see what's wrong with Indonesia today,'" he explains. "They'll see that there's this moral vacuum that becomes inevitable when killers win.
"But I always felt there was this other film, equally contemporary, that demanded to be made, which is a film about how the survivors live and build a life in the shadow of these still powerful, still threatening perpetrators. About what it would be like to live in one of those haunted, silent spaces that punctuate The Act of Killing."
While Killing won widespread acclaim, it did not win universal praise. Among the minority of vocal detractors were critics Jill Godmilow and Jennifer Merin, who both wrote lengthy critiques of the film; and BBC 'Storyville' editor Nick Fraser, who took to The Observer to pen a 1,153-word takedown of the doc, under the headline "Don't give an Oscar to this snuff movie."
The core complaint among those opposing Killing was that it glorified and gave voice to the perpetrators of the Indonesian killings, without affording the victims a platform to have their say. Oppenheimer defends that he always planned to make two docs with opposing focal points, and says that it was clear from the early stages of editing Killing that the survivors would need their own, dedicated film.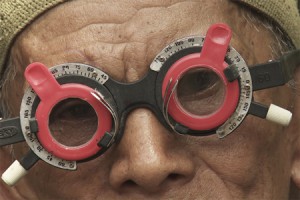 "It would be reckless to put survivors in the same film as [perpetrator] Anwar Congo and his friends, because they would become easy targets for the wrath of the entire paramilitary and military establishment in Indonesia," he says. "It could mean death for them."
Even now, with the release of Silence, Oppenheimer says he has taken great lengths to protect Adi and his family from repercussions, helping to relocate them to a different part of Indonesia.
"We're quite certain that the danger they face is from local power brokers, so we're confident that having moved them to a place where there's a whole network of supportive people around them, we're quite sure that they're safe," he explains. "But the situation is not without worry."
There is also another reason for two separate films, the director explains. With Killing, "those audience members who are willing to go there will, at some moment, feel some form of empathy with Anwar as a human being, and recognize that we're all closer to perpetrators than we'd like to think.
"And that would have been much more difficult to achieve if there had been survivors in the film because the moment you cut to the survivors, the audience immediately dis-invests from the perpetrators and clings to the survivors emotionally. It would undermine the whole premise of the movie, which is to explore how perpetrators are human."
Off the back of the buzz that Killing generated, Silence looks set to be one of the key feature documentaries of 2015. After world premiering at Venice in late August, where it won five awards – including the fest's Grand Jury Prize – it continued its festival run at Telluride, before playing TIFF in September, winning rave reviews across the board. It screens at the 52nd New York Film Festival tonight (September 30) and tomorrow.
Drafthouse Films, which distributed Killing in the U.S. and took it to the Academy Awards, has returned to distribute Silence, this time teaming up with Participant Media, and the pair will qualify the film for 2016 Oscar consideration.
Meanwhile, sales agent Cinephil has already penned theatrical deals for France, Canada, Australia, Japan and the UK; and master documentarians Errol Morris and Werner Herzog have agreed to support the new film by signing on as executive producers (as they did with Killing).
In addition to coming off as thoughtful and articulate, Oppenheimer seems to possess a keen sense of history and context for his films. In his 2012 realscreen interview, he referred to Hannah Arendt's benchmark Holocaust book Eichmann in Jerusalem as a touch point. This time around, he draws parallels between Silence and another preeminent genocide work: Claude Lanzmann's landmark film on the Jewish Holocaust, Shoah.
"Shoah is a really important example, because it's a film about the present, as it is haunted by the past," Oppenheimer says. "Lanzmann's decision not to use any archive footage – and my decision to do the same in both of my films echoes his – gives Shoah a very strong, cinematic 'now.'
"And that 'now' is very precise; it's the now of the 1970s when Lanzmann is in these places where the bystanders, perpetrators and survivors are still living. Shoah forces us to acknowledge not only the crimes that happened in the camps, but also that life goes on as normal."
He adds that, like Lanzmann, he has sought with his diptych to make something that is "almost like a poem," but which is not comforting or easily digestible.
"To make a film about survivors of atrocity is to navigate a minefield of clichés, most of which serve not to do justice to the experience of the survivors at all, but to reassure the viewer that somehow, a situation is well enough in hand that the viewer is able to let the story go easily at the end of the film," he explains, "to move on to something else; think about something else.
"These clichés are lies, and they do a disservice to any effort to really understand what it means to be a survivor. There's nothing that can awaken the dead, there's nothing that can put whole what's been broken, and – although we need truth, reconciliation, justice and healing moving forward – nothing will put right the lives that have been ruined or lost."
The Look of Silence continues its festival run at the 52nd New York Film Festival tonight (September 30) and tomorrow (October 1).
This article appears in the forthcoming September/October 2014 issue of realscreen magazine, which publishes next week. Not a subscriber? Click here for more information.