Documentarian Frederick Wiseman talks to realscreen about National Gallery (pictured below), his latest effort and "most social film" yet, ahead of its U.S. premiere at the New York Film Festival this Sunday (October 5). 
Over the course of two months in the winter of 2012, Frederick Wiseman spent close to 17 hours a day in one of London's preeminent museums filming his documentary National Gallery. The film clocks in at exactly three hours – just one hour shy of his last documentary, 2013′s university-focused At Berkeley – but the director is not bothered about whether a film detailing the ins and outs of a 190-year-old art institution will keep an audience's attention.
"If they're put off by it, they shouldn't watch it," shrugged the 84-year-old during an interview ahead of last month's North American premiere of National Gallery at the Toronto International Film Festival.
"I don't know how to think about an audience," he says. "I don't know anything about your interests, your education, whether you like painting or not. I have no idea. All I try to do is think I am the audience, and I make it to my own tastes."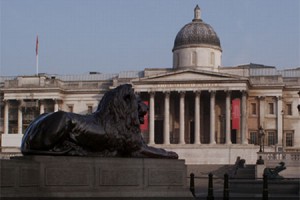 Wiseman is the first to admit his tastes do not pander to the mainstream. If they did, the director says he'd be involved in "the Hollywood trap of having some kind of fantasy about what the lowest common denominator is" – a style of filmmaking he brushes off as condescending.
Instead, he chooses subjects that catch his interest – when asked if he is an art aficionado himself, he says plainly, "I like the paintings" – and quietly but wholly enters these worlds.
As such, National Gallery is the 40th film in a storied career that has seen Wiseman delve into the minutia of a correctional institution, police precinct, zoo, meat-packing plant, women's shelter, hospital, nightclub and countless other establishments. In each, he tracks his subjects' movements within the larger organization, and presents their actions with seemingly little commentary.
But while his method is inconspicuous, Wiseman insists his work, like all documentaries, is not free of bias.
"I don't know how to be objective," says Wiseman. "Of course my film reflects my biases, but bias isn't necessarily a nasty word, because in order to make a film, you have to make choices."
Most of these choices come in the editing room, Wiseman explains, which for him has little to do with ironing out a film's technical aspects and more about "talking to yourself and trying to figure out what it is you're looking at and seeing and hearing and how you can use it."
Not an enviable task when you've got 170 hours of footage to work with, but a necessary part of Wiseman's process.
"In a general sense, the National Gallery was a great museum, but that and two cents won't get me a cup of coffee," he says. "The question was what I was trying to represent, what my understanding of what was going on at the National Gallery [was], and how could I…give dramatic narrative form to that understanding."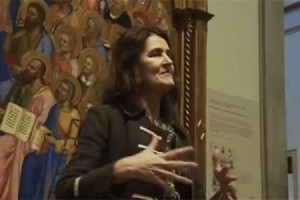 The resulting documentary – though inclusive of staff meetings, art classes and protests – is richest in its profiles of the gallery's effervescent docents (pictured, right), who are filmed regaling young and old visitors with vivid explanations about the artworks.
For those who were introduced to Wiseman through earlier works such as 1967′s Titicut Follies and 1975′s Welfare, which are celebrated for their pointed commentary on social inequality, National Gallery may appear to be a departure, but Wiseman assures this is not the case.
In fact, the decision to focus on art forms through films such as Ballet (1995) and La Danse (2009), the director says, is more about covering "as many different subjects as possible," rather than a conscious shift of lens.
"But I would easily make the argument that National Gallery is one of the most social films that I've made because there is almost no human experience that isn't in one of the paintings," Wiseman points out.
"They deal with all the major human experiences – death, religion, war," he says. "It's presented in a more abstract form, but the subject matter really isn't that different if you think about what it is you're looking at."
In between the film's openings in New York in November, Paris in October and London in January, Wiseman keeps busy on his next project, which he is reluctant to discuss, but predicts will be completed by the end of next summer. His aspirations for that film are much the same as those for National Gallery – that audiences approach it as they would with "any other movie."
"You know some people, when they hear the word 'documentary,' it sounds like a prescription that your mother thinks you need to swallow, without the recognition that documentaries can be as funny and as moving as fiction films or novels or plays," he says.
"Those are the kind of movies I try to make: interesting movies that have a dramatic structure and at the same time, represent an analysis of the subject matter."
National Gallery screens at the New York Film Festival on Sunday (October 5)
Check out a trailer for the documentary below: