An IDFA session intended to de-construct the female gaze in documentaries took aim at a variety of topics, including instating quotas for projects by women directors and the concept of a doc-focused Bechdel test.
"I'm tired of people saying that things are better for women documentarians," Debra Zimmerman (pictured below), executive director of non-profit group Women Make Movies, told the audience gathered at Amsterdam's Brakke Grond theatre on Saturday (November 22).
"What I do is not just support women filmmakers because I want there to be more female bodies behind the camera; it's because of what gets on to the camera and the perspectives that are missing in mainstream media, and I don't think I need to tell this audience what it's like not to see yourself represented onscreen," she continued.
Zimmerman was among a number of presenters at a three-hour workshop moderated by Britdoc chief executive Jess Search that began by debating a documentary-oriented "female gaze" – that is, work from women creators believed to convey a distinct perspective – but ended with a passionate discussion on women's representation across the medium and what needs to change.
Zimmerman proposed a twist on the Bechdel test, which gauges gender bias in film by examining whether a work contains a scene featuring two or more female characters talking about something other than men. Zimmerman's Bechdel test for documentaries asks that 50% of subjects in a doc be female – particularly if there are experts in the film – and that women's perspectives on all subjects be represented.
"I need you all to make films that are going to help young women see different images of women so that they will grow up and be filmmakers and keep on making films that represent women in a different way," said Zimmerman.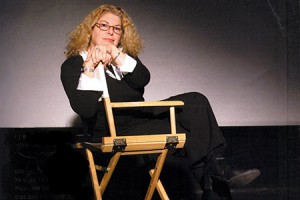 Regarding the female gaze, the verdict among an assembled panel of 15 filmmakers – which included Detropia directors Rachel Grady and Heidi Ewing, Kings of Pastry filmmaker Chris Hegedus, and Love is All director Kim Longinotto, among others – was that there are, indeed, perceived differences between docs made by women and men, although there were conflicting opinions on whether men can effectively harness topics traditionally helmed by women.
Harlan County U.S.A. director Barbara Kopple, for example, was asked whether a man could have made that doc or whether it was a "uniquely female gaze" film.
"All I wanted to do was to tell stories of the people," Kopple told the audience. "I didn't care what kind of gunfire I got into: I learned to use a 57 Magnum [revolver]. There was no way I wasn't going to protect myself, yet people talked to me and maybe people told me things they wouldn't tell a man because I like to do films that are very intimate."
When asked whether she can distinguish documentaries along gender lines, the director said, "I think men are very sensitive as well and do very beautiful and brilliant films. A film that's here, Keep On Keepin' On… teaches us about music, love, mentorship and that could have been done by a woman but it was done by Al Hicks."
However, Longinotto, who was on hand with her long-time editor Ollie Huddleston, said her gender affected the kinds of films she made because "the stories that seem to be good stories seem to be women's stories, to me. We are the ones that are challenging things.
"The [documentary] Ollie and I have just finished is about prostitutes and former prostitutes in America and I think it would have been hard for men because [the women] have all been abused by men or they've all come out of abusive situations," said Longinotto.
The second half of the afternoon focused on issues such as representation and presented potential solutions to the problem of getting projects by women into festivals, and ensuring the place of female contributors in documentaries.
Melissa Silverstein, founder of Indiewire blog "Women and Hollywood," presented a "How to Make Change" list that included steps such as going to see films directed by and starring women on opening weekend, as well as asking publicly funded institutions to supply funding statistics for female-directed films and demanding equal distribution of grants.
Meanwhile, Kate Townsend, a commissioning editor for BBC doc strand 'Storyville,' said that though the organization does not keep statistics on gender, she keeps an unofficial tally herself.
"The up-top are very loathe to put quotas on but I have been trying to make it a drive to encourage female directors to come through the strand more," said Townsend. "I'd say about a third are female directors and I'm not saying that's good."
Rounding out the session was Anna Serner, director of the Swedish Film Institute, who says she made it a point to change the group's mandate to ensure equal funding between men and women over time, which she does by compiling research on representation each month.
"We are monitoring every decision we make," she said. "You always need to be aware, so we are counting every single time and we get the numbers aggregated and that is making us have the conversation all the time and be aware all the time and ask the question: 'How come you didn't find a [female director]?'"