Marissa Ronca, TruTV's senior VP of development and original programming, is feeling bullish.
The U.S. cable network underwent a rebranding late last month with a handful of new and returning series such as Hair Jacked, Fake Off, Friends of the People and The Carbonaro Effect, in a bid to bring lighter content to the fore.
"The world is heavy right now," Ronca (pictured above) told realscreen. "Programming is heavy right now. Scripted dramas, which I love to death, are dominating the airwaves, but there's got to be a place where you can go that feels a little brighter, a little more fun, and a little bit more relatable to people in their 30s and 40s, just for an entertaining breath of fresh air."
In conversation ahead of the rebranding, Ronca gave realscreen the lowdown on the new-look TruTV:
What did you want to change from the old TruTV?
Well, I was part of the rebirth from Court TV to TruTV. This is my second rebrand at TruTV. There were a lot of reasons why we wanted to change and why we did change: We were in a rut, like a lot of places.
We had an audience that was very interested in a lot of content that we were doing, but we weren't standing out. We weren't standing out as a channel or as a brand, even though we had some significant hits at the time that I was very proud of. So when [TruTV president] Chris [Linn] came in, it gave us a good opportunity to look at the landscape, look at what we were doing, and reset.
What were some of the changes that you implemented?
We made a lot of changes behind the scenes here at the network, as well as on screen. It started off quickly with removing the taglines and changing the tone of the promos to be much less aggressive, and certainly with us retooling the whole on-air look.
As far as the programming slate goes, within one year's time we will have turned it over. [In early November] we're premiering six shows within one week, and that will be a sustained roll-out of all-new primetime that will continue into 2015 and beyond.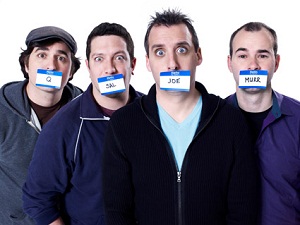 Are you looking for a different demographic?
We have the demographic we want, but we want more of them. That demographic is an audience we call 'fun seekers,' who found us through Impractical Jokers [pictured, left], which was really the canary in the coalmine.
Chris came in, looked at the landscape, and Impractical Jokers was a show for us that was always an outlier in the schedule, but no matter where we moved it, it had a rabid fan base when it was on and an audience that loves it. They are active in social media, and that had brought a whole new audience to TruTV.
So when Chris came, we looked at the activity for that show, why it's a standout, and those things we tried to pick apart and implement into more of our programming. The Carbonaro Effect tapped into a lot of that, too. It's authentic. It's got a little bit of charm. It's got a great personality at the center of it, and pretty much just through social media we were able to promote and launch it off the back of Jokers pretty successfully.
Are you still looking for new programming? What are you searching for?
We are looking for tons of new programming, which is a great opportunity for producers right now. We're being picky about it, because we're taking big chances on stuff we love that really lives up to the bar that we're trying to set. Basically we're looking at things that are way more fun, for results. So we are leaning towards a little bit more of the humor that you find in Jokers. We're not trying to be a comedy channel.

What aren't you looking for?
We're not looking for anything that's too heavy, too earnest, too transformational: Nothing that is super core female and nothing too young.
My list could go on and on. Nothing crime- and law enforcement-related, because that hearkens back to two rebrands ago. We're trying to find new ways to tell stories, and that's a challenge, especially in the docu subspace: to find unique and innovative voices in the production community that can bring an extra layer to their storytelling. Audiences are very savvy, not only through reality TV, but also through scripted TV: jumping time, jumping place, multiple stories intertwining.
I think there could be opportunities for us on the unscripted side, and maybe we haven't taken full advantage of that yet. What that means is a lot of experimentation, and that's scary, too.
How should producers pitch you?
Just to get in contact with me or someone in my department, or I will put you through to somebody in my department. We have an entire team of 25 that's original and development programming, and that includes every single person on the team. We're tightknit – we have meetings every day together. The team could tell you exactly what I've told you and go very in depth about the brand.
Any further highlights we can look forward to early in the season?
Coming in December are two shows that we're pretty excited about. They're probably the shows that had the most questions from other people in the business, and these are about trying to tell stories in new ways, which is what I'm talking about. The first is Branson Famous , which is a reality musical. It's the first reality musical, I'd like to say, and it will really do something to you when you watch it.
And the second one is Breaking Greenville, which is a very different storytelling style for us, and for many networks out there. It follows two competing local news stations in a very, very small market. You have high personal stakes, because this is where they're kicking off their careers, but also small universal stakes, with a Parks & Recreation vibe to it.
It feels like a single camera comedy. But it's completely authentic and real – all real characters. It seems like a sitcom cast. We didn't actually believe they were real. We sent someone down there to check and all of us were blown away to find that these people are working, they're on the news and they're amazing characters.
Would you prefer that producers provide you with a set number or a certain length of episode?
Most of the shows at this point are half-hours, because more comedic content tends to live better in the half-hour format. That being said, I would love more hours. We do have some hours airing one night of the week, but they're a little bit more formatted. We have a show called Barmageddon that's coming, that's hosted by [comedian] Mo Mandel and it's a bar swap, where two very different bar owners swap positions for a week.
You see sort of the social experiments that occur: Say you're used to being ruled with an iron fist and now you've got a boss that rules with hugs.
As far as episode orders, we're not doing less than eight of anything. You don't get enough on the air. People need a little bit of time to check stuff out and sample it, which is all the more reason we want to make commitments to projects that are worth it and that we feel really good about.
Any final thoughts about TruTV's new direction?
This is a very different way from how we've worked in the past. We are really focused on finding creator-driven content and talent-driven content.
In the past, we'd get a pitch that's made to be shot by everybody, so it's very, very generic. That's fine; we've bought some of those. But we've also bought the ones where a producer comes in and they've had a vision for that show that would work for us.
That is why we're having some luck with less traditional producers and production companies, because these are passion projects for them, and they have thought through the style of it – how the transitions are going to look, how this is going to be different and stand out – and I think that attention to detail makes each one of these shows feel different, unique and very innovative.
Whereas in the past, we had a formula here that we would impose on producers. Now we're cracking it open and asking them to come to us with those big ideas, and let us give them the guard rails of TruTV, but bring that vision alive on their own. So far, it's been a very exciting way to work.
The perfect example of that is Friends of the People, the sketch comedy show that was a busted pilot from Comedy Central. And I probably shouldn't say this, it was bad. It was so bad. But the talent and their chemistry was amazing. That's something that the Jokers had that you cannot fake.
When the Jokers pitch came in – I took the pitch – it was four guys that played pranks on each other, and I was thinking, 'Oh my God, this is going to be terrible." But they have this undeniable chemistry.
The Friends of the People had that, so we went to them and said, listen, we want to give you the chance to make the show that you want to make. Here's where we're at, here's what we liked about your pilot. Here's what we like about you. Here's who we are.
They took it, ran with it, and there were a lot of lessons learned with what they had already done, and what they brought back to us was night and day from what they had done before. It was amazing. Such different content, for us, is something we're really excited about.