Oscar-winners Louie Psihoyos, Morgan Neville (pictured) and Daniel Junge are among the filmmakers bringing new docs to next month's Sundance Film Festival, which today (December 3) unveiled its U.S. and world competition line-up.
Other notable filmmakers debuting work at the annual Park City event include Kim Longinotto (Rough Aunties, Love is All), Marc Silver (Who is Dayani Cristal?), Jerry Rothwell (Donor Unknown), and Bill and Ross Turner (Tchoupitoulas).
Psihoyos, who won an Oscar for dolphin doc The Cove, will debut Racing Extinction at the festival, after previewing an early cut of the film (previous titled 6) as a work-in-progress at the Tribeca Film Festival earlier this year. Meanwhile, 20 Feet from Stardom helmer Neville will premiere Best of Enemies, which promises a behind-the-scenes account of the 1968 televised debates between Gore Vidal and William F. Buckley Jr.
Junge, who won an Academy Award for short doc Saving Face, will launch Being Evel, billed as being a candid portrait of American daredevil Robert "Evel" Knievel; while Sundance-winner Longinotto will premiere Dreamcatcher which, as previously revealed by realscreen, looks at prostitution in the U.S.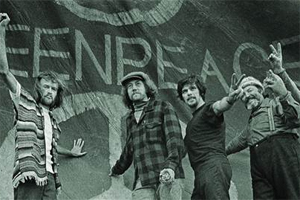 Meanwhile, Rothwell's How to Change the World (pictured, left), which previously pitched at the 2013 IDFA Forum and has received financial backing from the Sundance Institute, has been selected as the "day one" film for the world cinema documentary competition, kicking off the festival on January 22.
The doc, produced by Al Morrow, Bous De Jong and Jonny Persey, uses archival footage to tell the story of the men who founded environmental organization Greenpeace.
Elsewhere, Lyric R. Cabral and David Felix Sutcliffe's doc on U.S. counter-terrorism tactics, (T)ERROR; Jill Bauer and Ronna Gradus's project on amateur porn, Hot Girls Wanted; and Sophie Deraspe's film on a lesbian Syrian blogger, The Amina Profile - all grantees of Chicken & Egg Pictures' 2014 Open Call – will also bow at the festival.
The news comes after realscreen earlier today revealed that new documentaries from Kirby Dick and Brett Morgen are also set to premiere at Sundance, playing out of competition – most likely in the festival's Documentary Premieres strand.
Robert Redford, president and founder of the Sundance Institute, said: "The work of independent artists inevitably reflects the state of our culture and the times in which we live. Their stories are often irreverent, challenging, compelling and unexpected, and not only possess the power to move and hopefully inspire audiences, but also to speak to our shared humanity."
The 2015 Sundance Film Festival takes place from January 22 to February 1 in Park City, Utah. The full competition line-up, with synopses provided by the festival, follows below:
U.S. DOCUMENTARY COMPETITION
Sixteen world-premiere American documentaries that illuminate the ideas, people, and events that shape the present day.
3½ MINUTES / U.S. (Director: Marc Silver) — On November 23, 2012, unarmed 17-year-old Jordan Russell Davis was shot at a Jacksonville gas station by Michael David Dunn. 3½ MINUTES explores the aftermath of Jordan's tragic death, the latent and often unseen effects of racism, and the contradictions of the American criminal justice system.
Being Evel / U.S. (Director: Daniel Junge) — An unprecedented, candid portrait of American icon Robert "Evel" Knievel and his legacy.
Best of Enemies / U.S. (Directors: Morgan Neville, Robert Gordon) — Best of Enemies is a behind-the-scenes account of the explosive 1968 televised debates between the liberal Gore Vidal and the conservative William F. Buckley Jr., and their rancorous disagreements about politics, God, and sex.
Call Me Lucky / U.S. (Director: Bobcat Goldthwait) — Barry Crimmins was a volatile but brilliant bar comic who became an honored peace activist and influential political satirist. Famous comedians and others build a picture of a man who underwent an incredible transformation.
Cartel Land / U.S., Mexico (Director: Matthew Heineman) — In this classic Western set in the 21st century, vigilantes on both sides of the border fight the vicious Mexican drug cartels. With unprecedented access, this character-driven film provokes deep questions about lawlessness, the breakdown of order, and whether citizens should fight violence with violence.
City of Gold / U.S. (Director: Laura Gabbert) — Pulitzer Prize-winning critic Jonathan Gold casts his light upon a vibrant and growing cultural movement in which he plays the dual roles of high-low priest and culinary geographer of his beloved Los Angeles.
Finders Keepers / U.S. (Directors: Bryan Carberry, Clay Tweel) — Recovering addict and amputee John Wood finds himself in a stranger-than-fiction battle to reclaim his mummified leg from Southern entrepreneur Shannon Whisnant, who found it in a grill he bought at an auction and believes it to therefore be his rightful property.
Hot Girls Wanted / U.S. (Directors: Jill Bauer, Ronna Gradus) — Hot Girls Wanted is a first-ever look at the realities inside the world of the amateur porn industry and the steady stream of 18- and 19-year-old girls entering into it.
How to Dance in Ohio / U.S. (Director: Alexandra Shiva) — In Columbus, Ohio, a group of teenagers and young adults on the autism spectrum prepare for an iconic American rite of passage — a spring formal. They spend 12 weeks practicing their social skills at a local nightclub in preparation for the dance.
Larry Kramer in Love and Anger / U.S. (Director: Jean Carlomusto) — Author, activist, and playwright Larry Kramer is one of the most important and controversial figures in contemporary gay America, a political firebrand who gave voice to the outrage and grief that inspired gay men and lesbians to fight for their lives. At 78, this complicated man still commands our attention.
Meru / U.S.A. (Directors: Jimmy Chin, E. Chai Vasarhelyi) — Three elite mountain climbers sacrifice everything but their friendship as they struggle through heartbreaking loss and nature's harshest elements to attempt the never-before-completed Shark's Fin on Mount Meru, the most coveted first ascent in the dangerous game of Himalayan big wall climbing.
Racing Extinction / U.S. (Director: Louie Psihoyos) — Academy Award-winner Louie Psihoyos (The Cove) assembles a unique team to show the world never-before-seen images that expose issues surrounding endangered species and mass extinction. Whether infiltrating notorious black markets or exploring humans' effect on the environment, Racing Extinction will change the way you see the world.
(T)ERROR / U.S. (Directors: Lyric R. Cabral, David Felix Sutcliffe) — (T)ERROR is the first film to document on camera a covert counterterrorism sting as it unfolds. Through the perspective of *******, a 63-year-old Black revolutionary turned FBI informant, viewers are given an unprecedented glimpse of the government's counterterrorism tactics, and the murky justifications behind them.
Welcome to Leith / U.S. (Directors: Michael Beach Nichols, Christopher K. Walker) — A white supremacist attempts to take over a small town in North Dakota.
Western / U.S., Mexico (Directors: Bill Ross, Turner Ross) — For generations, all that distinguished Eagle Pass, Texas, from Piedras Negras, Mexico, was the Rio Grande. But when darkness descends upon these harmonious border towns, a cowboy and lawman face a new reality that threatens their way of life. Western portrays timeless American figures in the grip of unforgiving change.
The Wolfpack / U.S. (Director: Crystal Moselle) — Six bright teenage brothers have spent their entire lives locked away from society in a Manhattan housing project. All they know of the outside is gleaned from the movies they watch obsessively (and recreate meticulously). Yet as adolescence looms, they dream of escape, ever more urgently, into the beckoning world.
WORLD CINEMA DOCUMENTARY COMPETITION
Twelve documentaries by some of the most courageous and extraordinary international filmmakers working today.
The Amina Profile / Canada (Director: Sophie Deraspe) — During the Arab revolution, a love story between two women — a Canadian and a Syrian American — turns into an international sociopolitical thriller spotlighting media excesses and the thin line between truth and falsehood on the Internet. World Premiere
Censored Voices / Israel, Germany (Director: Mor Loushy) — One week after the 1967 Six-Day War, renowned author Amos Oz and editor Avraham Shapira recorded intimate conversations with soldiers returning from the battlefield. The Israeli army censored the recordings, allowing only a fragment of the conversations to be published. Censored Voices reveals these recordings for the first time. World Premiere
The Chinese Mayor / China (Director: Hao Zhou) — Mayor Geng Yanbo is determined to transform the coal-mining center of Datong, in China's Shanxi province, into a tourism haven showcasing clean energy. In order to achieve that, however, he has to relocate 500,000 residences to make way for the restoration of the ancient city. World Premiere
Chuck Norris vs Communism / United Kingdom, Romania, Germany (Director: Ilinca Calugareanu) — In 1980s Romania, thousands of Western films smashed through the Iron Curtain, opening a window to the free world for those who dared to look. A black market VHS racketeer and courageous female translator brought the magic of film to the masses and sowed the seeds of a revolution. World Premiere
Dark Horse / United Kingdom (Director: Louise Osmond) — Dark Horse is the inspirational true story of a group of friends from a workingman's club who decide to take on the elite "sport of kings" and breed themselves a racehorse. World Premiere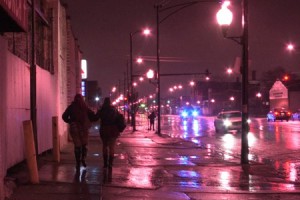 Dreamcatcher (pictured, right) / United Kingdom (Director: Kim Longinotto) — Dreamcatcher takes us into a hidden world seen through the eyes of one of its survivors, Brenda Myers-Powell. A former teenage prostitute, Brenda defied the odds to become a powerful advocate for change in her community. With warmth and humor, Brenda gives hope to those who have none. World Premiere
How to Change the World / United Kingdom, Canada (Director: Jerry Rothwell) — In 1971, a group of friends sails into a nuclear test zone, and their protest captures the world's imagination. Using rare, archival footage that brings their extraordinary world to life, How to Change the World is the story of the pioneers who founded Greenpeace and defined the modern green movement. World Premiere. DAY ONE FILM
Listen to Me Marlon / United Kingdom (Director and screenwriter: Stevan Riley, Co-writer: Peter Ettedgui) — With exclusive access to previously unheard audio archives, this is the definitive Marlon Brando cinema documentary. Charting his exceptional career and extraordinary life away from the stage and screen, the film fully explores the complexities of the man by telling the story uniquely in Marlon's own voice. World Premiere
Pervert Park / Sweden, Denmark (Directors: Frida Barkfors, Lasse Barkfors) — Pervert Park follows the everyday lives of sex offenders in a Florida trailer park as they struggle to reintegrate into society, and try to understand who they are and how to break the cycle of sex crimes being committed. International Premiere
The Russian Woodpecker / United Kingdom (Director: Chad Gracia) — A Ukrainian victim of the Chernobyl nuclear disaster discovers a dark secret and must decide whether to risk his life by revealing it, amid growing clouds of revolution and war. World Premiere
Sembene! / U.S., Senegal (Directors: Samba Gadjigo, Jason Silverman) — In 1952, Ousmane Sembene, a Senegalese dockworker and fifth-grade dropout, began dreaming an impossible dream: to become the storyteller for a new Africa. This true story celebrates how the "father of African cinema," against enormous odds, fought a monumental, 50-year-long battle to give Africans a voice. World Premiere
The Visit / Denmark, Austria, Ireland, Finland, Norway (Director: Michael Madsen) — "This film documents an event that has never taken place…" With unprecedented access to the United Nations' Office for Outer Space Affairs, leading space scientists and space agencies, The Visit explores humans' first encounter with alien intelligent life and thereby humanity itself. "Our scenario begins with the arrival. Your arrival." World Premiere