Heather Croall (pictured), CEO and director of Sheffield Doc/Fest, has resigned from the helm of the UK documentary festival after nine years in the role.
Croall is to return to Australia to rejoin her family, and is taking up the position of CEO and festival director of the Adelaide Fringe Festival.
She will leave Doc/Fest in mid-February, with Mark Atkin taking over as acting director. Atkin currently serves as the festival's director of Crossover and until recently was the head of the Documentary Campus Masterschool.
The Doc/Fest Board is now seeking Croall's successor.
In a statement, Doc/Fest chairman Alex Graham said: "Heather will be an incredibly difficult act to follow. In less than a decade she transformed Sheffield Doc/Fest into one of the leading film festivals in the world and she leaves a fantastic legacy on which we can build.
"Of course we entirely understand her desire to be closer to her family and wish her the very best in her new role back home in Adelaide. I'm also delighted that Mark Atkin, who sits on the Doc/Fest board and knows the festival well, has agreed to step in as acting director."
Croall's departure marks a period of significant transition for the UK festival, with its three most senior staff having all stepped down within a space of four months.
In September, deputy director Charlie Phillips (pictured below, left) and programming director Hussain Currimbhoy (center) both departed, with Melanie Iredale (right) – head of the UK's Berwick Film & Media Arts Festival – replacing Phillips.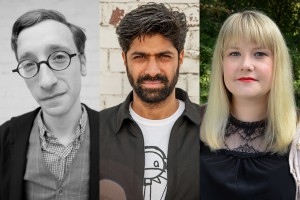 Currimbhoy moved to LA to become a programmer for the Sundance Film Festival, and in December Doc/Fest hired Independent Television Service (ITVS) exec Claire Aguilar to replace him in the new role of director of programming and industry engagement.
In a statement, Croall said: "Working as the director at Sheffield Doc/Fest has been some of the most exciting, challenging and rewarding years of my career. I'm enormously proud of what we have built in Sheffield since I arrived almost a decade ago.
"I love the event so much and adore the city and the team, so it has been an extremely difficult decision for me to leave Sheffield, but I could not resist the chance to move home with my family and take up the role of director of the Adelaide Fringe Festival – an organization I worked with all through the 1990s – and of course I am delighted to return to my family and be reunited with my children.
"Sheffield will be forever in my heart and I have every faith in the amazing team to take Sheffield Doc/Fest to its next level."
Upon joining Doc/Fest in 2006, Croall introduced a number of new strands to the UK festival in a bid to boost its industry credibility; most notably the Interactive section, and the popular MeetMarket networking event, the latter of which has become a key fixture on the documentary fundraising circuit.
Attendance numbers have swelled during her tenure, and in 2012 realscreen named Croall as one of its annual Trailblazers, recognizing her work in boosting the festival's international profile.