Realscreen talks to director Sophie Deraspe about de-constructing a real-life mystery in her documentary The Amina Profile, which investigates a shocking Internet hoax that involved her close friend, Sandra Bagaria (pictured, above). 
Quebec director Sophie Deraspe has a knack for tackling enigmas. Her first feature, the 2006 documentary-style fiction film Missing Victor Pellerin, chronicled the puzzling disappearance of a promising young Montreal artist through interviews with those who claimed to have known him well.
Deraspe went to great lengths to create a compelling character audiences would believe in the acclaimed film, but six years later she would go the distance to de-construct a real-life mystery in the documentary The Amina Profile.
The doc – a coproduction between the National Film Board of Canada and Montreal's Esperamos – had its world premiere at the Sundance Film Festival on Saturday (January 24) and was acquired Monday (January 26) by Sundance Channel Global for France, French-speaking Benelux and Iberia.
It follows the relationship between Montrealer Sandra Bagaria and the Syrian-American Amina Abdallah Araf al Omari, who meet online and begin corresponding over a number of months in 2011. Urged by Bagaria to chronicle her experiences in Syria, Amina begins a blog called "A Gay Girl in Damascus," where she writes about religion, sexuality and politics, ultimately garnering a global audience.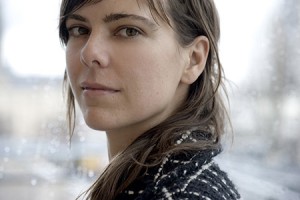 In the early months of the Arab Spring, Bagaria learns that Amina has been abducted and the blogger's disappearance ignites an international rescue operation by her readers. However, as mainstream media begin to descend upon the case, the search for the virtually untraceable blogger raises more questions than answers.
When suspicions are raised about her identity, Bagaria and many others reluctantly begin to realize Amina is not who she claims to be – at all.
Drawing parallels to documentaries such as Catfish and The Imposter, Deraspe – who knows Bagaria in real life and witnessed the events as they happened in 2011 – sets out to give agency back to her friend, and follows Bagaria as she travels from Istanbul to Tel Aviv and Chicago to piece together the hoax and its sordid aftermath, while also looking to bring closure for herself.
Realscreen caught up with Deraspe and Bagaria ahead of the film's world premiere to discuss the broader political themes around the hoax, and the challenge of creating a narrative structure around a well-known case.
How did you first become involved in the project?
Sophie Deraspe: I was a friend of Sandra's, so I was aware when she started dating Amina in early 2011. I was aware of Amina blogging, and then the abduction that happened and all the investigations that went on. We were experiencing it with a bunch of Sandra's friends as a thriller that was going on right in front of our eyes and we had our good friend being in this emotional turmoil.
From one day to the other we had new news and Sandra was also implicated in the investigation because she could give some info to journalists. So, I knew it was like a film that was unfolding in front of us, but [seeing] what Sandra had to go through and with the media involved, I couldn't simply ask her 'Let's film it.'
So I left it that way; but I remember having told her, 'It is a film. What's happening is a film. And it's only the first 30 minutes of a very good film.'
Sandra Bagaria: After experiencing all that craziness, I really was not ready to talk about it. I felt I was alone in that crazy media fiasco. I was put there for trying to free someone who never existed. So a few months afterwards, I realized that I had to share it, because it was too much for me to keep to myself.
I thought I would talk to Sophie and give her all the exchanges that I had with Amina. And I basically told her to do whatever she thought would be interesting to do with this. I said, 'I'm happy to share with you. I trust you'll do what's most interesting, but please do keep in mind that I don't want it to be about the love story.'
The social components were as important and as interesting to be covered, such as media trust, online identity, activism. It was a broader conversation I wanted to be happening.
The film's opening scene is intimate and personal. You appear very vulnerable in this film, Sandra, and I don't expect many people would have been willing to come forward like this. How do you feel when those aspects of your relationship are focused on?
SB: I don't want to be in denial – it would be stupid of me – and this project has been, since the beginning, helping me move forward and take back control of that story. Because at the end, as you can imagine, I was not owning it – I was a player and a peon. So I understood I had to be brave enough to take back control of that story, which I did.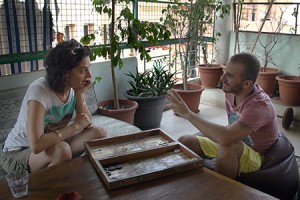 SD: I went through all of her archives and it would have been a denial not to mention the erotic relationship that started, like from the first days. And also it would be a denial of what online relationships are, because a lot of them are happening that way. So I wanted to be true to what happened and true to all of those people who are involved in meeting online and yeah, that's what it is nowadays.
I felt I had to do it that way. And also Amina is a huge fantasy not only of one man but of many people who just dove into it and in a way, without knowing it, they participated in nourishing the fantasy. So it says a lot about ourselves. Amina is the mirror of how we want to see eroticism in the Arab world: she is like this type of heroic figure that we want to see in what is a rather conservative country where women are supposedly covered and submissive. It says a lot about what we want and what's exciting for us.
In your previous doc, you took on a fictional character you devised named Victor Pellerin, and now you're taking on a real-life mystery. This genre seems to be appealing to you. 
SD: Now [in The Amina Profile] I'm trying to de-construct a fictitious character where previously I'd been constructing one. I have to say that even the stakes weren't the same. Amina was playing with the very intimacy of one person. The love she received from [Sandra], the care. And other people's lives.
Certain activists were threatened during the revolution and they cared for Amina during that time. So can you imagine how upsetting this is?
Did documentaries such as Catfish and The Imposter influence this film in any way? 
SD: Of course, I've watched those docs, but when I do my own films, I connect with the story and since I film it myself, there's an organic way of doing it and so I wasn't so aware of what other people had done before me. I think this specific doc has its own issues. Catfish, I liked the fact that I wasn't so interested at first because I felt this guy was trapped on Facebook by a woman who wasn't real. What's the big deal?
But then it goes further and says a lot more about humanity. In that way, I feel with our film, we have a big punch… Amina was constructed by someone who is completely different from who they said they were. But the film has more to say about connections and about our relationship with media.
Because it's a fairly well-known hoax, was it challenging to balance explaining the case while also providing new info?
SD: Absolutely. I wanted the film to speak to both audiences – those who knew nothing about it and those who know… I don't want to expose what's happening in Syria [with Amina], but I also have to lay the groundwork for people to understand, either if they read the news or if they don't. So on many levels it was a challenge on how much info do I give and what is enough.
The Amina Project next screens at the Sundance Film Festival on January 29 at the Temple Theatre and on January 30 at the Egyptian Theatre.
Check out a trailer for the film below: