The latest offering from U.S. net Science Channel, What Could Possibly Go Wrong?, takes epic fails and turns them into educational takeaways.
Debuting on Saturday (February 7) at 10 p.m. EST/PST on both Science and Discovery Channel, the 10 x 60-minute series follows metallurgist Kevin Moore (pictured, left) and U.S. Marine Corps vet Grant Reynolds (right) as they find and recreate the Internet's most disastrous hi-jinx using their own quirky brand of science.
The show – the first program greenlit for the net by incoming GM Rita Mullin (pictured, below), who took the role at Science in June – joins a slate that already includes the pop science offering Outrageous Acts of Science, but what separates the Hoff Productions-made What Could Possibly Go Wrong?, she says, is its application of both theory and creativity.
"It's like watching a buddy movie but with great scientific takeaway," Mullin tells realscreen in an interview. "It's fun for us to take those hilarious home-made videos and then apply the principles of science and creativity to really use them as a teaching tool. That's really what I love. When you watch Kevin – who is a PhD scientist – his love of science and his almost childlike enthusiasm for the subject and teaching other people is really contagious."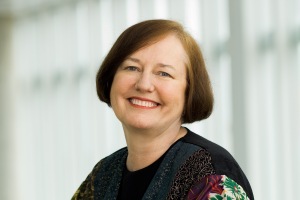 As Mullin previously discussed in a science-themed roundtable for realscreen, the goal now for networks programming science is to provide value-added experiences that audiences can't easily acquire online.
As such, every hour-long episode of What Could Possibly Go Wrong? features three experiments that begin with the hosts watching an "epic fail" video, and then setting out to right the Internet's wrongs using science. The pair – who have been friends for a decade – uses Moore's garage as home base to recreate such acts as making a solar "death ray" out of an old big-screen TV, applying nitrous oxide to a Go-Kart in order to drag-race a truck, and assembling a Gatling gun that shoots meatballs.
While Outrageous Acts of Science also features experts dissecting online videos, Mullin points out that the hands-on nature of the net's latest series takes the genre one step further.
"This is really using the user-generated content as the jumping-off point for something that becomes much more hands-on experimentation on the part of these two guys," explains Mullin.
"And we try very much for them to be pretty much using stuff that would be easily accessible, like in their garage," the exec adds. "And if it isn't, they go in search of it: they go to junkyards, they find the things they need to do it. So it's participatory science."
What Could Possibly Go Wrong? debuts on Science Channel and Discovery Channel at 10 p.m. EST/PST on Saturday (February 7)
Check out an exclusive clip from the show below: