Wahlburgers prodco 44 Blue Productions is teaming up with actor Dwayne "The Rock" Johnson (pictured) on a feature doc for HBO centered on a Florida boot camp for juvenile offenders.
Titled Rock & A Hard Place, the documentary – which is to start production on February 26 – follows a group of young offenders at the Miami-Dade County Corrections and Rehabilitation Department Boot Camp Program. The doc is to chronicle a 40- to 50-person cohort that begins the intensive program in February, and will follow specific individuals from that class over the course of four months.
Speaking exclusively with realscreen, 44 Blue Productions president and co-owner Rasha Drachkovitch (pictured below, center, with Mark and Paul Wahlberg) says the project came about a year ago when Johnson called him about a documentary idea, inspired by the company's work on the long-running prison docuseries Lockup for MSNBC.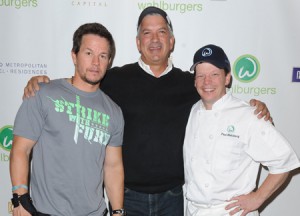 "[Johnson] wanted to share an experience he had when shooting the film Pain and Gain, when he was asked by the officials in Miami to come and talk to a group of juvenile offenders," explains the exec.
"And he went to speak to them and he said he had an epiphany," he continued. "He was a troubled youth and basically said he used to be them. He was arrested eight, nine times for many offences when he was growing up in Hawaii and a light bulb went off and he said, 'I want to make this film about this program.'"
Though 44 Blue has produced a slate of celebrity-focused shows such as Wahlburgers and Donnie Loves Jenny for A&E, as well as the forthcoming According to Alex for BET Centric, Drachkovitch says the company's non-celebrity fare such as Pitbulls & Parolees and Lockup tends to share similar themes.
"We're really attracted to second chances," says Drachkovitch. "I think a lot of our shows have that theme; Pit Bulls & Parolees and Lockup have a lot of stories about redemption and people trying to break the cycle.
"I think what's so exciting about this project is that there's a real rawness and real power to seeing someone come in who's just headed towards destruction, and see them – over the course of four months – really change," says the exec.
Drachkovitch points out that after 14 years of producing Lockup, 44 Blue "knows corrections pretty well," and has seen a lot of similar programs that ultimately fail. At Miami-Dade, however, nine out of 10 graduates stay out of prison, he says. As such, after considering the program's reputation and the actor's involvement, the group – along with Johnson – approached Sheila Nevins, president of HBO Documentary Films, and received the go-ahead.
When asked how the doc will be different from what's been broached with A&E series Beyond Scared Straight, which also follows youth involved in young offender intervention programs, Drachkovitch says Rock & A Hard Place will focus on those who aren't able to leave the facility at the end of an episode.
"They're there full-time," he says, adding that some of the offenders have been charged with crimes such as assault, attempted murder and burglary. "They need to give up their cell phones and any contact they have with the outside world. They have their heads shaved. These are real-life tough guys."