Before setting out on a 100-mile jaunt through Provo, Utah, adventurer Matt Galland (pictured below) – flanked by his best friends Danny Bryson and Blake Josephson – looks into his hand-held camcorder and says, "I guarantee you, no cameraman can keep up with this. The only cameramen that can keep up with us is us."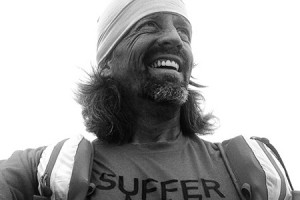 The trio is part of U.S. net Animal Planet's forthcoming series 100 Miles from Nowhere. Produced by Naked and Afraid prodco Renegade 83, the 10-episode show follows the men as they cover a 25-mile route every day for four consecutive days in various destinations around North America, Central America and South America.
At the end of each stretch, the men – each of whom burns about 10,000 calories a day – encounter pre-arranged bear boxes containing favorite foods such as pizza and burritos, as well as various supplies that help them reach the next destination. Every episode covers a four-day adventure, which is entirely filmed by the principals themselves, each equipped with GoPros and Handycams.
In the following clip from the series premiere – shared exclusively with realscreen - the group is seen crossing one of the dangerous Utah peaks encountered along their 100-mile trek.
100 Miles from Nowhere debuts on Animal Planet on April 5 at 10 p.m. EST/PST.