Although she has received numerous accolades worldwide for her film work – her debut documentary feature, Bombay Beach, took top honors at the 2011 Tribeca Film Festival – and her efforts as a music video director for such acts as Sigur Ros and Beirut, Alma Har'el is still nervous about discussing her upcoming film, LoveTrue.
The Israel-born filmmaker's latest work – which, in following three love stories, explores the nature of what we call "true love" through ruminations on memory, self-awareness and how we "perform" as the people we want to be when in relationships – won't be locked until July. But in talking about the film, both to limited press and to audiences at Tribeca who attended a sold-out "work in progress" screening on Thursday (April 16), Har'el says she hopes to have a clearer understanding of what the film should be.
Just as her award-winning short film for Sigur Ros' "Fjögur piano", featuring actor and LoveTrue executive producer Shia LaBeouf, occupied a space that she calls "in between worlds" – an artistic short that could also function as what used to be known as a "music video" – the upcoming film, like Bombay Beach, uses techniques that may be outside of the realm of what purists may regard as "documentary" in an effort to get to the heart of its subject.
"I really live to work in that space where it's not a product, it's something you make that you're not really sure what it is until after you've made it," she says, talking to realscreen while taking a break from editing the film.
It's a project that has been a few years in the making, with Har'el knowing at the outset that her next documentary was going to look at love and how much we reveal to others, and to ourselves, when in the thick of it. It's also been a daunting process both emotionally – with Har'el experiencing the ending of a long-term relationship herself as the project began – and physically, with the director breaking her back while on a research trip for the film and needing to wear a back brace for six months.
"As I was doing it I thought I'd want to do it with other people, and I initially thought I could follow three couples and see them working through a problem in their relationships," she recalls. "While I was looking for them I saw that I was very much drawn to people that were falling out of love, falling out of having the grace of love. So I took a real dive into it with these people."
For the most part, as with Bombay Beach, Har'el found her subjects for LoveTrue by "getting lost and finding people." She knew she wanted to follow stories in distinctly different environments, and settled on Alaska, New York and Hawaii. While in Alaska, she and her team embarked on a bit of a casting process by posting notes throughout the town with contact details and information about the subject matter. Still, the method of finding the subjects in the other locales was, for her, typically intuitive.
"I'd basically stay for a few weeks and walk around and talk to people," she says. "In Hawaii we went from island to island in four weeks and couldn't find anybody, and so I took a day off and went to the beach and saw Will [one of the film's main characters] there hanging out with a few of his friends. So I came up to him and talked to him and he wouldn't talk to me at first. He kind of told me to f*** off. And then a friend of his Googled me and told him, 'Hey, this girl is for real. You should text her.'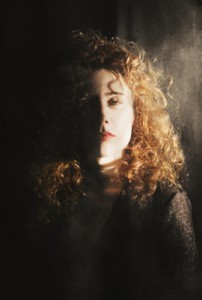 "There are a lot of different ways to make a film but for me, it's very hard to find something topical and just decide on something before I meet the people or have that connection," she says. "You have to be engaged to the point where you're in love with them to a certain degree. You're fascinated by them, you want to spend time with them, you care about them. You need to have all of those things or otherwise you become very removed and lose interest."
Without revealing too much about the film or its subjects, it's sufficient to say that each story depicts people coming to terms with truths about their relationships and themselves through what most view as "traditional" doc-making – pointing a camera at a situation and shooting – and also through other, perhaps more revealing, processes. In LoveTrue, Har'el has non-actors perform as older and younger versions of the characters, who interact with them through "psychodramas" and improvised scenarios designed to give the subjects an opportunity to come face to face with aspects of themselves, as gleaned through their own words.
"I never scripted anything," says Har'el of the methodology behind those scenes. "What I did was to take the interviews of the person I'd be filming and give them to the person who would be playing their younger or older selves, and ask them to learn, word for word, some of the things that person was confronting."
Those scenes bring additional cinematic nuance to the proceedings but also serve to reveal more about the subjects than a pure "vérité" approach might. Watching one of the Alaskan characters, a young woman named Blake, reliving abuse at the hands of fellow students in grade school via a surreal recreation featuring her "younger self," the viewer receives a deeper understanding of the experiences that have shaped her than what a static, on-camera interview could provide.
Still, with Bombay Beach, some thought Har'el colored outside the lines of traditional doc-making by having her subjects perform choreographed dance routines. And while there may be those who will take issue with blending therapy techniques and improvisation with observational documentary, Har'el says: "I don't find that the form is so important when I approach something – what's most important is what you're trying to explore, and finding the most creative and interesting way to do so.
"To me, one of the more appalling things is to make a documentary about a person and say, 'We are going to make the person feel so comfortable that they forget the camera is there, and we are going to steal from them some private moments that otherwise they never would have wanted us to have,'" she adds. "That idea, to me, is a lot more shocking than the way I work, where we're going to make the person so consciously aware that we're making a film, that they're going to never forget that they made it, or the stories they tell themselves about themselves, and maybe it will give them clarity about who they are."
Beyond the idea of "performance" in non-fiction, Har'el says the scenes with the non-actors should also illuminate one of LoveTrue's other central themes – that love and relationships also, by their nature, involve the element of performance which can, if left unchecked, turn into deception.
"Every time you turn a camera on someone and tell them you are making a film about them, they start to perform," she says. "And we also do that within relationships, when we fall in love – we go through a period, and sometimes it takes years, when we 'perform as ourselves' and present ourselves as who we want to be. At some point, all that goes out the window and you're left with the things that make you who you are and always come back to haunt you."
For now, the director is working on crossing the finish line with the film, recently acquired for worldwide sales by UK distributor Dogwoof. Outside of the Tribeca "work in progress" screening, which will also feature a Q&A with Har'el and LaBeouf, the director doesn't yet have a "grand plan" for its release. But she knows that will present itself in time.
"I make it very clear to everyone I work with not to have a plan from the start," she says with a laugh as she prepares to go back to the edit bay. "I have to finish the film and then the plan will come."