As the True/False Film Festival kicks off today (March 3) in Columbia, Missouri, we speak with co-founder David Wilson about the four-day fest's 13-year history and how it continues to defy film festival conventions.
The artistic theme behind this year's True/False Film Festival, "Off the Trail," is influenced by the forthcoming U.S. presidential election, and is meant to encourage attendees to consider skirting the obvious path – to think bigger.
But, now in its 13th year, one could argue that "off the trail" has been the U.S. festival's own modus operandi since its inception in 2003. At this non-fiction event, parades precede buzzy premieres, and game shows take the place of panels. Notably, feature filmmakers don't pay to attend, but rather get paid to come through the three-year-old "Pay the Artist" initiative, and an annual True Life Fund collects money from festival goers to support a documentary subject (last year's collection raised US$35,000 for The Look of Silence principal Adi Rukun).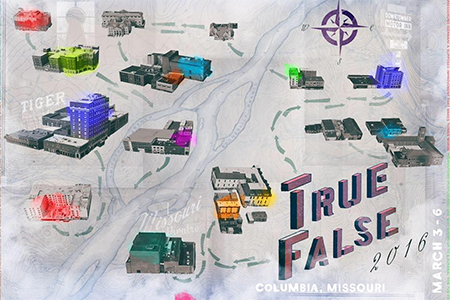 Co-founder David Wilson started True/False in 2003 with Paul Sturtz, and in their first year hosted the likes of the late Bruce Sinofsky – who shared the inaugural True Vision Award with Joe Berlinger - and The Yes Men director Sarah Price as well as Touching the Void helmer Kevin Macdonald. True/False, which added Pamela Cohn to its programming team in September, now has an almost cult-like following among documentarians, who are appreciative of the creativity, innovation and line-blurring intrinsic to the fest and the compact group of films programmed.
This year, True/False hosts 37 feature docs, and about 21 shorts. The feature slate includes Heidi Ewing and Rachel Grady 's Norman Lear: Just Another Version of You and Ido Haar's newly-titled Presenting Princess Shaw (originally titled Thru You Princess), as well as Sundance award-winners Life, Animated from Roger Ross Williams and Josh Kriegman and Elyse Steinberg's Weiner. New films enjoying world premieres include Jessica Dimmock and Christopher LaMarca's The Pearl and Brett Story's The Prison in Twelve Landscapes.
Attendees can also expect a new wing of the festival, intended to celebrate its experimental foundation. "The Synapses" serves as a "mini ideas fest" and features intimate "field sessions" between artists discussing such topics as biographic filmmaking and archival video, a Good Wizard Arcade of transmedia and VR projects, and a theatre experience.
Realscreen spoke with David Wilson about how True/False pushes the parameters of what film festivals should look like.
Can you tell me a bit about some of the festival's new initiatives? 
We've come more and more to see ourselves as an experimental festival. Not accessible necessarily as experimental film but really playing with the very form of what a film festival can be. "The Synapses" is an 'ideas festival' built inside True/False which covers our new video arcade for brand new VR and transmedia pieces; and "Field Sessions" is a radical reimagining of how festival panels can work and what kind of conversations are possible about the forms of non-fiction filmmaking. It includes a program called 'Provocations', which are live presentations of feature films, scattered around the festival, with speakers from a really broad array of disciplines presenting provocative new ideas. It even covers an interactive and immersive theatre production made just for the festival called Lost Letters.
How and why did you create the "Pay the Artist" program? 
We've clearly entered a period where the arthouse model of distribution for a non-fiction [film] – if it ever existed – doesn't exist. And the number one way right now for people to see a lot of the films we show is through festivals, but festivals aren't in any way a viable business model for filmmakers. Being on the fest circuit often means delaying other projects, delaying one's life, having to travel around with your film. With that as a backdrop, we basically [asked ourselves] how do we figure out a way to make sure that coming to True/False for a filmmaker is, at worst, zero sum and costs them nothing, and at best, maybe makes them a little bit of money.
We're not a fest with deep pockets. We don't have major institutional or corporate support. Everything we do is sort of cobbled together from a pretty small network of supporters. But we knew there was a lot of love for True/False and for the risks we're willing to take, so we went to excellent donors and we said, 'We have this idea and we want to figure out a lump sum to pay every visiting feature filmmaker – would you help make a donation to the festival that would help cover this?' And we structured it so that about half the money they give goes to the festival, for general festival support, and half the money goes to the filmmakers. This year, every feature filmmaker at True/False will get $600. It's not a huge amount of money, but think about if every festival can do this.
I was talking with someone recently who said your festival was the first one where they realized they could be paid to attend something instead of paying to be there.
And I should add that that comes on top of also covering all flight and lodging and food vouchers to local restaurants.
There seems to be a good sense of humor around a lot of your programming, such as the game shows. For example, this year Field of Vision is presenting a game show called "Clicking and Streaming." When did those start happening? 
We think festivals are fun, and fests are about a celebration of something. We show a lot of really heavy movies and we love those movies and we know the world is a far from perfect place but…from the early moments of the fest we started coming up with these game show-type challenges and it kind of evolved. It has a lot of the packed houses all weekend long. In a funny way, it's a stealth delivery device for a whole micro-lesson on media literacy. Having to figure out all the different ways in which a filmmaker might be trying to trick you is actually good practice for all the ways media might try to fool us in the rest of our lives.
["Clicking and Streaming"] challenges teams of three people to come up with the best archival videos, scanning Vimeo, Facebook, archive.org, whatever. They're given a topic and they have to look for a great online video. It's a fun and cheeky way to celebrate archival video in all its glory.
How does the element of hosting world premieres play out at True/False? 
It's not very important to us. We think that most festivals, or festivals in general, place far too much emphasis on premieres and premiere status. And in most cases, it's a fact or statistic that is more about bolstering the festivals than about helping establish the filmmakers. It's more about saying 'Look how cool we are' than saying 'Look how great this movie is.' For us, we have a standard where we say, 'What can we do for this film and how much can we help this film? And how can being in True/False make a different to this film's path in the world?' That's our criteria for selecting films. That can mean a film came out two years ago and never got the right attention, and that can mean a film has not yet come to the world and we arrange some sort of screening. I don't care if it's a premiere or not, I just want to show great work.
What are some of the films you're most looking forward to screening this year?
I'm really proud of the totality of the schedule. I will mention a few films that have entrusted us with helping [them] come into the world. These include a film called Those Who Jump, which is a first-person look at a group of men from various countries in Africa all looking to make their way into Europe. It's an extraordinary film. I think Peter at the Farm is striking in both individual content but also striking in terms of storytelling and the relationship between the filmmakers and main character. There's a great Canadian film called The Prison in Twelve Landscapes which looks at the prison industrial complex in the U.S. through a series of vignettes. And one film that hasn't gotten its due is Michael Shannon Michael Shannon John by Chelsea McMullan. It's just a really great, troubling story about a brother and sister that go searching for their lost father.
What is the initiative you're most proud of?
Every year on the Friday evening of the fest at 5:15 p.m. we throw the March March – the world's only doc-themed parade which takes over a Main Street of downtown Columbia. It gets filled up with people – some in costume – and some filmmakers are pulled in, and there's marching bands and drumlines. It's a Utopian celebration of non-fiction filmmaking. I would also say the True Life Fund. It's been, personally, incredibly gratifying to be able [to do that], not as a charity, but as a way of saying 'thank you' for a story.
This interview has been edited and condensed.