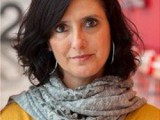 Following a restructure at Endemol Shine Group, Ana Langenberg has stepped down as chief operating officer of the global producer-distributor's Creative Networks division.
Langenberg (pictured) has spent 18 years with the company and most recently moved into the role of COO in November from her previous post as global head of format distribution. Her remit included responsibility for the department's overall commercial operations, format sales, acquisitions and music.
During her time with the company, Langenberg played a key role in launching Endemol's affiliates in Brazil, Mexico, Chile and Colombia, while also playing a significant part in the global roll out of such international formats as Big Brother, Wipeout, Deal or No Deal? and The Money Drop. She joined Endemol in 1998 and rose through the ranks to become senior licensing manager and senior manager of format distribution.
Following her exit, the position will be closed with Creative Networks CEO Lisa Perrin absorbing Langenberg's responsibilities.
Helen Cooper, head of acquisitions, and Danny Layton, group director of music, will now report directly into Perrin.
"As part of ongoing conversations about how we should organize ourselves in the long term to deliver the very best and most efficient service to the Group, Ana and I have together agreed that it now makes sense for the role of Chief Operating Officer of Creative Networks to be discontinued," said Perrin an email shared with realscreen. "This obviously and very sadly means that after 18 years with the company Ana will be stepping down and leaving us.
"She leaves with our heartfelt gratitude and I know she will be missed enormously."