Martha Stewart and Snoop Dogg are one of the entertainment industry's most unlikely pairings, but the eccentric duo are slated to reignite their unexpected friendship in VH1′s culinary series Martha and Snoop's Potluck Dinner Party.
Premiering tonight (Nov. 7) at 10 p.m. ET/PT, the cookery-variety show hybrid will feature the 75-year-old lifestyle maven and 45-year-old seminal hip hop artist as they host a weekly "half-baked" dinner party filled with cocktails, cooking, conversation and musical performances for their celebrity friends.
Produced by Sequential Brands Group, Merry Jane and FremantleMedia-owned 495 Productions, the 30-minute series will feature guests that include Seth Rogen, Wiz Khalifa, Rick Ross, 2 Chainz, Naya Rivera, Ashley Graham, Rick Ross, 50 Cent, Chef Morimoto and Chef Hiroki, DJ Khaled, Kathy Griffin, Kelis, Ashlee Simpson and Evan Ross.
"When you have Martha Stewart and Rick Ross having a clam date together, I think it's something that's so wrong, it's right," 495 Productions founder SallyAnn Salsano told realscreen. "We were given a certain amount of latitude and support from VH1, and I am so grateful for [it]."
The initial concept for the nontraditional celebrity cooking series was born out of an introductory meeting between Salsano and network boss Chris McCarthy, who, according to Salsano, made it "very clear" that he wanted to try different things at the helm of the Viacom-owned net.
Though Salsano and McCarthy crafted a long list of celebrity couples, the duo were continuously drawn to the atypical but loveable pairing of Stewart and Snoop, whose friendship first blossomed during the rapper's 2008 appearance on Stewart's former syndicated talk show Martha, in which the twosome compared mashed potato techniques and discussed slang terms. Their relationship would continue to bloom with follow-up appearance by Snoop on a Christmas-themed episode of Martha to bake "special" Christmas brownies; as guests during Justin Bieber's Comedy Central Roast; and as partners onABC's revamped competition game show $100,000 Pyramid earlier this summer.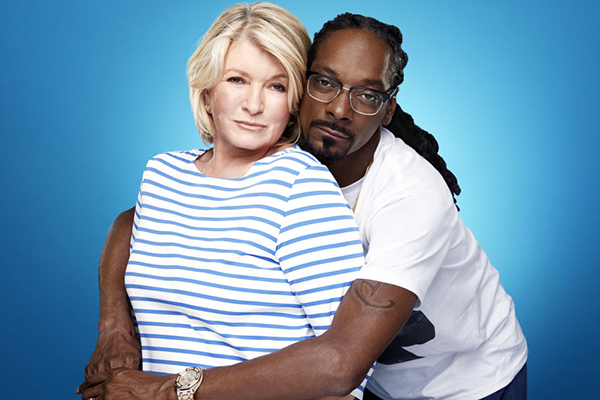 While the theme of Martha and Snoop is to unleash "unpredictable fun" on the viewing audience, specific elements tie the series together: good food, great recipes, intriguing guests and interesting conversation.
The series will see Stewart and Snoop putting their personal spin on dishes for themed meals for a host of holidays including Thanksgiving and Christmas, as well as "game-day parties," while also featuring myriad musical guests as D.R.A.M., Anderson .Paak, October London and the Long Beach City College Marching Band.
With its diversity in talent, content and guests, VH1 and its production partners on the series haven't shied away from casting its net wide enough to appeal to a broad demographic, noted Salsano.
"[Snoop and Stewart] are both still extremely relevant, it's just that they're both relevant in different arenas," the former Jersey Shore producer said. "At the end of the day, there is such power behind their brand that I think the audience is really anybody."
In a market that's becoming increasingly saturated with similar late night house party shows – TLC's Late Night Joy, FYI's ill-fated Kocktails with Khloe, and YouTube series My Drunk Kitchen featuring Hanna "Harto" Hart – Martha and Snoop's Potluck Dinner Party looks to stand apart from the crowd via the stars' insistence that the potluck feel like an authentic dinner party.
"[Each celebrity guest] really did feel that they went to a real dinner party, and I think that's something that was important to Martha and Snoop, and, therefore, to all of us  — that when the guests came, they came for dinner and to have a good time," Salsano said.
But in a politically charged year that has seen a polarizing U.S. presidential race divide the country like no other electoral process in recent memory — sharply splitting the nation on nearly every topic from women's rights and race relations to health care and foreign trade — the VH1 program is also aiming to send a unifying message to the American people.
"When you look at [the series], you're like 'Why are these two people hosting a show together?'" Salsano said. "Well, because they get along and they're friends, and they appreciate each other's path in life. I think if America looked at each other more this way, this country would be in a better place. Martha didn't change for Snoop, and Snoop didn't change for Martha, but those are two people who love and respect each other more than anyone I've ever seen together."
Martha and Snoop's Potluck Dinner Party premieres tonight at 10 p.m. ET/PT on VH1.