A docuseries following one of the most extreme family businesses won the ninth annual Summit Showdown pitch competition at the Realscreen Summit.
Pitched by Peter Reiss (pictured, below) of Boulder, Colorado-based production studio The Woodshed, the action-packed travelogue-docusoap hybrid Adventure Kings follows a family of three brothers who own and operate Teton Gravity Research, an action sports company in Jackson Hole, Wyoming.
Contending pitches came from Douglisio DiMuccio and Rob D. Miller of Voyage Creative Group, whose feature-length documentary Neo charts the advancements in human evolution; Kelly Sallaway of Rushbrook Media, whose The Royal Family chronicles a Memphis-based family of audio engineers; and John Wesley Chisholm of Arcadia Content, whose The Woodstock Bus sets out on a journey across America to find and restore the original Woodstock bus ahead of the music festival's 50th anniversary in 2019.
Hosted by Cake Boss' Buddy Valastro, president of Cakehouse Media, the four finalists were given five minutes to pitch their series or documentary to a panel of leading network executives.
This year's panel of judges included Mary Donahue, senior VP of non-fiction programming at Lifetime; Nomi Ernst Leidner Leidner, senior VP of development at Viceland; Howard Lee, executive VP of development and production at TLC and GM of Discovery Life Channel; and Hamish Mykura, executive VP of programming and development at National Geographic Channel International.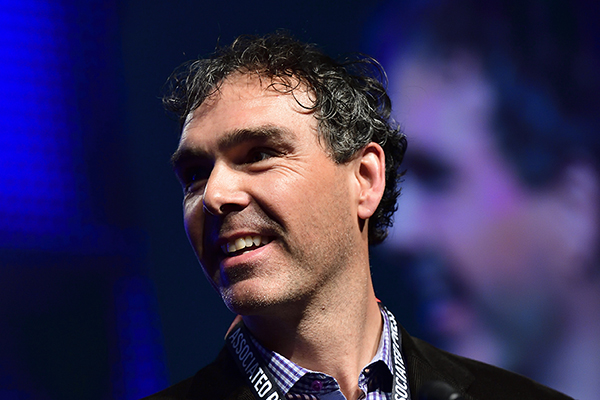 The judges scored the pitch 29 out of 40 and praised the clarity of Reiss' tape presentation, noting that they believe the project will be commissioned by a broadcaster in the near future.
"You've used a great tape there, I can see that you've got great characters and I think will get this commissioned – you will find someone to buy it," said Nat Geo's Mykura.
"The issue for me is that guys who film extreme sports are more likely to belong on a sports channel than one of the conventional factual channels," he added. "Maybe it's too far from most people's every day experience – we tend to find the shows that get watched in big numbers tend to be about stuff which is more authentic or able to be recognized in terms of your daily experience."
"It's definitely a show, but the only thing I might want to know is what the stakes are for the characters, what the backstory is about why they're participating," explained Viceland's Leidner. "If it is character based, I just want to lock on to those characters, but otherwise it's definitely a beautiful show."
As the Grand Prize winner, Reiss receives a custom music and scoring package for Adventure Kings from Vanacore Music. In addition to scoring the sizzle reel through the pilot, Vanacore will also provide music supervision, along with 10 custom tracks, and full access to their award-winning music library of more than 20,000 tracks.
In addition, Realscreen will provide Reiss with a pass to the 2018 Realscreen Summit as well as a GoPro HERO5 Session Waterproof 4K Sports & Helmet Camera.
(Photos by Rahoul Ghose)