The eighth episode of the Unscripted and Unprepared podcast, produced by Jimmy Fox, president of newly launched production shop Main Event Media, in partnership with realscreen, is now available via iTunes and Stitcher.
The episode features Fox in conversation with Eliot Goldberg (pictured), SVP of nonfiction and alternative programming for AMC and SundanceTV.
The conversation also marks the first time the podcast was recorded in front of live audience at Realscreen Summit in Washington, D.C. Goldberg, fresh off the plane from Park City,Utah, where he was attending the Sundance Film Festival, spoke to Fox on Jan. 23 about his past life as a producer at Ryan Seacrest Productions where he sold Keeping Up With the Kardashians.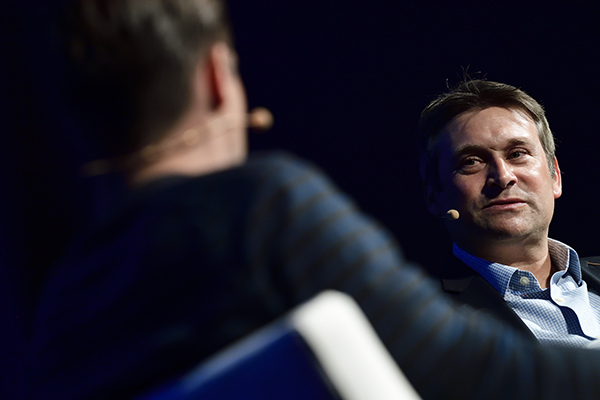 He also shared stories from his work in scripted and coming up in the industry as a producer in the entertainment news world, as well as his thoughts on where the future of AMC and SundanceTV's non-fiction programming is headed.
Unscripted and Unprepared began in late June 2016, and has thus far featured interviews with Ben Silverman,  chair and co-CEO of Propagate Content; Heather Olander, senior VP of alternative programming for USA Network and Syfy; Showtime's Vinnie Malhotra; Spike's Sharon Levy; MGM Television's Barry Poznick; ITV Entertainment's David Eilenberg; and Thinkfactory Media's Leslie Greif. Future editions will feature interviews with more top network and production execs, including Discovery Communications' Jane Latman.
Fox's credits include the Emmy-nominated CNN series United Shades of America, CNBC's Make Me a Millionaire Inventor and Investigation Discovery's Is O.J. Innocent: The Missing Evidence.
At Main Event Media, Fox continues to produce a raft of series under the Main Event banner, including Spike's true-crime series It Was Him: The Many Murders of Ed Edwards, as well as the previously announced drama Hollywood Darlings for POP.