With MIPTV kicking off in Cannes today (April 3), realscreen presents the second part of its annual round-up of new non-fiction and unscripted titles from distributors heading to the Croisette. Read the first part of our guide here. Watch for part three of the Shopper's Guide tomorrow, April 4. 
ARMOZA FORMATS
As part of its slate, the Israeli formats developer is bringing six new unscripted series to Cannes.
Among the MIPTV-bound titles is the fun-filled docu-reality show Play Date (Armoza and Createit Studio), that brings together families who have never met each week in the search for the perfect play date; The Final Four features four superstar-quality finalists announced in the season premier, and each week new hopefuls try to steal a seat from one of the final four; Sex Tape, which launched Feb. 14, features three couples who, each week, agree to spice up their love lives; and The City Inspector (8×60) is an investigative fact-ent format where each week a host puts a city under the magnifying glass for 48 hours. Produced by Ukraine's 1+1 Productions and aired on 1+1, the show grew the channel's prime time share and ratings, becoming one of the most-watched shows in the country during its run.
Armoza is also bringing two new scripted shows to MIPTV: Separated and No Return.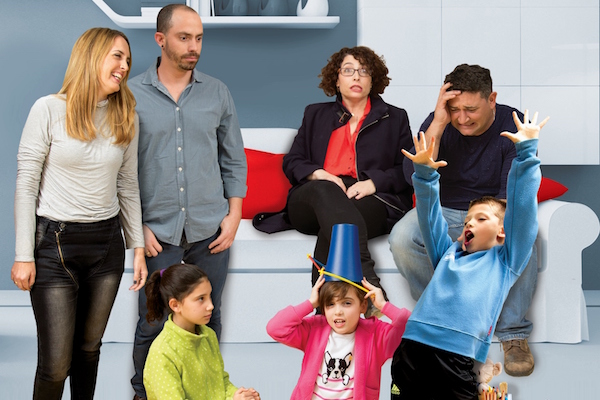 Play Date
BBC Worldwide
BBC Worldwide will launch eight new formats at MIPTV, including Let It Shine,  Let's Sing and Dance, In Your Ear and The Boss, plus brand new scripted and returning non-scripted.
In Let It Shine (60′- 90′), this primetime shiny floor format puts talent center stage, as superstar judges search for the country's next big pop band.
Other new BBC Worldwide entertainment formats for Cannes include Let's Sing & Dance (75′ – 90′), in which local celebrities don their dancing shoes and grab the mic. Tribal Bootcamp (50′) is a new format plunging two comedians into the world's strongest, fittest and toughest tribe, while new daytime quiz show The Boss combines tactics, strategy and scheming with laugh-out-loud moments.
Life-swap series Living as You – My Global Adventure (60′) takes people who have reached a crossroads in their lives and drops them into a brand-new life hundreds of miles from home. Fixed-rig format, In Your Ear (w/t) (60′) sees contributors receive help from a diverse group of global advisors via a secret ear-piece, during an emotional life-changing event. Finally, Trauma Hour (w/t) (60′) is a warm and authentic format following paramedics as they react to medical emergencies in real time around the country.
Returning non-scripted formats include !mpossible, You're Back in the Room, Stupid Man Smart Phone, Ultimate Hell Week, Fishing Impossible, and global hits Dancing with the Stars and The Great Bake Off.
BEYOND DISTRIBUTION
Beyond Distribution is due to launch the latest series of two of its top-selling factual titles at MIPTV this year.
The second series of Chasing Monsters (12×60′) produced by Untamed Productions for Evasion Canada, is presented by extreme adventurer, Cyril Chauquet.  This new series takes viewers into a world of mysterious and dangerous underwater creatures.
Also launching at MIPTV, Moving the McGillivrays (10×60′) is the latest series to focus on Scott McGillivray, host of HGTV Canada home DIY series Income Property. This new series follows Scott and his wife as they build their new family dream home, whilst helping another family in need build theirs.
BLUE ANT INTERNATIONAL
The distribution arm of Blue Ant Media announced the addition of over 160 hours of premium content ahead of MIPTV, including its first HDR documentary, Alaskan Summer (1x60HDR) and a new 360 video series, Paranormal Survivor: Evil Surrounds You.
Offerings also include new deliveries from Blue Ant Media's partnership with Plimsoll Productions, Camp Zambia, including Growing Up Wild (3×60'4K), Wild Survival (3×60'4K), Untamed Valley (3×60'4K), Africa's Hunters II (6×60'4K) and Guardians Of The Wild II (4×60'4K).
New and returning series include Africa's Claws & Jaws (4×60'4K; Off The Fence), Rewilding Europe (3×60'4K; Taglitch Media), Arctic Secrets, Season 2 (3×60'4K; White Pine Pictures) and Arabian Inferno (5×60'4K; Blink Films.
Two new factual entertainment series have been added to the distribution group's library; Guilty Rich (6×60′HD), commissioned by Discovery ID and A Know It All Guide To ...  (12×30′HD), a co-production between FYI, Blue Ant Media and CMJ Productions). The distributor has also renewed its output deal with Our House Media which has delivered two new titles: Home Chef to Pro Chef (14×30′HD), Paranormal Survivor III (10×60′HD) as well as a new 360 digital video series, Paranormal Survivor: Evil Surrounds You. As a result of a deal with Cream Productions, the distributor has also added Evil Nature (12×60′HD) to its global offering.
New HD factual entertainment offerings include Canada: The Story Of Us (10×60′HD – Bristow Global Media) and Brojects In the House II (13×30′HD – Farmhouse Productions).
BIC FORMATS
Bic Formats will be coming to Cannes with three new provocative titles.
The Bloody Game is a quiz show where contestants pay for their mistakes with their own blood — under the supervision of specialized nurses, of course, with the blood going towards a special cause.
Elsewhere, The Italian Cooking Fight takes 10 non-Italian chefs on a tour around Italy, where they discover all the cooking secrets of the country. Each leg of the journey corresponds to a restaurant with different culinary traditions.
Lastly, The Catcher is a virtual reality show "that changes the concept of interactivity and makes you live an experience never lived before: the experience of full interactive". In every episode, the contestant has the possibility to catch the image in his own room.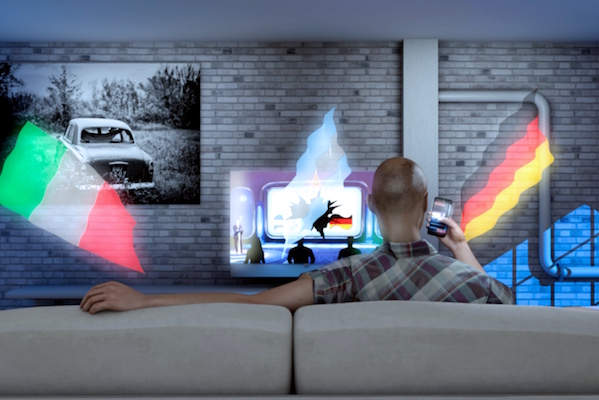 The Catcher
CORUS ENTERTAINMENT
Corus Entertainment will introduce several unscripted reality series at this year's market.
In a newly greenlit food travelogue series, The Baker Sisters, siblings Rachel Smith and Jean Parker visit three locations each episode, including bakeries, delis and restaurants, sampling signature baked goods. The show is produced by Alibi Entertainment in association with Corus Studios for Food Network Canada.
Backyard Builds (8×30) showcases the endless opportunities outdoor areas can provide, using the expert of contractor and designer Brian McCourt and expert design expert Sarah Keenleyside. The series is produced by Frantic Films in association with Corus Studios for HGTV Canada. In $ave My Reno(14×30), cash-conscious homeowners work experts to get the home reno they want on a budget they can afford.
In Worst to First (10×60), Mickey and Sebastian — brothers-in-law, business partners and best friends — help hopeful families find the worst home in the best nieghborhood and transform it into a home that's a first in their hearts.
Mickey and Sebastian are brothers -in -law, business partners, and best friends who help hopeful families find the worst house in the best neighbourhood and transform it into a home that is first in their hearts. Produced by Great Pacific Media in association with Corus Studios for HGTV Canada.
ENDEMOL SHINE GROUP
Global content creator, producer and distributor, Endemol Shine Group has a series of formats making their international debut at Cannes.
From executive producer and NBA superstar LeBron James comes The Wall, which offers a pair of teammates life-altering cash prizes. With millions at stake every night, the rules are simple: Get a question correct and a green ball will fall down the wall and add the value of the slot to the players' winning total. Miss a question and an ominous red ball with fall and deduct the value from the teams' total. Teammates have to work together to build a huge cash prize.
Nick Holt, the BAFTA award winning documentary filmmaker behind The Murder Trial, has teamed up with Dragonfly, part of Endemol Shine UK for The Trial (w/t) which interrogates the way in which cases are tried and convicted.
Ambulance is an observational documentary series that offers an unprecedented insight into Britain's ambulance services in major UK cities.
Also returning to Cannes from Endemol Shine UK is factual smash hit format Hunted, which has sold to the Spain, Netherlands, Denmark and France, Germany, Netherlands.
FREMANTLEMEDIA
The UK-based content, production and distribution company is bringing six new offerings to Cannes this year.
The Next TV Chef, which has been created by FremantleMedia's Dutch production house Blue Circle, sees four home cooks take on the culinary skills of the professionals.
Lost in Time is a primetime gameshow that immerses contestants in a series of video-game-like worlds where they compete in a series of challenges. The show incorporates an app that works on tablets or smartphones and transports the users into a virtual Lost in Time world where they can play in real time against both show contestants and others from across the country.
Meanwhile, Flashback is a studio-based format, which sees three celebrities each re-live a 'flashback' to an embarrassing – but hilarious – story in their past.
Finally, I Know and The Game of Loveare two new shows showcasing strategic gameplay in different ways.
MEDIA RANCH
Award-winning Canada-based TV production and distribution company Media Ranch, is bringing a strong lineup of new formats to MIPTV.
Legal House Call, a spinoff show from Verdict On Demand, sees a legal expert making house visits to desperate people struggling with legal issues they can't resolve themselves.
Save The Date features emotionally-charged family stories designed to be broadcast with a corresponding national holiday.
Other formats Media Ranch will be showcasing include Classic 90′s Canadian blind dating show Thunderstruck, controversial cooking format Tipsy Recipes, The Couple AKA 'Double Occupancy, True Sex Confessions and Steel Panther on Sunset Strip.
PASSION DISTRIBUTION
Tinopolis-owned UK sales house Passion Distribution is leading its MIPTV slate with two medical series and a show about dating.
In Dr Christian Will See You Now (10×60′) from UK prodco Firecracker Films, Dr. Christian Jessen helps patients on the way to overcoming their life-changing conditions. Don't Tell The Doctor (10×60′), meanwhile, is from Arrow Media and follows four doctors who help young people who have used the internet for diagnosis, with disastrous consequences.
Spies (4 x 60′ and Format) is a constructed doc series which sees three former British Secret Intelligence Service operatives bring together a diverse group of fourteen people to test if they have the skills and qualities required to make it as "Spies".
Finally, The Game of Dating (8×60′ and format), from A Smith & Co, sees teams of friends and family watch dates and compete to win grand prizes.
Doc series Black is the New Black (4×30′) features exceptional figures from politics, business, sport, science and music who share their insights into being black and British today. Other series include Baby Balloon (8×60′), Am I Perfect? (6×30′) and That's Amazing (8×60′).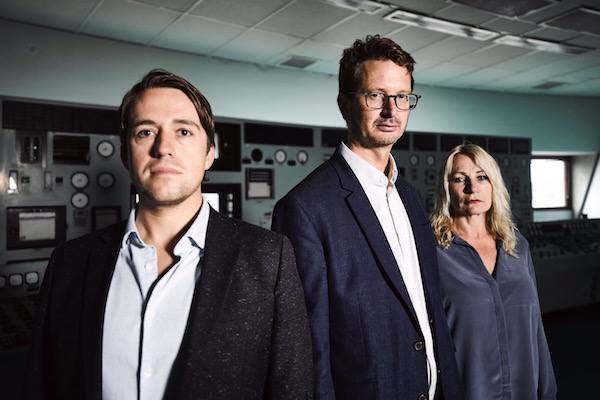 Spies
PROPAGATE

Global indie studio Propagate is unveiling a new slate of factual series, documentaries and formats at MIPTV.
Headlining the slate is Spymasters (1×120), an original Showtime documentary that reveals the inner workings of the CIA, the world's most powerful intelligence organization.
Also launching at MIP TV is the Netflix documentary Dawg Fight (1×109) which looks at the career and personal life of Bellator Mixed Martial Arts fighter Dhaffir Harris.
MIP TV marks the debut of the relationship comedy gameshow, My Partner Knows Best (10×60), based upon an original series from Turkey's Kanal D. Propagate will be selling the completed US version of the series, which will air on Lifetime, as well as the format.
Meanwhile, H1Z1: The Last Stand (1 x 90 [televised] | 5 x 6 [digital]) follows Echo Fox, the esports franchise started by former NBA champion Rick Fox and video game industry veteran Jace Hall.
Currently in production for Amazon is the unscripted horror anthology series, Lore, which combines narration, historical mixed media, and dramatic scenes to bring to life terrifying but true stories.
Propagate is teaming up with leading post cable network Cheddar for a weekly customized series, Cheddar World (52×45). Targeting the highly sought after millennial audience, the weekly series will highlight the leading stories, companies, and executives making news in technology, media, startups, and entrepreneurship.
Hosted by NBA All Star, Chris Webber, Full Court Pranks (12×30) is a high-impact sports-infused prank show where athletes pull off big-time pranks on their biggest fans.
ALL3MEDIA
Independent production and distribution company all3media International has secured rights to two brand new formats, as Sneakers, from Belgium's Biff Tannen Productions and Butterfish TV, and Selfie, from Israel's Createit Studios, join a diverse line-up of new formats launching at MIPTV.
all3media International's format line-up for MIPTV includes brand new Tried and Tasted: The Ultimate Shopping List (8×30) from award-winning producer Maverick TV at MIPTV. Produced for Channel 4 in the UK, Tried and Tasted:The Ultimate Shopping List sees a renowned food expert collate the definitive guide to the great food available to us, both expensive and budget.
Also available from Studio Ramsay for ITV, Culinary Genius is a cooking competition where in each 60′ episode, nine contestants will be thrown into a state-of–the-art Culinary Genius Arena to battle it out in front of a dynamic studio audience.