Over the last year, millennial media company and content studio Vice Media has expanded its footprint by with its not-so-subtle plans to take over the world – by the end of this year, the media company plans to be in more than 80 territories.
During the final MIPDigital Fronts of 2017, Vice Media's chief creative officer and Viceland's co-president Eddy Moretti diverted from the "Digital" aspect of the program and instead redirected the audience attention back to linear television.
Having launched Viceland in the U.S. (A+E Networks) and Canada (Rogers Media) last February, the company rapidly stretched its viewership to include viewership France, Australia, New Zealand, the UK and Ireland, Belgium, the Netherlands and Sub-Saharan Africa.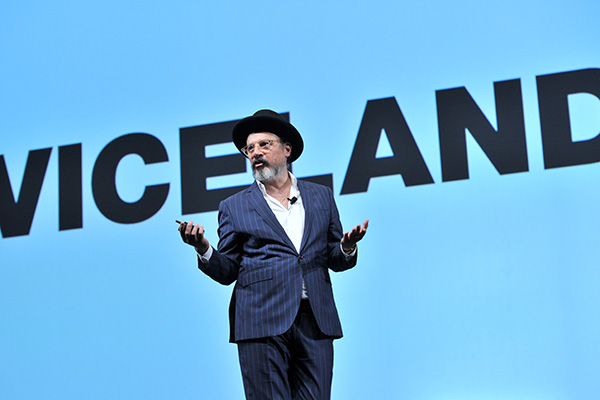 In the U.S. and Canada, the channel currently airs a raft of factual series, some of which have made their debuts across Vice's suite of online channels, including culinary series F***, That's Delicious, Huang's World and Bong Appetite; investigative series Weediquette and Rise; LGBT travelogue Gaycation with Ellen Page; and music-focused series Noisey.
Viceland aims to slot "engaging, original content across the worlds of culture, food, sex, fashion, music, sports and much more."
Last year, Vice's linear television landscape developed more than 350 hours of lifestyle content in the last year.
What's next for the fledgling 24-hour millennial lifestyle and entertainment channel is India, with an estimated population of 1.252 billion (by 2013 estimates), in partnership with The Times of India.
"That will be the next channel that we ramp up this summer in households across the market," Moretti told the Grand Auditorium audience.
In addition to India, Vice Media will expand its content to more channels and territories, including Mexico, Brazil, Colombia, Germany, Italy, Spain, Japan, Middle East and South East Asia.
All of these markets are going to have Vice branded channels, Viceland, and even in new markets we're exploring bundling our content into four or six hour blocks so that we could incubate the Viceland TV brand in other successful channels.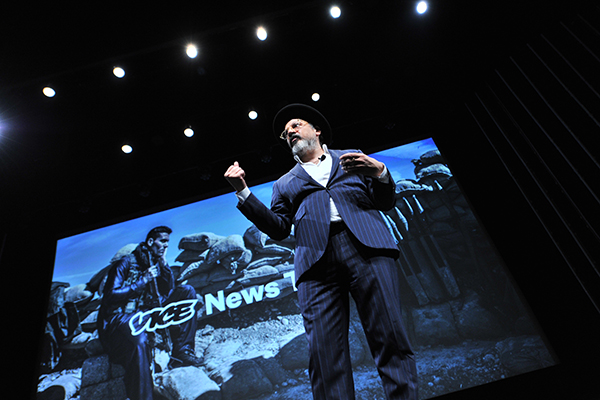 "Our goal is, within 12-18 months, to be in more than 200-million households, and we're pacing that so we're about halfway there right now," said Moretti. "The new channels that launch will get us to 200.
Continuing a recent trend set by such media conglomerates such as National Geographic and A+E Networks, Vice Media will also look to carve its niche into the scripted entertainment space via two points of attack: television and feature films.
In television, the company unveiled Nirvana The Band The Show, a semi scripted series about two musicians trying to play a seminal Toronto music venue. The two actors in the show, Moretti said, are only actors and "everyone else that appears in the show has been pranked."The second offering presented was What Would Diplo Do?, a seriesin which actor James Van Der Beek portrays influential DJ Diplo on tour.
The featured films Vice will be involved in, meanwhile, include Ana Lily Amirpour's The Bad Batch, which won the Gold Lion at the Venice Film Festival last year and will premiere on the channel in June; Nacho Vigolando's Colossal, which stars Anne Hathaway and Jason Sudeikis; and Jonas Åkerlund's Lords of Chaos, a film inspired by '80s Norwegian black metal band Mayhem.
Does that mean every scripted show on Viceland? No," Moretti said, adding that Vice's scripted content will appear on other networks and channels in the U.S. and globally.
"It's been an exciting evolution," Moretti said.