Spike's Lip Sync Battle, CNN's Parts Unknown and Red Bull TV's The Horn were among the top winners at the Realscreen Awards this evening (June 7).
The ceremony was hosted by Matt Iseman (pictured), host of American Ninja Warrior and winner of the most recent season of The New Celebrity Apprentice.
Lip Sync Battle picked up three awards, including Best Original Format, Award of Excellence – Competition and Best Talent/Studio-Based Competition.
As previously announced, television trailblazer Mike Darnell was inducted into the Realscreen Awards Hall of Fame.
Longtime friend and fellow unscripted television veteran Mark Itkin presented Darnell with his award. "He loves television, and now more than ever our business needs buyers who genuinely love television," he said, "Mike, thanks for giving me the honour of inducting you into the Relascreen Hall of Fame. No one deserves it more, congratulations."
Darnell thanks his wife and staff, as well as his parents for their unrelenting support of his career.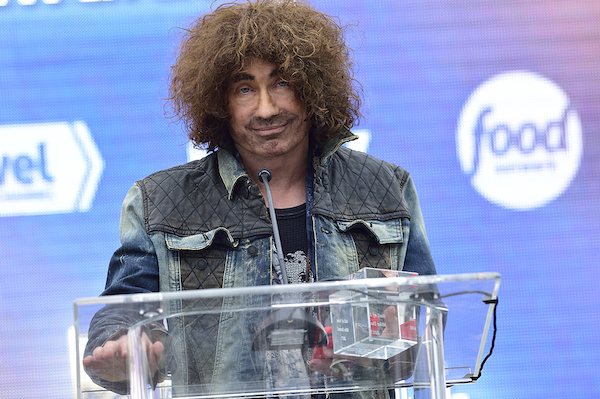 In addition to winning the Award of Excellence – Lifestyle, Bourdain's Parts Unknown picked up the award for Best Lifestyle — Food, while Epix's Serena took home hardware for Best Non-Fiction – Sports Documentaries and Award of Excellence – Non-Fiction.
Red Bull TV's The Horn walked away with awards for Best Digital and Branded Content – Web Series/Program – Non-Fiction and an Award of Excellence – Digital and Branded Content, while Viceland's Black Market was awarded Best Reality – Docureality and Award of Excellence – Reality.
For a complete list of winners, please see below: 
COMPETITION – GAME/QUIZ SHOW
Celebrity Family Feud
Network/Platform: ABC
Production Company: FremantleMedia North America
Executive Producer (Production Company): Jennifer Mullin, Gaby Johnston, Steve Harvey
COMPETITION – LIFESTYLE
Project Runway
Network/Platform: Lifetime
Production Company: The Weinstein Company, Bunim-Murray Productions, Full Picture Entertainment and the Heidi Klum Company
Executive Producer (Production Company): Harvey Weinstein, Bob Weinstein, Jonathan Murray, Sara Rea, Colleen Sands, Heidi Klum, Jane Cha, Desiree Gruber, Patrick Reardon, Barbara Schneeweiss
Executive Producer (Network): Mary Donahue, David Hillman
COMPETITION – REALITY GAME 
The Amazing Race
Network/Platform: CBS
Production Company: WorldRace Productions
Executive Producer (Production Company): Jerry Bruckheimer, Bertram van Munster, Jonathan Littman, Elise Doganieri, Mark Vertullo
COMPETITION – TALENT/STUDIO BASED
Lip Sync Battle
Network/Platform: Spike
Production Company: Casey Patterson Entertainment, Matador, 8 Million Plus Productions, Sunday Night Productions & Four Eyes Entertainment
Executive Producer (Production Company): Casey Patterson, Jay Peterson, John Krasinski, Stephen Merchant 
DIGITAL AND BRANDED CONTENT – BRAND-FUNDED CONTENT
Going Off the Menu
Network/Platform: Bravotv.com
Production Company: Bravo Digital Media in association with Citizen Pictures
DIGITAL AND BRANDED CONTENT – WEB SERIES/PROGRAMS – NON-FICTION
The Horn
Network/Platform: Red Bull TV
Production Company: Truly Original, Punch Drunk Pictures
Executive Producer (Production Company): Glenda Hersh, Steven Weinstock, Lisa Bloch, Brian Mandle, Charlie Marquardt, Rob Hill
Executive Producer (Network): Josh Cole
DIGITAL AND BRANDED CONTENT – WEB SERIES/PROGRAMS – REALITY & LIFESTYLE
Untucked: RuPaul's Drag Race
Network/Platform: YouTube
Production Company: World of Wonder
Executive Producer (Production Company): Fenton Bailey, Randy Barbato, Tom Campbell, RuPaul Charles, Steven Corfe, Davis Mikaels
LIFESTYLE – FOOD
Anthony Bourdain: Parts Unknown
Network/Platform: CNN
Production Company: Zero Point Zero Production
Executive Producer (Production Company): Anthony Bourdain, Christopher Collins, Lydia Tenaglia, Sandra Zweig
Executive Producer (Network): Amy Entelis, Lizzie Fox
LIFESTYLE – HEALTH & WELL BEING
SuperSoul Sunday
Network/Platform: OWN: Oprah Winfrey Network
Production Company: Harpo Studios
Executive Producer (Network): Jenna Kostelnik-Utley
LIFESTYLE – HOME (DESIGN, RENOVATION, ETC.)
Fixer Upper
Network/Platform: HGTV
Production Company: High Noon Productions
Executive Producer (Production Company): Jim Berger, Scott Feeley, Glenna Stacer Sayles, Michael Matsumoto, Robert Zimmerman
Executive Producer (Network): John Feld
NON-FICTION — ARCHIVE-BASED PROGRAMMING

The Eighties
Network/Platform: CNN
Production Company: Playtone, Herzog & Company
Executive Producer (Production Company): Tom Hanks, Gary Goetzman, Mark Herzog
Executive Producer (Network): Amy Entelis, Lizzie Fox
NON-FICTION — ARTS & CULTURE
Noisey
Network/Platform: Viceland
Production Company: VICE Media
Executive Producer (Production Company): Andy Capper, Patrick Moses, Trevor Silmser
Executive Producer (Network): Shane Smith, Eddy Moretti, Spike Jonze
NON-FICTION — CRIME & INVESTIGATION
Interview with a Murderer
Network/Platform: Channel 4
Production Company: ITN Productions, Monster Films
Executive Producer (Production Company): Chris Shaw
NON-FICTION — ENVIRONMENTAL/NATURAL HISTORY
Before the Flood
Network/Platform: National Geographic
Production Company: RatPac Documentary Films, Appian Way, Insurgent Docs & Diamond Docs
Executive Producer (Production Company): Leonardo DiCaprio, Fisher Stevens, Trevor Davidoski, Jennifer Davisson, Brett Ratner, James Packer, Martin Scorsese, Mark Monroe, Adam Bardach, Zara Duffy
NON-FICTION — HISTORY/BIOGRAPHICAL
Facing
Network/Platform: National Geographic
Production Company: Network Entertainment Inc.
Executive Producer (Production Company): Paul Gertz, Derik Murray
Executive Producer (Network): Mike Miller 
NON-FICTION — SCIENCE & TECHNOLGOY
MARS
Network/Platform: National Geographic
Production Company: Imagine Entertainment, RadicalMedia in association with FremantleMedia Italy
Executive Producer (Production Company): Ron Howard, Brian Grazer, Michael Rosenberg, Justin Wilkes, Everardo Gout, Tommy Turtle, Jonathan Silberberg, Lorenzo Mieli, Dave O'Connor, Jon Kamen
Executive Producer (Network): Tim Pastore, Matt Renner, Robert Palumbo
NON-FICTION — SOCIAL ISSUES/CURRENT AFFAIRS
The Ten Commandments: Out of Sight
Network/Platform: RAI 3
Production Company: RAI Radiotelevisione italiana
Executive Producer (Network): Valeria Durante
NON-FICTION — SPORTS DOCUMENTARIES
Serena
Network/Platform: EPIX
Production Company: Film 45
Executive Producer (Production Company): Peter Berg, Brandon Carroll, Matt Goldberg, Ryan White
Executive Producer (Network): Jocelyn Diaz, Ross Bernard, Jill Burkhart
REALITY – CONSTRUCTED REALITY
60 Days In
Network/Platform: A&E
Production Company: Lucky 8 TV
Executive Producer (Production Company): Jeff Grogan, Gregory Henry, Kimberly Woodard
Executive Producer (Network): Brad Holcman, Drew Tappon, Shelly Tatro, Elaine Frontain Bryant
REALITY – DOCUREALITY
Black Market with Michael K. Williams
Network/Platform: Viceland
Production Company: VICE Media
Executive Producer (Production Company): Michael K. Williams, Patrick Moses
Executive Producer (Network): Shane Smith, Eddy Moretti, Spike Jonze
 REALITY – DOCUSOAP
Chrisley Knows Best
Network/Platform: USA Network
Production Company: Maverick TV and All3Media America
Executive Producer (Production Company): Adam Greener, Jim Sayer, Simon Knight, Gregory J. Lipstone, Cat Rodriguez, Todd Chrisley, Katie Sole, Adam Saltzberg
BEST NEW FORMAT
This Time Next Year
Network/Platform: ITV
Production Company: Twofour
Executive Producer (Production Company): Andrew MacKenzie-Betty, Melanie Leach, Cat Lawson
Executive Producer (Network): Amanda Stavri
BEST ORIGINAL FORMAT 
Lip Sync Battle
AWARD OF EXCELLENCE – COMPETITION
Lip Sync Battle
AWARD OF EXCELLENCE – LIFESTYLE 
Anthony Bourdain: Parts Unknown
AWARD OF EXCELLENCE – DIGITAL & BRANDED CONTENT 
The Horn
AWARD OF EXCELLENCE – REALITY  
Black Market with Michael K. Williams
AWARD OF EXCELLENCE – NON – FICTION  
Serena
Hall of Fame Inductee – Mike Darnell