Over 30 years, Bunim/Murray Productions has not only created what we now know as reality television — it has reinvigorated it along the way. 
Start with seven young attractive people of diverse backgrounds and place them in a New York loft. Wait for conflict to boil over due to the unceasing proximity of the housemates. From the ashes of that conflict will come growth, and from that growth, a story arc will reveal itself.
It was that concept, relatively quaint by 2017 unscripted standards, which launched Bunim/Murray Productions (BMP) to the forefront of the television landscape when it premiered The Real World, often cited as the series that kicked the reality genre into high gear, on MTV.
The unprecedented idea for the unscripted drama was pitched to MTV executives over breakfast a year earlier. The youth-focused Viacom network would buy The Real World before lunch, with filming beginning shortly thereafter on Feb. 16, 1992. Just three days after the housemates departed from their 4000-square-foot Soho duplex, the inaugural season premiered on May 21, 1992.
But the innovative series, and the subsequent birth of the reality genre as it exists today, almost didn't happen. Inspired by primetime ratings winners Melrose Place and Beverly Hills 90210, MTV had initially approached company co-founders Jonathan Murray, now 63, and Mary-Ellis Bunim (who passed away in 2004 from breast cancer at the age of 57) to develop a scripted soap opera it could claim as its own. But, in another sign of how times have changed, the network soon passed on the idea, unconvinced about investing in the relative high cost of drama production.
And so Bunim/Murray found a more cost-effective route. Relying on Murray's background in news and documentaries, the studio decided instead to cast seven ordinary Americans out of a pile of 500-plus applicants – paying them US$2,600 each – and filmed their every move in homage to the 1973 PBS documentary series An American Family. The series quickly became part of the cultural DNA of young people the world over.
"That really was the show that allowed us to build our company," Murray, currently serving as executive consultant for BMP after stepping down as chair in 2015, tells realscreen. "Part of the appeal of The Real World is that it demanded that we cast previously marginalized people – people who primetime television had ignored, whether they were part of the LGBT community, of lower socioeconomic levels, or people of color.
"I've always been interested in [the marginalized] and, selfishly, I think there were a whole bunch of stories that were available for the taking because television had been mostly the domain of white middle to upper class characters."
The company, and its then-flagship series, would create another television first when it cast Pedro Zamora, an HIV-positive Cuban-American, in The Real World: San Francisco, the show's third season in 1993. Zamora, who was transparent about his HIV status, brought international attention to the HIV/AIDS epidemic and the prejudices faced by the LGBT community. He died just hours after the final episode of the season aired.
But while his company was responsible for bringing a game-changing series into the zeitgeist, Murray knew further success wouldn't be achieved by coasting on that series' success.
"We were very busy fulfilling MTV's needs but we recognized as a company that we couldn't put all our chips on the MTV network," Murray explains. "We had to diversify ourselves."
And diversify they did. As it marks its 30th year in the industry, Bunim/Murray has developed more than 50 unscripted series, including The Real World, which wrapped its 32nd season in January, and spin-offs Road Rules (1995) and The Challenge (1999). By the end of the 2017 calendar year, Bunim/Murray will have had more than 30 series on the air in a two-year period, ranging from its latest hit for A&E, Born This Way, to an ambitious natural history project for Nat Geo, Earth Live – and many points between.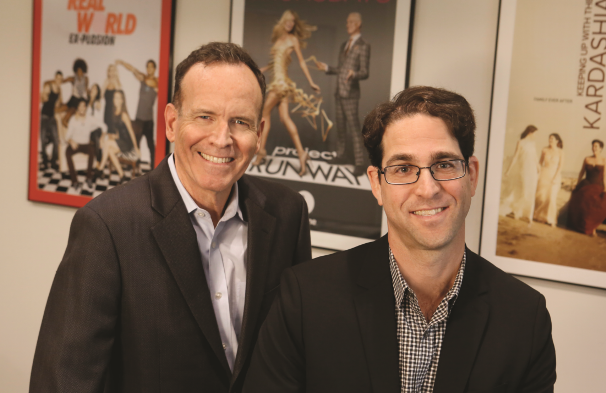 L to R: Jonathan Murray, Gil Goldschein
"ENERGY, CURIOSITY AND CREATIVITY"
"There's a lot of burnout in this business and a lot of people who do one thing or are known for one show and that's it. What Jon's done is really extraordinary in that he's brought an incredible amount of vigor, passion and investment to every minute of his career," says Robert Sharenow, president of programming for A+E Networks, for whom BMP produces the Emmy-winning Born This Way. "That's one of the things that really marks [Bunim/Murray] as outstanding — that sort of seemingly endless pool of energy, curiosity and creativity."
Other early series that emerged from that "endless pool" included the syndicated Starting Over, which served as the first reality soap opera for NBC-owned and operated stations, with 516 one-hour episodes over a three-year period.
Its next big unscripted swing came in the form of the Paris Hilton and Nicole Richie-fronted reality sitcom The Simple Life, which reached a high of 13 million viewers in its first season on Fox. The series would eventually migrate to E! Entertainment for its final two seasons before making way for the freewheeling antics of the Kardashian family in Keeping Up With the Kardashians (with Ryan Seacrest Productions), a series that boasted an average audience of 2.1 million for adults 18–34 in its 13th season.
Though those numbers are a far cry from the 10.5 million viewers accumulated by the two-night special focused on Kim Kardashian's wedding to NBA power forward Kris Humphries, E! in 2015 penned a deal reportedly worth US$80 million (with ratings bonuses) to keep the Kardashians for three additional seasons, with an option for a fourth.
Celebrating its 10th year on NBCUniversal Cable Entertainment airwaves, the 14th season of The Kardashians premiered Oct. 1. The program's successes has taken it to 167 countries and led to the creation of nine spin-offs, including I Am Cait, Dash Dolls and the recently launched Life of Kylie.
"For a programmer it's always the dream, when you end up working with a production company that you can quickly have a second language with," says Jeff Olde, former EVP of programming and development at E!, about Bunim/Murray. "That's really the joy, when you can get into that rhythm where you completely trust them. You know that they knock themselves out to get the story and deliver it, and to really get at the characters."
GLOBAL GROWTH
"There are two major tenets [for BMP]," Gil Goldschein, Bunim/Murray's chair and CEO, adds in a phone call from the Glendale, California-based studio. "At the core we're storytellers and we want to pioneer. That's really what drives everything we do."
Storytelling and pioneering both require resources. Goldschein, 43, recognized early in his 17-years-and-counting career with the prodco that much of Bunim/Murray's content had sold well in U.S. and worldwide markets. Meanwhile, Murray, having led the reality powerhouse for more than a decade alone since the passing of his partner, began thinking about transitioning the company's leadership and realized that for Bunim/Murray to be viable long-term, it needed to become part of a larger conglomerate.
Following months of negotiations, Bunim/Murray settled on a dancing partner: Paris-based Banijay Group, which acquired a majority stake in 2010 to provide the company with access to international formats and, importantly, distribution of its series and formats to the international marketplace.
"We're looking at opportunities on a global basis and feel like there are certain strategic partnerships that make sense for us," says Goldschein.
Under Banijay, Bunim/Murray has reaped all the benefits of being part of an international conglomerate while enjoying the autonomy of operating under a business-as-usual mandate and maintaining the familial atmosphere created under Jon and Mary-Ellis.
At the core we're storytellers and we want to pioneer. That's what drives everything we do.
Goldschein says the parent company recognizes that each prodco in its respective territory is the expert in its field, and as such, the companies under the Banijay umbrella operate under a relatively free rein.
In April of 2015, BMP entered another phase of development when Goldschein, who had served as president and general counsel for the company over the course of his tenure, was tapped as chair and CEO of the studio. Murray, meanwhile, stepped into the role of executive consultant to get closer to the product by developing series and documentary passion projects, while also overseeing some of the shop's longest running series. He remains very much involved in the creative process of Lifetime's Project Runway and A&E's critically-acclaimed docuseries Born This Way and is developing two additional projects for the same networks.
"I'm still involved, I am just having a lot more fun because I'm actually spending a lot more time in the field and in the editing room," Murray says with a laugh.
The 2015 restructuring saw Jeff Jenkins shifting to co-president of entertainment and development, and Julie Pizzi, co-founder of PB&J Television and a former creative VP and showrunner at Bunim/Murray, returning to the company also as co-president of entertainment and development, overseeing formats.
PASSION AND PRIDE
Born This Way, which follows the lives of young adults living in California with Down syndrome, has warmed the hearts of audiences across the U.S. and overseas since December 2015. In its first season, the 2016 Emmy winner for Outstanding Unstructured Reality Series saw viewership surge by 67% over the six-episode arc. It resonated particularly well with 25 to 54 years olds, growing 84% over the season.
The series was renewed by A+E Networks for an eight-episode fourth season. It's a validation of the cast, the subject matter, and the effort put in by the prodco, and by Murray, who had been nurturing the idea since 2009.
"To be honest, I don't think anyone at the network or a lot of people at Bunim/Murray thought that the show would go on beyond the first season," Murray muses. "There was a feeling that it was an important show to make, but there were doubts as to whether it was too niche.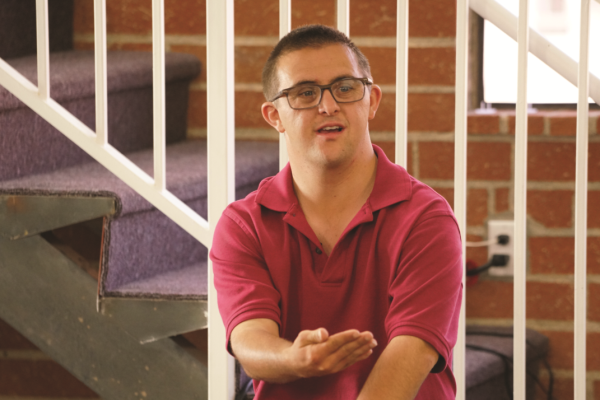 Born This Way has achieved critical acclaim, Emmy wins and a loyal audience
"We've certainly worked very hard in the development of the show to make sure that the stories would be very relatable to anyone watching."
The prodco also aligned itself with numerous nonprofit organizations for the project, including Best Buddies International, which looks to create opportunities for people with intellectual and developmental disabilities; and RespectAbility, dedicated to empowerment and self-advocacy for individuals with disabilities.
"To see Jon's passion project come to life has been one of the greatest satisfactions of my career," offers A+E Networks' Sharenow. "It's such a special show and makes such an important statement. Born This Way is a great example of reality television having a pro-social message and it's representing the best of what television can be at large."
The same, of course, could have been said about the show that started it all. After spawning a genre 30 years ago and forever altering the television landscape, Bunim/Murray aims to keep producing "the best possible stories" while expanding its footprint across multiple genres and platforms, supported by innovative and original ideas.
"We're really in the business of building franchises and if you look over the 30 years and what we've done, you'll see that a majority of the shows that we've had on the air really sustain themselves," Goldschein explains, adding that it's a point of pride at BMP to "create these brands for our television network and cable partners.
"That's what we want to be doing — creating franchises that have a long life."
This article first appeared in the September/October issue of realscreen