For nearly half a century, Emmy-winning and Academy Award-nominated filmmaker Jon Alpert has traveled to the island of Cuba to chronicle his fascination with the northern Caribbean nation, as well as its long-time leader and communist revolutionary Fidel Castro.
In his feature-length magnum opus Cuba and the Cameraman, Alpert draws from thousands of hours of footage he shot in Cuba over a 45-year period to document the fate of three Cuban families over the course of four tumultuous decades in the nation's history.
Inspired by the activities of the Cuban Revolution and dismayed by poor social services in his New York neighbourhood, Alpert boarded a sailboat heading to Havana in 1972 and began following the same people over four decades, eventually recording events of immense historical importance.
The 113-minute documentary from Alpert's DCTV NYC, which premiered at the 2017 Venice Film Festival, follows the communist country's trajectory over the years, beginning with the nation's cautious optimism during the early 1970s; the Mariel boatlift in 1980, in which as many as 125,000 Cubans fled the island for the U.S. in one of the most significant mass emigrations; to the 1990s following the collapse of the Soviet Union that sent the Cuban economy into a rapid depression, known as the "Special Period"; and to the death of Fidel Castro on Nov. 25, 2016.
Working as an independent journalist with a small crew and a portable camera, Alpert was able to obtain unprecedented access and numerous exclusive interviews with Castro himself, showing an intimate side of the leader rarely seen by the public.
Alpert and Matthew O'Neil produce the film. Jason Spingarn-Koff, Adam Del Deo and Lisa Nishimura are executive producers.
Realscreen caught up with Alpert to chat about Cuba and the Cameraman ahead of the doc's premiere across Netflix on Nov. 24 (tomorrow).
This interview has been edited and condensed for clarity and length.
Can you tell me about what it was like sifting through four decades worth of footage to craft this film?
It's tough. I don't like sitting in the editing room. I've got a short attention span, a very high energy level and it was hard. But it was also like having my own little gold mine. It was like a treasure hunt. It was amazing to see this stuff again after all these years.
We had a catastrophic flood here [caused by maintenance] that wiped out most of our early archives and the early material was basically what floated to the top of the flood that we were able to save. There actually is a better film that got washed away.
At what point did you believe that you'd have enough material here to put together a single project?
The images that you see in the documentary of the mental patients and the prisoners being loaded onto the boats in Cuba and sent to the United States – I was the only person that ever filmed that. And it caused Jimmy Carter to shut the boatlift down, stranding 300,000 Cubans who wanted to leave the island. It was an incredible problem. And all of a sudden I didn't have special privileges at all. I was just another normal cameraman down in Cuba, but the one thing that nobody could stop me from seeing was my friends and the lives that they were living.
At that particular point, which would have been more than 30 years ago, I began to conceive this movie and decided that the best way to tell the story would be to really personalize it through characters that Americans would appreciate and just to see what happens over time and stand back and let the revolution tell its own story.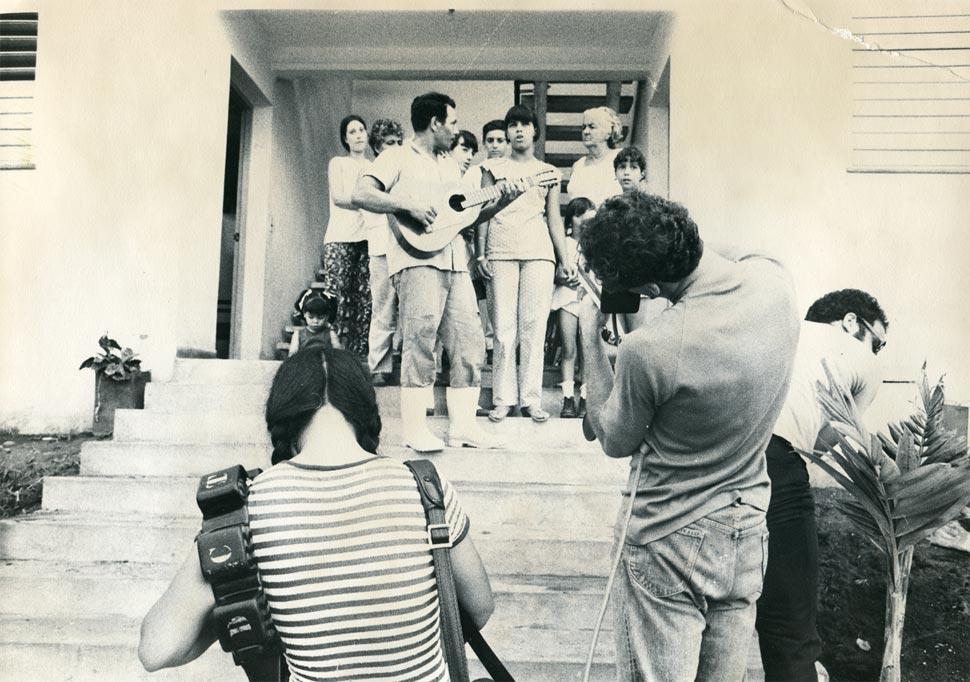 Did you come across any major voids where you didn't have corresponding footage?
There are two places. One is in the earliest footage with the peasants. I know what's on the missing tapes [from the initial trip to Cuba] and it haunts me today that I haven't been able to put it in the film [due to the flooding] because the daily lives of the peasants would have been better introduced and better documented. That's a void and we were not able to fill it – we just don't have the material. So we told the story fast and moved on to another part, and when we revisit the peasants from that point on we've got all the material.
The other section would be in and around the last visit to Fidel. We wanted to be able to really communicate personally what was inside me and the feelings that I had for Fidel. At that time, very few people were getting to see Fidel at all.So we used photographs and me sifting through the photographs in order to tell it, so we came up with that particular device to do it. Otherwise everything else is represented by the footage.
What types of production challenges did you face with Cuba and the Cameraman? 
In the beginning we didn't have a clue what we were doing. We had very little experience. Initially, the equipment was as much our enemy as it was our friend. Those early recorders were miraculous at the time but we used to call the old decks 'spaghetti makers' because if you took your eye off of them for a second, you'd look down and see this mountain of tape spooling out of the machine. There were enormous limitations on that equipment – the color was wrong, it was extraordinarily heavy, very short battery life, wireless microphones that didn't work. 
Can you tell me about the process of financing this film? Did you receive any grants or outside funding?
It was a combination of survival skills and extraordinary love for the subject that enabled us to film in the beginning — everything was completely self-financed. There were times in which we were working for NBC and we might be covering important breaking news events in Cuba, and I would always find time to go off and film the [characters in the film]. There were times when nobody was financing this and we were vacuuming the nickels and dimes out of the couch the way every independent filmmaker does. It was tough.
We got some money from the New York State Council on the Arts – they helped us primarily in the editing room – and worked on some assignments for Japanese television. Basically it's what independent filmmakers do – by hook or by crook. There's something burning inside your heart, and you're going to figure out how to deal with that heartburn and make the finished movie.
Is there anything you'd like to add that you feel is important that I may have missed?
In addition to this documenting a laboratory experiment in economic and social organization, this is also a laboratory experiment in technology. The very first teleporta pack that anybody used outside the laboratory in Japan was used on this project, the first color three-quarter inch portable material was used on this project.
Sony has always supported our work. They allowed us to battlefield test all their new equipment. Filmmakers also have this film in Cuba to thank for a lot of the development in the current equipment because they were made in response to the real problems that we had out in the field and Sony tried to come up with solutions. The evolution of modern filmmaking technology basically occurs during the 45 years of this film.