Realscreen Summit's annual international pitch competition returned for its 10th annual edition, with a docuseries that humanizes climate change and a travel-filled lifestyle project walking away with US$20,000 each in development funding.
Hosted by Party of Five and Everwood actor Scott Wolf (pictured above), six finalists were given five minutes to pitch their non-fiction or unscripted program or series to a panel of leading network executives from National Geographic and WE tv.
The Grand Prize winners of the Summit Showdown were Michael Holstein's Shishmaref Is Melting, which receives a US$20,000 development deal from National Geographic, while Amy Bolton Curley of Atlanta-based studio Bolton Media Productions will receive a $20,000 development deal from WE tv for her WOW (Women of the World).
Pitched by Holstein (pictured below) of multimedia development shop & prodco The Content Farm, the 8 x 60-minute Shishmaref Is Melting looks to depoliticize climate change by spotlighting the human impacts of it and focusing its lens on the 421-person village of Shishmaref, Alaska that is threatened by rising sea levels. 
"You have the advantage of a ticking clock to a disaster plus a visual measuring stick to get there – that house falling in off the reinforced embankment is all you need to see," National Geographic's VP of development Charlie Parsons explained. "That's the big advantage for this pitch — the visual progression of impending doom."
Parsons, however, worried that a story about climate change told in the wrong way could be seen as "preachy" and noted that "no one would watch it", but wondered if there was a back entrance to the discussion of climate change that could engage viewers.
"That's what we want to do – we want to depoliticize climate change," answered Holstein. "We don't want to bore people or get esoteric and pedantic about the science of it, but really to humanize it and put a face on it.
"The back door is telling the stories, meeting the people, learning about the culture and caring about them, then understanding that if you're not safe in the far north of Alaska where ice is melting, then the world's being changed by it."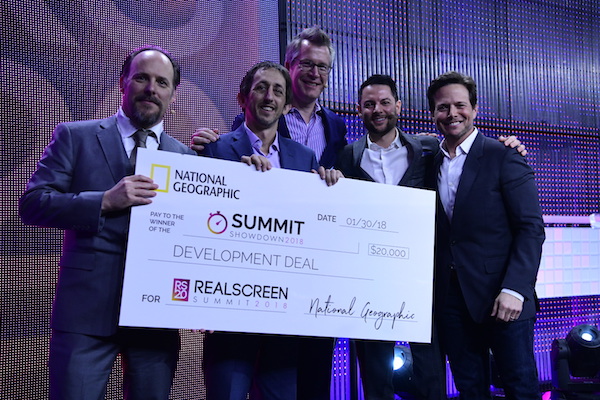 Pitched by Bolton Curley (pictured below), the travel-filled lifestyle series WOW (Women of the World) follows three entrepreneurial African-American women traveling the globe and living between two very different cities – Atlanta and Lagos, Nigeria.
WE tv's SVP of development David Stefanou complimented Bolton Curley on her tape that encompassed surprising and fresh characters but wondered whether there was a main storyline that united the three women throughout the series and whether or not they're working toward a common goal.
"What I like about WOW is these women live between two very vast cultures at the same time. I want to bring to the screen African-American women who are filled with profundity, positive images and have relevance in time to be an influence to other women," said Bolton Curley.
"The through story is showing how their lives intertwine in both places," she added.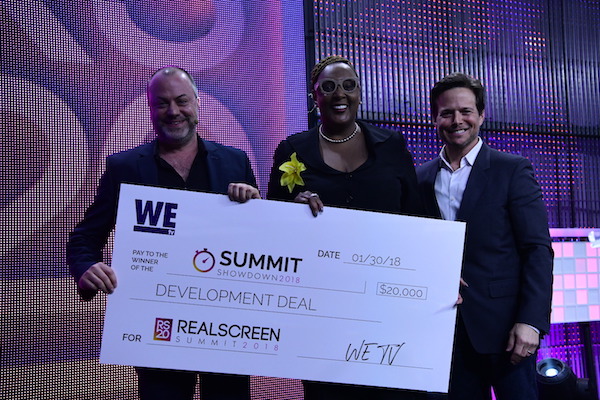 Contending pitches came for National Geographic came from Jennifer K. Brown of Auspicious Media, with her docuseries Growing Up Female in the Muslim World, which painted a portrait of the issues, challenges, joys and sorrows that face women of the Muslim faith; and Scott Henson of Scott Henson Media & Creative Communications, whose 10-part series Pretense: Myth, Belief and Meaning in America looked to dive into the narratives we live by to find that race, religion and politics are "three sides to the same coin."
Meanwhile, contending pitches for WE tv also came from Peter Reiss of The Woodshed, whose series The Baby Dolls followed a group of New Orleans women who "hand-make outrageous costumes and dance up a storm"; and David Miller of Real Big Hits, whose Burlesque Bootcamp looked to empower women seeking to discover their beauty and confidence through burlesque.
This year's panel of judges included WE tv's Amanda Culkowski, director of development; Angela Molloy, VP of development; and David Stefanou, SVP of development and production; as well as National Geographic Channel's Charlie Parsons, VP of development; Alan Eyres, SVP of programming and development; and Igal Svet, senior director of development.
(Photos by Rahoul Ghose)