Red Bull Media House and Vienna-based prodco Terra Mater will be marking the 50th anniversary of the Apollo moon landing with an ambitious programming event.
Mission to the Moon will follow Berlin-based collective, PT Scientists, as it attempts the first private mission to travel to the moon by launching an unmanned spacecraft to the site of the original lunar landing.
"We aim to create an 'Apollo moment' for a new generation. PTScientists believe that space belongs to everyone and Mission to the Moon will make space accessible for all to explore," said PTScientists' CEO Robert Böhme in a statement.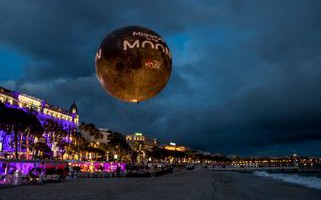 The aim is to broadcast live throughout the event. Using chip technologies from Infineon, the spacecraft ALINA, the Autonomous Landing and Navigation Module, will transport a pair of lunar rovers, developed by automotive company Audi, to explore the moon's environment and capture the first High Definition images from NASA's Apollo 17 landing site.
The rovers will then approach and study NASA's Apollo 17 lunar roving vehicle that was used by the last astronauts to explore the Moon in December 1972, Eugene Cernan and Harrison Schmitt.
Vodafone will also be part of the team behind the project, setting up the first 4G LTE network on the Moon, which will allow the Audi rovers to collect and transmit data and HD video to ALINA, which will beam it to Earth. Other brands involved include watchmaker Omega, serving as mission timekeeper, and running shoe brand On, which acts as mission gear partner.
The mission will be documented with three live broadcasts, which will feature multi-device compatible, HD images from outer space from various camera angles. The cameras will capture the start of the mission from Earth, the landing of ALINA on the Moon and the first glimpse of the original lunar roving vehicle.
Terra Mater Factual Studios, meanwhile, will produce a 3 x 52-minute doc series chronicling the mission from inception to accomplishment.
Red Bull Media House will develop, produce and license the mission's live broadcasts, behind the scenes footage and flanker content, as well as related books and magazine print edition and the mission's musical soundtrack. The company will also manage the project's "global conversation" across all social channels and media outlets around the world.
Mission to the Moon is slated for take-off in the second half of 2019.