On October 11, 2014, the small island nation of the Philippines was mourning the death of 26-year-old transgender woman Jennifer Laude, who was found dead in an Olongapo City motel room.
The prime suspect was quickly identified as 19-year-old U.S. Marine Joseph Scott Pemberton, who, according to police and witnesses, accompanied Laude to the hotel. Local police authorities, however, were unable to detain him due to the Visiting Forces Agreement between the two nations, which allows the United States to keep jurisdiction over any U.S. servicemen locally charged or suspected of a crime.
In the days following the killing, filmmaker PJ Raval arrived at the Quezon City International Pink Film Festival, the largest LGBTQ festival in the Philippines, to promote his two films Before You Know It and Trinidad. During a panel session for LGBTQ Rights, and following a short clip about Laude, Raval's fellow panelists encouraged the Filipino-American director to develop a film about the crime, its subsequent trial and the hidden histories of American colonization and imperialism in the Philippines.
Now, nearly four years later, Call Her Ganda will enjoy its international premiere on April 28 at the 2018 Hot Docs Canadian International Film Festival in Toronto. The film is produced by Unraval Pictures,  in association with JustFilms | Ford Foundation, Fork Films, Naked Edge Films and The Sundance Institute Documentary Film Program.
The 93-minute observational exposé examines the marginalization of transgender Filipinos by following activist attorney Virgie Suarez, transgender investigative journalist Meredith Talusan and Jennifer's mother, Julita "Nanay" Laude, as they galvanize a political uprising in pursuit of what they deem to be justice for Jennifer's death.
"It's a rare opportunity that I've been given to give a voice to a lot of people that have been overlooked and definitely underserved," Raval says in a phone call with realscreen from Lucasfilm's Skywalker Ranch, where he was finalizing edits ahead of the film's Tribeca world premiere earlier this month.
"I don't know if I would have felt up to that challenge several years ago, but I do now."
Creating a project in a far away country requires organization and a certain time commitment, particularly for documentary and non-fiction filmmakers who rely heavily on the lengthy process that is grants and foundation support. However, if unique events are unfolding, it's not ideal for funding on a project to take six months or more to come in.
Instead, Raval bypassed that waiting period by finding whatever resources were readily available and jumped right into the Philippines with a small filming team to capture the story as it unfolded before them.
With one problem averted, challenges would present themselves elsewhere. The creation of a foreign language project didn't sit well with American-based financiers and industry buyers, Raval notes, who see the North American market as "very cultural and ethnocentric" in thought.
"I would take certain meetings and people would say, 'We already have a film that takes place in Asia,' as if they can only have one," Raval explains. "There's only one film that can represent all these different cultures? It's insane."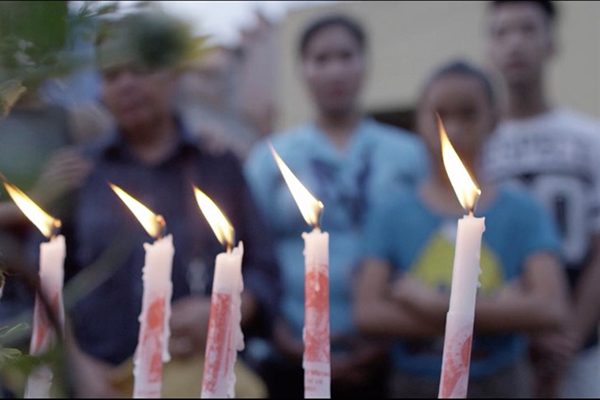 The flip side, though, is that Raval had managed to unearth industry executives who are "very open, aware and really want to support work that expands the conversation" throughout his tireless efforts to develop and finance the film.
In the four years of creating Call Her Ganda, Raval participated in a raft of pitching forums and programs, including the Firelight Media Documentary Lab, the Hot Docs Forum, the Sheffield Doc/Fest MeetMarket, and as part of the Sundance Institute's Documentary Film Program.
"Firelight Media, they've been amazing. They've been so incredibly helpful and I cannot say enough in terms of the Documentary Lab – being in the room with these people, already I felt like I was being lifted up," he says.
The film eventually acquired funding support from Austin Film Society; The Bertha Foundation; Denver Film Society; The Ford Foundation – Just Films, in association with Frameline Completion Fund; Arcus Foundation; Sundance Institute Documentary Fund; and Tribeca Film Institute.
"I am being honest when I say that I don't think I could've made this film a couple of years ago," admits Raval. "A lot of this is just me building the confidence to commit myself to telling a story that is so large in scope and importance."
Executive producers on the project include Jim Butterworth, Daniel J. Chalfen, Abigail E. Disney, Gini Reticker, Barbara Dobkin, with co-executive producers Jean Tsien, Jessica Devaney, Anya Rous, James Costa.
Raval, Lisa Valencia-Svensson, Marty Syjuco, Kara Magsanoc-Alikpala are producers.
Call Her Ganda hosts its international premiere at Hot Docs in the World Showcase category on Saturday, April 28 at 9:15 p.m. ET at Toronto's Isabel Bader Theatre. Visit the festival's website for complete screening info.
The 2018 Hot Docs Canadian International Documentary Festival runs April 26 to May 6.