With an upcoming four-part series, PBS and Providence Pictures reveal the rich historical, cultural and geographic tapestry of Native America.
Gary Glassman, executive producer of PBS' upcoming docuseries Native America, makes it crystal clear that this project is unlike many programs produced about Native Americans.
"This is not your forefathers' vision of ancient America," he tells realscreen. "This is a new vision of the Americas and the people who made it."
The project from Glassman's Providence Pictures, which is slated to premiere in fall 2018 on PBS stations nationwide, explores the lives and culture of Native Americans by weaving history and science with their living Indigenous traditions.
With the help of animation, 3D computer modeling and other techniques, the stories of those original North and South Americans come to life to reveal thriving cultures with an ancient foundation.
For series producer Julianna Brannum, the four-part program provides the opportunity to break the one-dimensional stereotype of Native Americans as "nature-loving, one with the earth." For Brannum, who is Comanche, Native America paints a more complex picture.
"We are often seen as an unsophisticated, technologically inept culture, and the reality is we had very rich, complex religions, languages, belief systems and cultural practices that were as advanced as any other of that time," she stresses. "The European civilizations are given far more credit than Native American civilizations, and this series aims to open your eyes to how advanced these cultures were."
With each episode narrated by legendary musician Robbie Robertson, who is of Mohawk heritage, the series delves into the myriad innovations and accomplishments of Indigenous culture and civilization, ranging from architecture to spirituality, from transportation to irrigation.
In telling these stories, the crew for Native America trekked across two continents and various communities within the United States. The production team journeyed to the Kwakwaka'wakw community along the Pacific Northwest Coast to the Haudenosaunee in upper New York, and down to the Amazonian caves containing the Americas' earliest art and interactive solar calendar. Field archaeologists using 21st century tech such as multispectral imaging and DNA analysis were also brought on board to shine more light upon the importance of ancient sites.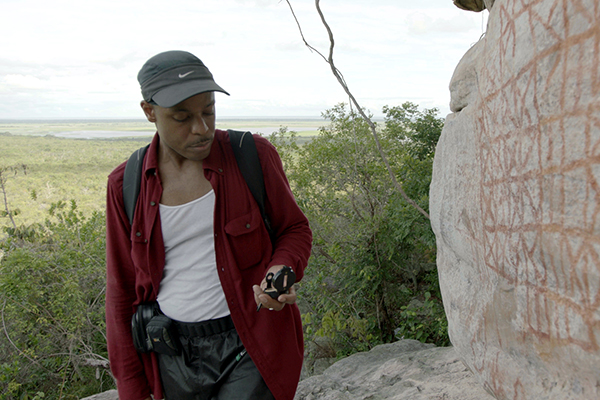 Beyond the sites themselves, it was also crucially important to have Native Americans sharing their own narratives. Glassman reached out to the National Museum of the American Indian early in the production process.
By doing so, he was introduced through the museum to various Native American communities. But Brannum says it took time to gain these communities' trust.
"We took a full year to build these relationships," she notes. "We were visiting them before we even brought a camera. We were talking with the elders and the cultural officers and learning what was acceptable and what was not."
That trust-building effort enabled the production team to be able to film ceremonies that have never been captured before. This includes the Haudenosaunee Wampum Belt ceremony that represents the coming together of the five warring nations to form the first democracy in the Americas — more than 500 years before the signing of the U.S. Declaration of Independence.
The team also filmed a group of Hopi elders and faith keepers performing special ceremonies — including the rain prayer — in Chaco Canyon in New Mexico. "At the end of us filming, it rained there," Glassman says. Meanwhile, in Fort Rupert, British Columbia, the team filmed the Potlatch ceremony of the Kwakwaka'wakw tribe which was being held in celebration of the initiation of a new chief.
"It's just such a moving, deep ceremony with roots that go back thousands of years," says Glassman.
Brannum notes there were some ceremonies or activities, including certain dances, that the team was not permitted to film.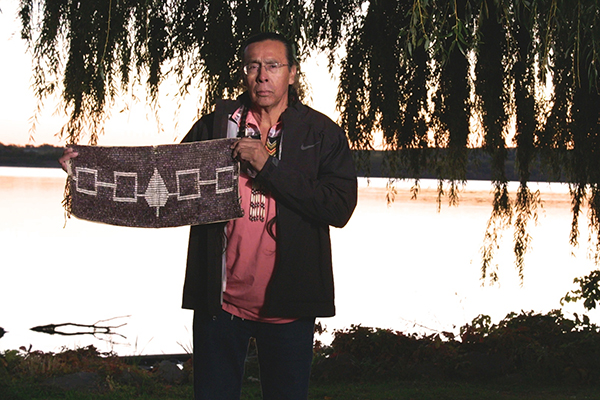 "We could not be disrespectful to those beliefs or those protocols," she says. "It was [about] finding what we could and being respectful to them, and still being able to tell the stories, but with full trust from these communities."
"We treat people the way we would want to be treated," says Glassman. "If I give my word, I keep [it]."
Glassman says he also allowed the communities to review footage of any sacred ceremonies to make sure they were ultimately comfortable with them being broadcast.
Brannum says that she respects Glassman for having the foresight to know that in telling the stories of Native Americans, those within the communities needed direct involvement.
"Most production companies and filmmakers tend to not do that with Native Americans," says Brannum. "It's complicated and problematic."
She says she pitched the idea to Glassman about exploring the Comanche tribe, to which she belongs. They started to develop the idea which took them to New Mexico with archeologist Severin Fowles of Barnard College. There, they learned about the rock art which illustrates the evolution of the Comanche nation.
"Going there was deeply moving for me personally," she says."I was standing in the only known home — as 'home' as a nomadic people can get — and filming there, sharing the stories of my ancestors."