All couples face hardships throughout the course of their relationship, but TLC's latest docuseries, Lost in Transition, will follow four married couples during the most trying time in their marriages as each wife recently finds out that her husband has grappled with his gender identity for years.
Told from the wives' point of view, the nine-part, hour-long docuseries will detail the four couples as the husbands navigate their gender transformation, with each episode examining the confusion, anger and uncertainty surrounding their decision.
Produced by Eden Prairie, Minnesota's Tremendous! Entertainment, audiences will witness the couples' journeys as they share the news with family and friends; deal with depression and acceptance from their communities; take steps forward with the husbands' transition processes; and determine how to best evolve their marriages.
The topic of gender identity isn't new for the Discovery, Inc.-owned lifestyle network, which also airs the reality series I Am Jazz from Los Angeles-based This Is Just A Test. The series, now in its fourth season, zeroes in on the life of South Florida transgender teenager Jazz Jennings.
Lost In Transition premieres Sunday (May 20) at 10 p.m. ET/PT on TLC.
Tremendous!'s Colleen Needles Steward, Shannon Keenan Demers and Ronak Kordestani serve as executive producers alongside TLC's John Hein, and EP and showrunner Chaney Moon.
Realscreen caught up with Moon and Kordestani, executive producer and head of development at Tremendous! Entertainment, to chat about the series and how it fits into the studio's slate.
This interview has been edited and condensed for clarity and length.
What was the genesis for Lost in Transition?
Ronak Kordestani: I was on a panel with [political activist and author] Jennifer Finney Boylan during which she shared a story about her wife and how they had been together longer as wife and wife than as man and wife. It was only at that moment that I realized if your partner physically transitions, the relationship you're in has to transition as well. Every stage of the physical transition brings new challenges for both the trans individual as well as their cis-gendered partner – all that much more so if they identify as heterosexual. I thought that if we could tell the story of a physical transition through the eyes of a cis-gendered partner who lives in "Maintown, USA", it would make their stories more relatable for the masses. Then people might not be so quick to vilify that which they do not understand.
Can you tell me about how this project fits with Tremendous! Entertainment's brand and why it's such an important title in your production stable?
RK: Our company motto is "Where Character Matters." We apply that to our employees, our producing partners and the characters we profile on screen. Lost in Transition perfectly fits in line with that because it showcases these amazing people going through what will most likely be the most challenging times of their lives, and they are doing so with grace, humility, love and a strength of character that you don't see often in unscripted television.
Why do you think there is an appetite for a program like Lost in Transition?
RK: There wasn't! When I pitched out the one-liner, no one thought it was a good idea. People actually told me that the "trans thing has already been done" and that I shouldn't waste my time. It wasn't until I had lunch with a friend at TLC who told me that I would need to cast it in order to get anyone interested. So we spent the next seven months finding incredibly compelling couples, and all of their stories were fascinating. When I showed the final casting reel to the TLC execs, we were all in tears – myself included.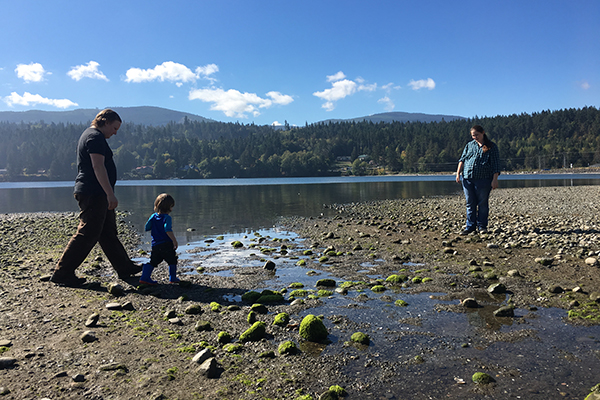 What types of production challenges did you face with this project? 
Chaney Moon: The biggest challenge we faced during production was locking down locations. Many people turned us away due to the subject matter of the show. On an emotional level, the biggest challenge was being immersed into people's lives during arguably one of their most sensitive ​moments. We weren't exactly prepared for how intensely we would feel the effects of the challenges our cast was facing. You become so close that what affects them affects you – and that is hard.
Why is Lost in Transition an important series given the current climate surrounding LGBTQ rights?
CM:​​ It's an important lesson in acceptance – on all sides. The trans women on our show have been so paralyzed by people's dissension of who they are that they felt they needed to hide for 20-plus years, in turn creating very difficult situations. They just want to be allowed to be who they are. They aren't trying to force people who don't agree with it to be their friends; they're just asking that these people give enough acceptance to let them be.
What audience does this series appeal to?
RK: The audience for this is anyone who wants to see how people in love handle seismic changes in their relationship. We wanted to try and create a series that would attract people who wouldn't normally watch a show showcasing LGBTQ individuals to foster greater understanding. In order to do so, we had to find relatable couples that have been together for decades so that the people at home would see that they are, in fact, just like them.
I am so proud of this show and completely indebted to Chaney and her amazing team for bringing these stories to light in such a beautiful way. We are dealing with such a sensitive issue, and since these couples are sharing their most intimate moments with the world, it was important to us to have LGBTQ producers and staff working on this show to help ensure we didn't veer from our original intent for the show.