In the 1970s and 80s, legendary actor Leonard Nimoy captivated audiences by transporting them into unseen worlds comprised of unsolved mysteries and supernatural phenomena.
In its run from April 1977 to March 1982, the series would conduct numerous investigations into the controversial and unexplained, often exploring such topics as UFOs, Bigfoot, and the Loch Ness Monster. Nimoy's voice wove together each story, supplemented by interviews, re-enactments and actual footage.
Inspired by the iconic '70s franchise, History announced in January that it would be rebooting In Search Of with a 10-episode order and Emmy-nominated actor Zachary Quinto – who would bring Nimoy's much-loved Spock character back to life in 2009′s cinematic reboot of Star Trek and its sequels – serving as host and executive producer.
Each one-hour episode of History's otherworldly revival looks to explore enigmas through the eyes of witnesses and scholars with a personal connection to each unexplained occurrence. The series also follows Quinto in the field as he investigates a different subject within a dynamic theme – the likelihood of extra-terrestrial life, mysterious creatures, time travel and artificial intelligence – and searches for the truth to some of the world's greatest mysteries through immersive demonstrations and experiments.
Alien encounters, for instance, remain a relevant topic for the series, following the Pentagon's recent acknowledgment of a secret program that investigated sightings of UFOs over a five-year period between 2007 and 2012.
The latest iteration, with Star Trek's Quinto at the helm, marks the second overhaul for the series after a short-lived renewal of the show, featuring Mitch Pileggi, aired on the Sci-Fi Channel in 2002.
The 10-part series, which launched last month and airs Fridays at 10 p.m. ET/PT on History, is produced for History by Propagate Content, Universal Television Alternative Studio and Before the Door Pictures.
FremantleMedia International distributes the series globally.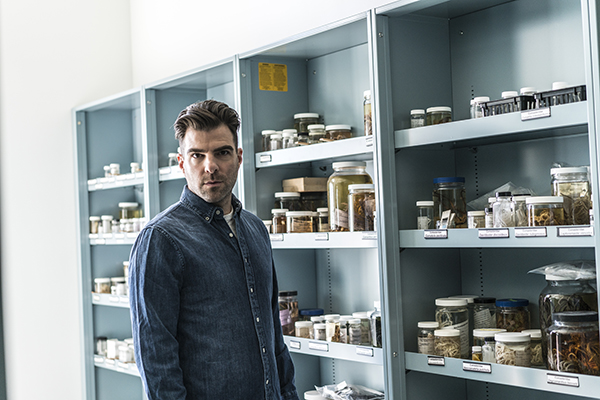 Ben Silverman, Howard Owens and Brett-Patrick Jenkins are executive producers for Propagate Content. Eddie Schmidt is also executive producer. Zachary Behr is executive producer for History.
Realscreen caught up with Behr, History's executive producer, and Jenkins, Propagate's head of development, to chat about what sets In Search Of apart from its predecessors and how the series fits into the network's brand.
This interview has been edited and condensed for clarity and length.
What was the decision behind reimagining In Search Of for a third time?
Brett-Patrick Jenkins: We at Propagate just loved the original series and Leonard Nimoy so much that we thought, 'Is there a way to bring this show back to life in a much more contemporary way?' We've seen such a transformation of storytelling in the last five years for many reasons, but one of those reasons is the audience has changed. The audience doesn't like information spoon-fed. I think producers got away with that for a lot of the early aughts, but now the viewer wants to see information brought to them in a more stylized, detailed and granular way. And so we were inspired and tried to go out and get the rights to the show.
How closely have you kept to the original series, and where does this new iteration differ from its 1970s and 80s sister? 
Zachery Behr: We used the original show as inspiration, and the way that we've taken inspiration from the original show is mostly the subject matter: looking at big questions, creatures of the deep, the timeless mysteries that people have been fascinated by for decades. The big difference is that our host, Zachary Quinto, is much more boots-on-the-ground, hands-on than Leonard Nimoy was. Leonard Nimoy presented things in more of a studio environment and would occasionally, very rarely, be in the field. With Quinto, it was very important for him from the start to be involved not just in crafting every episode and coming up with the topics, but also in actually going out all over the world.
BPJ: We wanted to do something that spoke to modern audiences. It felt like that title deserved a new take with new production techniques, new storytelling devices and deserved to be taken maybe a little more seriously than the original. The original In Search Of played on all of our deepest imaginations and desires. We've all thought, 'What if there are aliens out there? What if there is a way to become a superhuman?' The original version really baselined the idea and used clips, found footage and had Leonard Nimoy in a studio, and we've completely cut that to the side and instead, have gone out in the world with Zach as our guide and partner to see if we can find these people, these places, find proof of them and explore them.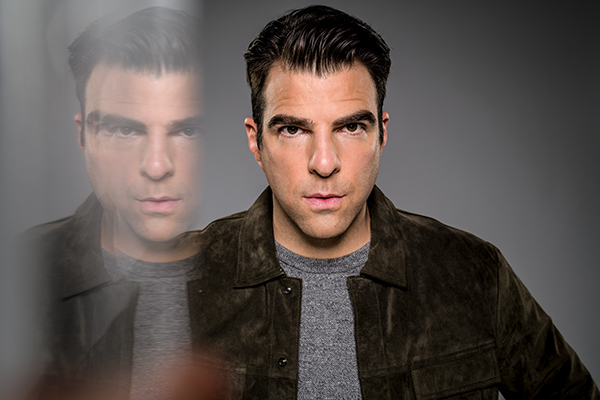 What types of production challenges did you encounter with this project? 
BPJ: Finding proof of aliens is not something you usually do on most shows, and we really sought out in search of proving that aliens exist – and if so, what's the evidence? We wanted to figure out whether there really are monsters in the oceans; those myths and legends that we've all heard about, could they be real? Is artificial intelligence a threat to humanity? These aren't the kinds of things where you can simply walk around with a camera and hope that they fall in your lap. We tapped into some of the world's foremost experts, people that have done TED talks and written tons of books, particle physicists, quantum creators, researchers, mathematicians, roboticists. We really pulled out all the stops to connect with people who claim to have had supernatural experiences and then we also connected with people who are right at the forefront of artificial intelligence and robotic technology to see if we could find our own truth.
From what I've seen of the show, In Search Of revels in asking questions and playing in the grey areas. But can you tell me about the amount of research and planning involved in each topic or episode?
BPJ: Our research team is absolutely massive because you're dealing with a number of variables. We wanted to find people that seemed credible and believable, and we also wanted to back it up with the research and create a pathway for storytelling. We went to academic universities, scientific laboratories, artificial intelligence groups, and several different people who are doing their own independent research around the world. We wanted to make sure that we connected with people who have had real experiences, people who have seen things that may or may not exist according to mainstream science. That took some vetting too because you have to weed out people who maybe are harder to believe from those that seem undeniable.
We spent close to a year researching the show overall and each topic had its own team of researchers and producers to help us find the places that we wanted to go and explore and do it in a credible way.
Can you tell me about how this project fits with History's brand and why it's such an important title in your production stable?
ZB: We have a very loyal audience for our long running series Ancient Aliens and we're always looking to give our fans more of what they want. This is a great opportunity to get something new but yet familiar. It's something that we hope has a little bit of nostalgia, yet offers a new way into familiar topics. For that reason it's really important.