New York-based documentary filmmaker E. Chai Vasarhelyi (pictured, left) returns to the climbing world with Free Solo, co-directed with climber, photographer and husband Jimmy Chin (right), premiering at the 2018 Toronto International Film Festival Sept. 9.
With Free Solo, the directing duo, who last collaborated on the 2015 Sundance Film Festival Audience Award-winning climbing doc Meru, chronicle fellow climber and friend Alex Honnold (pictured, below) in his quest to ascend El Capitan, a 3,000-foot cliff in California's Yosemite National Park.
It's no average climb, even by the most extreme of sports standards. Honnold is captured in the film tackling El Cap free solo — without a climbing partner or safety ropes. It's a feat no other climber has ever achieved.
Vasarhelyi was last at TIFF in 2008 with the feature-length doc Youssou N'Dour: I Bring What I Love. Her other films include Touba and Incorruptible.
Free Solo is her second collaboration with Chin, after Meru.
"Jimmy and I fell in love through Meru," she says, in a phone interview with realscreen.
The partnership has been a productive one ever since, playing to the two's strengths as very different filmmakers.
"I think Free Solo is a wonderful example of our filmmaking partnership," she says. "[Jimmy]'s a National Geographic photographer who made his name photographing extremely difficult climbs in stunning ways, so he's amongst the best people to possibly film a climb like this… And the team he was able to assemble, of the best high-angle shooters around, who are also professional, sponsored climbers. These people are really the best of the best."
Her half of the equation is the storytelling, the human narratives behind the images. "I'm interested in people's emotions and watching people go through difficult times and how they come through it. It was this great partnership, where he was looking at how to capture this climb, and I was obsessed and focused on: 'What are the emotions behind this? What is the process Alex is going through? How do we understand this man better? How does his relationship affect him?' Capturing these incredibly intimate, verité moments. One filmmaker basically couldn't do both."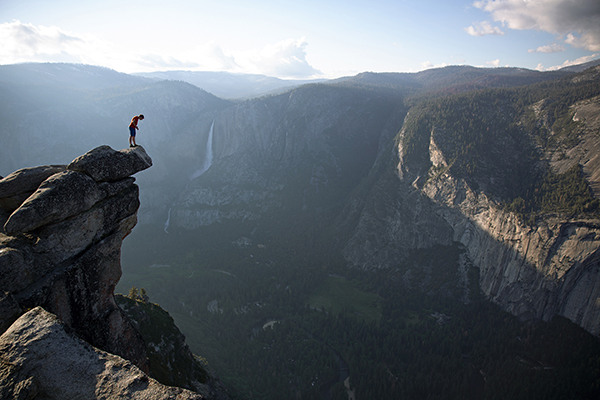 Free Solo was something of a natural fit for the two filmmakers' different approaches. Honnold's personal quest is brimming with emotions and overlapping human stories, including those of Vasarhelyi and Chin themselves.
"Alex Honnold is an old friend of ours," says Vasarhelyi. "Even without El Cap in the picture, it just seemed like he would be a fascinating subject for a film. The real question for us was whether we should make it, because it was so scary. As much as we may trust him, would we even want to be close to that?"
The finished film certainly goes beyond the grueling and risky nature of the climb though.
Honnold met a woman, Sanni McCandless, around three weeks into filming, and they've been in a serious relationship since. That means she had to make peace with the climb early on in their relationship, along with the risks involved.
That relationship — and how Honnold and McCandless interact — is a dimension of the story that Vasarhelyi was uniquely positioned to appreciate. "I'm married to a climber," she says. "I'm interested in those questions. I'm interested in how their most raw and candid discussions about risk evolve and unfold, and so that was something I was just very into and focused on."
One scene that stood out for Vasarhelyi involves McCandless' sudden realization that Honnold is climbing the very next day. The filmmakers were aware and were preparing for it, but he hadn't yet told her that he'd be climbing so soon. "There's this conversation — you see her actually figure it out," recalls Vasarhelyi.
"Clearly that was a very difficult position for us to be in because we knew. I respect the conversation she has with him. She is just like, 'Would you climb differently if you took me into consideration?' Talk about a tough conversation to have. I have incredible respect for both of them in that moment. They're very honest, and they can sit with something that is uncomfortable and also probably see each other for who they really are and still love each other through it. It's just a tough moment."
Then there's the climb itself, which posed unique filmmaking challenges in its own right.
The most obvious challenge is the danger of rock climbing, of following Honnold on his journey up El Cap. "We trusted Alex, always. We wouldn't have made the film otherwise," says Vasarhelyi. "But that many days on the wall, that many guys, even though they're pros, something could happen."
And that's not to mention the danger to Honnold himself, who needed to stay focused on his task. The risk of distracting him, or making him nervous and throwing him off his game was considerable — and that's after you factor in that he isn't using any ropes for safety.
"You needed a lot of people, but not too many people, because that would be too much tension for Alex, or too much attention for Alex," says Vasarhelyi. That meant staying out of Honnold's eye line, not crowding him on the mountain face. Above all, it meant following his process rather than having the film dictate the climb.
"It was very important to Jimmy and myself that he still get what he wanted out of the climb," says Vasarhelyi, "that the experience be something that was worth the 10-year dream."
Free Solo is produced by National Geographic, who were on board from day one and had been keen to work with Vasarhelyi and Chin since Meru. They maintained a hands-off approach to the project, giving Vasarhelyi and Chin the time to chronicle Honnold's process. Nat Geo also agreed to keep quiet about the project, holding off on any announcement until Honnold had completed the climb. "That's a big deal for a company," she says.
Speaking with Vasarhelyi, it's hard not to think of the Hawthorne effect: the principle that individuals being observed modify their behavior in response to the very act of being observed. There's a personal dimension to letting Honnold define his own journey, but there are also clear ethical considerations. Honnold could change his mind at any moment, and ensuring his freedom and comfort to do so was important.
All that caution pays off though. The images are breathtaking and overwhelming. "The climb is absolutely extraordinary," says Vasarhelyi, looking back. "It still makes me sweat."
So what should audiences take away from Free Solo and Honnold's accomplishment? Vasarhelyi sees it as an example of what most of us experience every day, albeit on a massively different scale. Overcoming fear is just a part of being human, she says, and Honnold is someone who tackles his fears head on.
"The climb itself is a testament to process," she says. "You'd like to say he's a maverick, or this guy's bonkers. He's not. He is practiced, and it is scary for him, but he's just worked through it over and over again because it's meaningful for him."
"I think it's a film that begs the question: 'What are you doing with your life?'"
Free Solo enjoys its international premiere at TIFF on Sept. 9 at 3:15 p.m. ET at the TIFF Bell Lightbox.