Joe Livecchi is founder and CEO of the prodco Noble Savages, and a seasoned media professional with over 20 years of experience in content creation, programming and marketing. This is the latest in a series of intimate interviews with what he calls "real life noble savages," or, in his words, "someone who operates with the highest level of integrity and is fierce in the pursuit of excellence." Through these monthly profiles, you'll learn more about these top executives through an unprecedented glimpse into their personal lives — as Livecchi says, "who they are and what made them that way."
This time, Livecchi profiles Eliot Goldberg, executive vice president of non-fiction and alternative programming for AMC and Sundance TV.
For more profiles, keep an eye on realscreen.com and also check the Noble Savages site.
It's a warm August night at Dodger Stadium and Eliot Goldberg and I are sitting a few seats away from Dodger legends Steve Garvey & Tommy Lasorda. For two baseball geeks like us, our home plate seats and proximity to such legends add up to our own personal field of dreams. This hazy elixir of nostalgia has put Eliot in a talkative mood.
Soon enough, we're transported back to his hometown of New Canaan, Connecticut circa 1972. This small conservative hamlet is dominated by bankers, homemakers and a large Protestant community. Basically, everything the Goldbergs were not.
Eliot's mom Trudy was an outspoken professor of social policy and his dad Alan was an architect. If you saw the movie The Ice Storm or ever pulled into a Mobil gas station in the 1970s and '80s you were experiencing one of Alan's designs. "I come from a weird family; my parents were extremely liberal," says Eliot. "We drove around with a McGovern bumper sticker and we got a lot of shit for it. I grew up in a modern house in a Colonial town that my dad meticulously designed and built. It now has landmark status. We just came from a different world view than most people in my town. We didn't fit in."
The Goldbergs didn't seem to care. They fed Eliot and his older brother David a steady diet of classical concerts, Broadway shows, movies, and museum tours. "My parents were very cultured, uber-educated," Eliot recalls. "Was it always fun for a kid? No. But my mom is one of the most brilliant people you will ever meet. I'm still in awe of her today."
In general, life was good for Eliot growing up. He was a happy-go-lucky kid long on friends and short on problems. With an upbringing that sounds like proper grist for a Wes Anderson movie, it's no surprise that the arts would eventually take hold of him. Much like his dad, he became a movie junkie, voraciously watching everything he could. At age 15, he began dissecting current releases like a young Gene Siskel. It was a great escape into a world where anything was possible.
If you believe that which doesn't kill you makes you stronger, an innocuous childhood incident would become one of Eliot's big tests. "One day in sixth grade, I got into a fight with two of my friends over a game of wiffle ball. The beef escalated and they turned the whole school against me. I lost most of my friends." In his hometown, his family was seen as outsiders. Now he was an outsider in his own world.
"I've never really talked about this before but I was devastated," he admits. "I became deeply depressed and gained weight. I went through a few lost years between 12 and 14. I never thought I would be the guy being bullied.
"I think that rough period in my life wound up shaping my views," he says. "It helped me feel compassion for the little guy. And I'm lucky because my parents were really there for me. At the time, I felt like I had nothing else."
Goldberg began to turn the corner in high school, where his lifelong love of music first took shape. His brother David got him into The Beatles and Eliot picked up the guitar and started singing and playing in bands. He regained his confidence and opened himself up to new challenges and new relationships. "It also didn't hurt that it was a great way to meet girls," he says.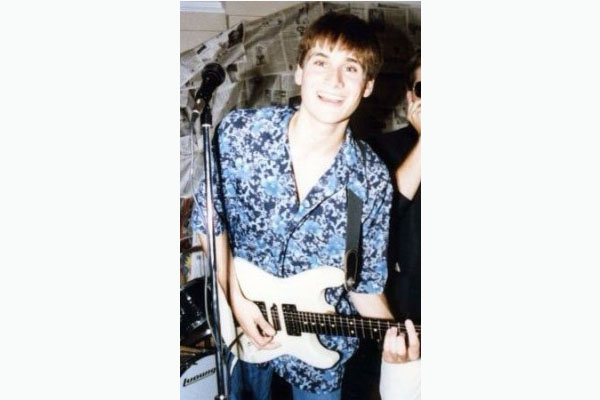 It was around this time that Eliot began his annual pilgrimages to summer camp. It's a very East Coast rite of passage and for Eliot it was a soulful awakening. "It really brought me out of my shell and those summers I spent on Lake George were so transformative," he says.
After high school, Goldberg set his sights on studying TV and film at the University of Wisconsin. "It was a casual environment where stoners, conservatives, artists and free thinkers all mixed together. You could do anything, be anyone without judgment. It wasn't your typical college experience," he says now.
As a college student studying abroad in Italy, Goldberg would often open his guitar case and sing for spare change in front of some of the world's greatest landmarks. Even as a teenager, the sum of his experiences was already beginning to add up to larger life moments.
After college, he landed his first job in local news in Hartford, Connecticut. He was a stage manager throwing cues to the then-news anchor Gayle King. Eliot says, "I was with the grunt, grips and grizzled camera guys who would tell me horror stories about the business and try to convince me to quit."
Eliot recounts the one conversation that really changed everything for him. "One of my best friends tried to convince me to move to LA. I said, 'I can't do that. I have a job. I have a girlfriend. I have an apartment.' He looked at me and replied, 'You hate your job, you hate your apartment and is your relationship with your girlfriend really going anywhere?' The next day I broke up with my girlfriend, quit my job and soon after jumped in my red Honda Civic solo and drove cross country."
He pauses and then adds, "Man, I hope my kids never do anything like that."
Right around that time a channel called Movietime was rebranding itself as E! Entertainment and Goldberg wanted in. "I had a resume with basically nothing on it and zero connections," he says. "My brother hooked me up with a guy who just got fired from Movietime. That guy connected me to people at the network and I landed a PA job at the newly formed E!. That guy, by the way, was Greg Kinnear.
"In the early days, E! would send a PA to go do celebrity interviews at movie premieres, parties and big events," he continues. "It was incredible and I was learning how to cut entertainment news stories. Soon after, I told my boss I wanted to be a producer. That's when I got introduced to the concept of paying your dues. I left E! and moved around the business like lots of young budding TV producers." Initial signs of real stability began to emerge when he was hired as Access Hollywood's first producer.
He would later marry and discover the joys of being a devoted dad. In fact, as we speak Eliot is texting with his son who's in need of fatherly advice. It's as if the love and support Goldberg received as a kid was coming full circle.
As reality television was booming in the early 2000s, Eliot made the transition from production to development. It was an entirely different muscle, and he strengthened it through gigs at Disney, VH1, the WB and Stone Stanley. He worked on a lot of big shows in the zeitgeist, and then along came a gig starting Ryan Seacrest's production company, where he put together and sold Keeping Up with the Kardashians. Eliot has always had an eye for arresting and populist programming. He would move on to develop scripted comedies at TV Land and shows for the heartland at CMT.
All this served as a primer and education for what he calls his dream job, as head of non-fiction and alternative at AMC and Sundance TV.
"Our mission is to attract A-listers in front of and behind the camera and make shows that appeal to our scripted and movie audiences," he says. "So basically, I get to work with a roster of dream producers and talent. Our goal is always to super-serve the fans of our genre programming. Our scripted group is incredible at creating buzzworthy programming. So that's my bar.
"Of course, it hasn't all been roses," he admits. "There was a time that my department was challenged to find an unscripted filter that really worked for these networks. We had to dig deep and prove we could complement our existing brands at a really high level."
In addition to comprehensive populist fare that breaks down the arts, you can find the search for justice in a lot of Goldberg's programming. For Sundance TV, Goldberg brought true crime content to the table with definitive, deep dive mini-series on notorious crimes. In November, the network teams with executive producer Leonardo DiCaprio to present Jonestown: Terror in the Jungle, timed for the 40th anniversary of that horrific event. It's not that hard to connect these larger themes to the ones Eliot's parents impressed on him through his formative years.
As a lifelong Beatles fan, the John Lennon 75th birthday concert special was Goldberg's homage to one of his personal heroes. If there was a Beatles song to sum up Eliot's life one might consider a McCartney tune, The Long and Winding Road. The music he held onto so dearly in his youth is as big a part of his life as ever. Today, you can find Eliot singing and performing just about whenever the opportunity presents itself. Facebook holds a treasure trove of Goldberg recordings at parties, Rock n' Roll Fantasy Camp, at home in his study and even on cruise ships. Yes, cruise ships.
Recently, at an industry event honoring Jonathan Koch, Eliot performed a duet with Jewel on the Tom Petty/Stevie Nicks classic Stop Dragging My Heart Around. I was there as he came off stage, high from the moment. He had come a long way from singing for spare change in Italy as a college student.
When I mention to Eliot how courageous he's been for constantly wandering head first into the abyss over and over again, he stops to think about it, as if no one has ever told him that before. And soon enough he begins to get worked up.
"You know, for me, life is all about experiences and pushing yourself to be a better, more compassionate person. I took my son to anti-gun marches, my daughter cried when she found out a woman wouldn't be president. I want to teach them that there is a big responsibility to be involved.
"I learned from my mom you have to stand up for what's right. I'm angry, hurt and worried about our country so I have to speak out."
Over the decades, Eliot has always had the courage to stand behind his convictions. It's laid the foundation for his work philosophy — taking risks and fighting for shows he believes in. Maybe it was his mom's powerful influence. Or the bullies he faced as a child. Maybe it's some combination of it all, mixed with the belief that no one should be marginalized for their beliefs or their background.
As we separate late after the game, the texts from his son keep coming in. The most important work of his day is just beginning.