Premium U.S. cable network Epix will be the home for next week's broadcast premiere of the feature-length doc The Panama Papers.
The film, which outlines the journalistic effort to reveal a massive, global corruption scandal, was directed by Alex Winter — known for his work behind the camera on docs such as Deep Web for Epix, as well as in front, with roles in cult classics such as The Lost Boys and Bill & Ted's Excellent Adventure.
In 2015, an anonymous whistleblower leaked documents to German journalists. These documents would eventually be shared with a global network of investigative reporters and outlined how money had been funneled into offshore shell companies by numerous wealthy individuals, including public officials, amounting to astronomical sums being effectively hidden, potentially illegally.
Working on the doc as the aftermath of the exposé unfolded, Winter offers a portrait of the journalists who broke the story, and the incredible work involved.
The film will have its broadcast premiere on Epix Nov. 26 at 9 p.m. ET/PT.
It is produced by Robert Friedman, Alex Winter and Glen Zipper, and is executive produced by Laura Poitras and Charlotte Cook.
Realscreen spoke with Winter about the film, the process of making it and its importance at this moment in time, and his ongoing relationship with Epix.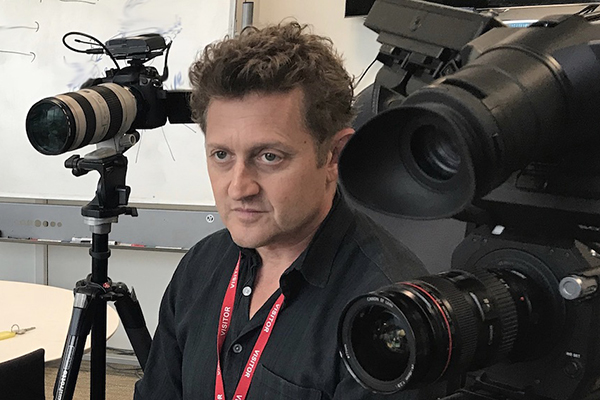 This interview has been edited for length and clarity.
What got you interested in the Panama Papers as a documentary subject?
I obviously knew about the story when it broke, but I was driven by the question of why it hadn't had more impact, so I was curious about that. Then, obviously, the unprecedented nature of so many journalists working together on one story was also intriguing, and I thought it would make a good doc subject, because people are usually what is most important about these stories.
Journalism is being scrutinized at the moment, to put it mildly. How did the anti-journalism rhetoric of the moment affect how you framed this?
That was changing a lot as we went. The pressures that journalists are facing have been on the rise for years, and precedes [U.S. president Donald] Trump by a long margin.
I started the film really at the beginning of his tenure as president, and things got significantly worse as we were filming, so I already knew that journalism was under siege. It was under siege financially, just because of new technologies threatening the budgets of organizations around the world and causing cutbacks, and then this rampant anti-journalism spate that grew out of these more autocratic governments that had been on the rise all over the world, including here in the U.S.
How did the partnership with Epix come about?
My last feature documentary, Deep Web, I made with the same team at Epix — [senior director of original programming] Jill Burkhart and her team — and we have a close working relationship, so they were really my first port of call when we started working on this story. I was working in partnership with Bungalow Media, who had begun to reach out to some of the players in the journalism community, and then we got together and then we all went and pitched it to Epix, very early on, so it was an Epix project from the get go.
With Epix moving more towards these original documentary projects, how do you feel that The Panama Papers works overall with their brand?
The type of storytelling that they've been engaged in from the beginning has been grounded and gritty, looking at real-world situations with a very clear eye. So it's not slick, and not sensational, which for me as a doc filmmaker is very important, to avoid both of those things.
Did anything surprise you in digging into this story?
Yeah. I was aware that even though the story appeared to have broken… that there were many new facets that were going to come to light while we were filming, that it would be a living story and not a retrospective story.
But we were continually surprised both by the information we were getting, in the general macro sense, and then emotionally, in the micro sense, by events that occurred, such as the assassination of Daphne Galizia in Malta [who died in a car bombing in October of 2017], which occurred while I was about halfway through shooting. I was embedded already with many people and would become close with her son Matthew, who's part of the ICIJ [International Consortium of Investigative Journalists] team. That was extraordinarily shocking and surprising.
The forces against these journalists have become emboldened over the last year, and that was very surprising to me, because it's just not the world I thought we lived in.