Joe Livecchi is founder and CEO of the prodco Noble Savages, and a seasoned media professional with over 20 years of experience in content creation, programming and marketing. This is the latest in a series of intimate interviews with what he calls "real life noble savages," or, in his words, "someone who operates with the highest level of integrity and is fierce in the pursuit of excellence." Through these monthly profiles, you'll learn more about these top executives through an unprecedented glimpse into their personal lives — as Livecchi says, "who they are and what made them that way."
This time, Livecchi profiles Nancy Daniels, chief brand officer, Discovery and factual, for Discovery, Inc..
For more profiles, keep an eye on realscreen.com and also check the Noble Savages site.
If there ever was a story to be written about how to take control of your own destiny, Nancy Daniels is about as good a subject as one can hope for. As her assistant lays down a late afternoon lunch of lukewarm chicken soup destined for the back of the work fridge, I get a sense of someone who has always been determined to write her own opus. It's not so much that she wants to but rather, she sees no other choice.
This fortitude began developing early within Nancy, as she grew up in the small town of Ledyard, Connecticut, the youngest of three daughters. "My father was an electrical engineer who built nuclear submarines and my mom was a piano teacher and church organist," Daniels recalls. "There wasn't a ton to do in my town and we were expected to be pretty self-reliant. We did a lot of self-governing."
Since she was the youngest of three sisters by as much as six years, Nancy sometimes found herself fighting for attention in the family. As a self-described introvert, you would think this could be a challenge, but she hatched a simple plan that would become a common refrain in her life. She would focus herself on a particular goal and do it very well. She decided to run track and soon after was being recruited by colleges. She loved how reading transported her to another time and place, so she read voraciously.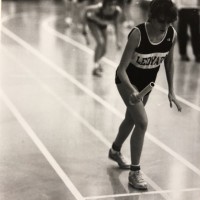 When she was 10 years old, life was interrupted by the divorce of her parents. It was a painful time, but Nancy opted out of the requisite self-destructive rebellious phase and dug a little harder into the realities of life. "I remember feeling I was strong, that I could handle anything. I began doing my own laundry, making my own meals and dealing with my less than nurturing older sisters," she says with a laugh. Today, Nancy counts her sisters as her closest friends.
"In the early '80s, parenting [as we know it today] wasn't really 'a thing', it was more like, just don't do anything that has long-term consequences," she continues.
Like a very 'woke' teenager (before being 'woke' was a thing), Nancy wanted, more than anything to fill her life, with joy and freedom. Money provided that freedom. So she worked as a waitress, in a grocery store, on the retail floor and as a babysitter. At 15, Daniels had begun living the life of the freelance producer she would eventually become in her twenties, stitching together jobs to design the life she wanted.
She was now able to afford concert tickets and Nancy seized opportunities when they presented themselves. "The first concert I ever went to was AC/DC, the next was Wang Chung. They both were a blast."
Daniels wound up at Ithaca College thanks to some financial support from her grandmother. For a minute, Nancy entertained the idea of going to school in Boston. Her father told her that her grandmother, a die-hard Republican, couldn't bear the thought of Nancy living in the same state as the Kennedys. For the record, her dad denies all of this. Life came full circle when Nancy found herself at the JFK Library with documentarian Rory Kennedy (Above and Beyond) and members of her family for a prestigious Discovery Channel event just last year. One way or another, Nancy was going to get what she had set her sights on.
Ithaca turned out to be a first big step towards finding that freedom and joy that made Nancy tick. After working her way through the awkward transition of freshman year, Nancy found her groove in school. She held a memorable summer job at a beautiful winery on the Finger Lakes and she earned a degree in telecommunications management, a blending of TV production and business, and a degree that seems tailor-made to prep her for the path leading to her current job, running the flagship Discovery network.
After college, Nancy drove out to LA and roomed with a bunch of young women in Beverlywood. "I was lucky to have a cousin in the business who literally pulled out her Rolodex and started calling everyone she knew trying to get me a P.A. job," Nancy says. "I wound up as a production secretary on a VH1 celebrity show called Naked Café. I answered phones, cleaned out coffee mugs and transcribed interviews. When I complained to my cousin about the banalities of the job she gave me some great advice. She said, 'Listen to what they are asking in the interviews and think about what you would have asked.' It was a total mind shift."
Being a freelancer in the early days of cable, Nancy worked as a researcher and booker on lifestyle shows for HGTV and Food Network as well as a crime show called Save Our Streets. "The point of the show was to take a crime that was bad that eventually turned into something positive," she recounts. "To find those stories, I had to read through a lot of awful stories. It was hard to sit all day and read about the worst of humanity. Some [victims' families and survivors] were happy when you called and some were suspicious of exploitation. I often found myself at this unexpected crossroads wondering how to be a good producer and a good person on any given day."
Daniels always cared about the content she worked on. She chose carefully, looking for that mix of freedom and joy that would balance the long hours of her own demanding work ethic.
"I remember when I was 24 years old, working on a show called INNtimate Escapes for TLC, a travel show about small luxury inns all over the world," she says. "Our little production team felt like a rock band touring the world. My camera guy was always so calm, kind and supremely talented. We would drive through the French countryside getting to know each other. Almost 20 years together now, we're married and raising two boys."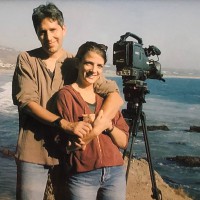 Daniels and I talk about our experiences raising kids. We trade philosophies, struggles and the hopes we hold onto for them. The more you talk to Nancy, the more you tap into her deep understanding of the human condition and the world around her.
Adulting (before 'adulting' was a thing) seemed to come early for Daniels. Married at 27. A mom at 30. Swimming in the deep waters of network development at CBS soon after.
"I didn't know what I was getting into," she admits. "Ghen Maynard was a great mentor, prolific and also tough. Four months after he brought me in he told me he was going to NBC. I was practically holding onto his leg as he walked out the door. It was a huge sink or swim moment. I'm forever thankful and grateful he gave me that opportunity. It made me stronger."
Eventually, Daniels decided to head back to the world of production. "I remember we were in a late-night screening and I missed a call from my husband that our son was sick and they were headed to Urgent Care. Later that night I told Ghen through tears I can't do this network job anymore."
Nancy stayed on for nine months longer until the development department at CBS was staffed and settled. As she was transitioning out, another recruitment opportunity presented itself for the head of a new production division called Discovery Studios.
"I ran the studio for a year, and then Eileen O'Neill, who was overseeing TLC, asked me to come aboard and run production and development. There was a part of me that said I had sworn off networks. It was a tough decision. However, I knew there were a lot of really good people inside Discovery."
Daniels goes on to talk about how her experiences as a producer really prepared her for various roles working inside a network. "Producing is really difficult," she emphasizes. "I'm not sure the network machine always understands or truly appreciates that. I have an underlying understanding of how hard it can be and how it all works. It helps me speak a language the producers can understand and respect."
Daniels is widely credited with helping TLC weather some difficult times and turning things around. A quick Google search will produce a very long string of hits that will back that up. When asked, she cherry-picks two particular experiences (among many) that stuck with her. "Launching Cake Boss and seeing this little baker from Hoboken become a huge star just reinforced the power of what we do," she says. "When success happens to good people like Buddy, it's always great to be a part of that."
"I remember launching Sarah Palin's Alaska," she adds. "I had to fight externally to win the project and internally to address some of the broader concerns at Discovery. Not everyone wanted to do it. It stirred a lot of emotion in people. By sheer will we got the show through the process, the ratings were huge and it calmed a lot of concern."
The most recent opportunity that came calling for Nancy arrived when she was asked by David Zaslav to run the flagship Discovery network. "When I got the call to run Discovery it was a complete surprise," she recalls. "On one hand, it's like, holy shit, they think I can do this job. That's an amazing honor. It was also really emotional for me to leave TLC and the team with whom I had accomplished so much. And Discovery was in transition. You have that moment where you question yourself — can I do this all over again?"
A year into the job, Daniels grows excited when talking about the great stories and adventures she hopes to bring to the channel. "Discovery is such a strong brand and people love being associated with it. [On Discovery] you are watching something cool, it's opening up the world to you in a whole new way. We are working on some major explorations that, if we can pull [them] off, will change history," she enthuses. "I'm not afraid to make these huge bets because that's the job; however, I don't make those choices without asking a lot of questions and looking at it from all sides."
Nancy has always been a deep thinker and can sometimes be hard to read. She is also extremely humble, warm and unapologetically blunt when the situation calls for it. And despite all the resources at her disposal, she still holds the values of her 10-year-old self who knows that sometimes the greatest opportunities in life are not the ones that find you, but the ones you dare to discover.