Toni Myers, a pioneering Canadian filmmaker whose work includes 18 IMAX films, has died at the age of 75. She passed away at her Toronto home on Monday, Feb. 18 after a late-stage cancer diagnosis in October.
She was appointed to the Order of Canada last week during a private ceremony in Ottawa. "Her body of work has showcased the vastness and beauty of the universe and has encouraged us to care more about our planet," read a statement accompanying the announcement.
Throughout her 40-year career, Myers was involved with directing, writing, producing and editing IMAX films including A Beautiful Planet (2016), Hubble 3D and Space Station 3D (2002). The latter of those was the first IMAX 3D production filmed in space.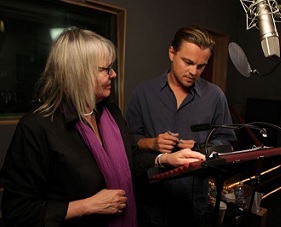 Born in Toronto, Myer's filmmaking career began in London working on music films in the 1960s. Her work there eventually led to an invitation from IMAX co-founder Graeme Ferguson to return to Canada to work on the world's first IMAX film.
In addition to working with the likes of Leonardo DiCaprio (pictured above), John Lennon and Yoko Ono (pictured bottom right) and Jennifer Lawrence, Myers also trained around 150 astronauts and cosmonauts in filmmaking during 24 space missions.
Most recently, the Giant Screen Cinema Association (GSCA) named her as a recipient of its 2018 Outstanding Achievement Award for her contributions to enhancing the immersive cinema experience.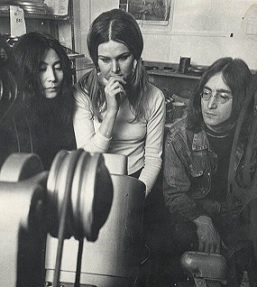 "On behalf of the entire IMAX family, we are deeply saddened by the passing of Toni Myers and send our heartfelt condolences to her family and friends. Toni's incredible contributions to IMAX's legacy and the world of film are only matched by her passion, kindness and unique ability to inspire hope in others through storytelling," said IMAX CEO Richard Gelfond in a statement.
"For 25 years, I was fortunate to call Toni a dear friend and I know I echo the same sentiment as anyone who has crossed paths with Toni when I say she was truly one-of-a-kind and will greatly be missed," he added.
A private cremation was held earlier in the week, while a celebration of her life will take place in the spring. She was married to painter and filmmaker Michael Myers, who passed away in 2010. She is survived by her son Jackson Myers and step-daughter Micki Myers.
From Playback Daily