Most people dream of becoming professional athletes, but a new competition format asks contestants to go one step further and defeat the pros.
CBS's forthcoming sports competition series Million Dollar Mile shuts down streets of major cities to put up obstacle courses. In each episode, ordinary athletes, or "Runners," work their through the extremely difficult obstacle courses, and if they make it through, they win US$1 million. But there's a catch. Standing in their way are "Defenders" — professional athletes doing their best to stop them from making it to the finish line.
The series is executive produced by Allison Grodner and Rich Meehan for Fly on the Wall Entertainment, and LeBron James and Maverick Carter for SpringHill Entertainment, as well as Warner Horizon Unscripted & Alternative Television.
Million Dollar Mile premieres tonight (March 27) at 9 p.m. ET/PT on CBS.
Realscreen got in touch with EPs Grodner (pictured below, left) and Meehan (right), co-founders of Fly on the Wall, to talk about the show in the lead up to its premiere.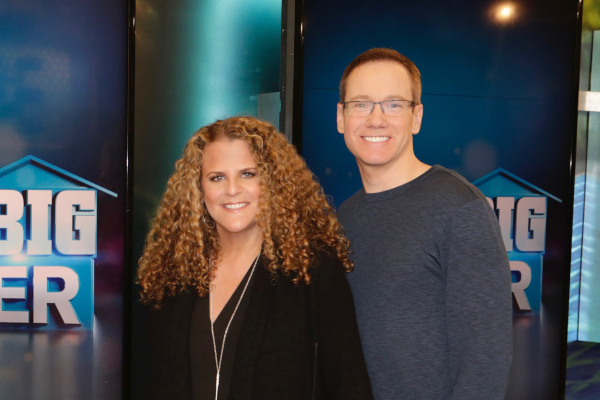 This interview has been edited for clarity and length.
How did Million Dollar Mile come into existence?
The concept and format for Million Dollar Mile was developed internally. We had been working on how to reinvent the sports competition genre and started playing with the idea of a chase meets a game show. We really wanted to create something that hadn't been done before. It was important to us that it felt and looked completely different from anything currently on television. Million Dollar Mile is a sports competition meets game show meets action movie.
How did you pitch it to CBS?
We have a strong relationship with CBS through our many seasons of producing Big Brother. We are always looking for new ways to grow our partnership with the network and Million Dollar Mile seemed like a perfect fit. Sharon Vuong and the team at CBS understood the concept immediately and embraced our vision for the show.
What were some of the challenges you encountered producing this series?
We had to figure out how to create a mile long race with many large-scale obstacles in the middle of downtown Los Angeles. Once we found the perfect location, we had to tackle the unique issues of filming and lighting the Runner running, the Defender chasing, and our host and correspondents giving real time commentary on stage simultaneously.
How did LeBron James become involved?
LeBron James and Maverick Carter's SpringHill Entertainment is all about creating content that is aspirational and entertaining, which is 100% part of Million Dollar Mile's DNA. Not to mention, the series has created a new sporting event that showcases both world class and everyday athletes, so they were on board with the concept of the series from the jump. Their involvement has really allowed us to pull in key players and garner interest in this show that we're all really excited about.
How does having such a big name producer play into your marketing strategy?
Having LeBron, Maverick, and the SpringHill team's input on this show has been invaluable with their experience, their creative thinking, and their connections. We were able to do a really captivating spot with LeBron on Super Bowl Sunday that allowed us to cut through the noise on such a busy day in the marketing space and start building some buzz around Million Dollar Mile. LeBron and the SpringHill team have really elevated the series in every possible way.
How does this series align with Fly on the Wall's brand?
Fly on the Wall is all about quality programming, compelling storytelling, and producing the impossible. We aspire to create and execute content that is fresh and exciting and continues to expand the unscripted genre. Million Dollar Mile exemplifies all of these things.
Watch an exclusive clip of Million Dollar Mile's premiere episode below: