American broadcasting company A+E Networks held its 2019 Upfront presentation at the Jazz at Lincoln Center in New York yesterday (March 27), announcing new programming slates for its History, A&E and Lifetime channels.
Read a summary of the upcoming programs for each channel below:
HISTORY
History will premiere several new series in the coming year, ranging from popular science programming, to docudramas, to live events.
The UnXplained (working title) will explore unexplained phenomena and seek to solve strange and fascinating mysteries, including Florida's Coral Castle, Japan's "Suicide Forest," extraterrestrial sightings and bizarre rituals.
The 6 x 60-minute series is hosted by Star Trek's William Shatner, who also serves as executive producer alongside Kevin Burns for Prometheus Entertainment and Susan E. Leventhal for History.
Two new six-hour docudramas will also make their way to History. Washington (w/t; 3 x 120 minutes) tells the lesser-known story of America's first president, George Washington, using excerpts from his letters, dramatic live action sequences and insights from experts. Washington is produced by Railsplitter Pictures. Doris Kearns Goodwin and Beth Laski serve as executive producers through their Pastimes Productions. Matt Ginsburg and Tim Healy serve as executive producers for Railsplitter. Jennifer Wagman, Zachary Behr and Mary E. Donahue are executive producers for History.
Meanwhile, The Food That Built America (w/t; 6 x 60 minutes) tells the story of the food companies and innovators who changed the American culinary landscape, looking at iconic figures like Henry Heinz, Milton Hershey, John and Will Kellogg, C.W. Post and the McDonald brothers. The Food That Built America is produced by Lucky 8. Greg Henry, Kim Woodard, Isaac Holub and Yoshi Stone are executive producers for Lucky 8. Jim Pasquarella is executive producer for History.
Elsewhere, History will kick off its third annual 'Car Week' with the live television event Evel Live 2, in partnership with Nitro Circus, premiering July 7 at 8 p.m. ET/PT. The live event will follow athletes, including champion freestyle motocross athlete Axell Hodges and female freestyle motocross athlete Vicki Golden (pictured, below) as they set out to break world records with three motorcycle stunts. Trip Taylor, Dave Mateus and Andy Edwards serve as executive producers for Nitro Circus Media Productions. Zachary Behr, Mary E. Donahue and Eli Lehrer are executive producers for History.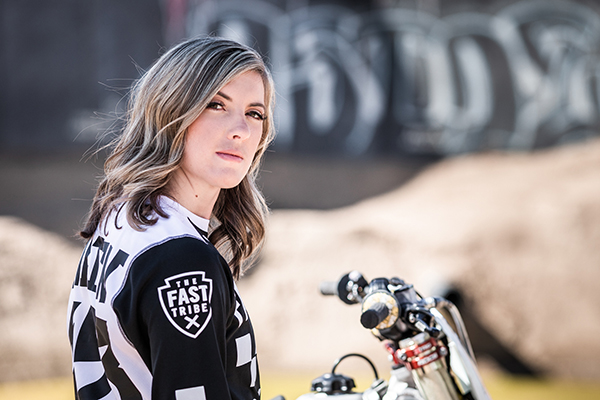 'Car Week' will include Battle of the 80′s Supercars with David Hasselhof (w/t), Chuck Norris's Badass Guide to Military Vehicles (w/t), Live PD Presents America's Top Police Vehicles (w/t), American Pickers, Counting Cars: Detroit Special and The Lost Corvette.
Lastly, History's In Search Of will be returning, hosted once again by Zachary Quinto. The series, inspired by the '70s franchise hosted by Star Trek's Leonard Nimoy, is produced by Propagate Content, Universal Television Alternative Studio and Before the Door Pictures with Fremantle distributing the series globally. Quinto serves as executive producer, alongside Ben Silverman, Howard Owens, Scooter Yancey, Brett-Patrick Jenkins and Laurie Girio for Propagate and Zachary Behr for History.
History also revealed plans to launch new experiential brand initiatives to expand the network's reach across the U.S. The initiatives are HISTORYTalks, a traveling speaker series; HISTORYSpeaks, a podcasting initiative that will act as companions to History series; and HISTORYCon, a three-day convention to be held at the Pasadena, California Convention Center, and featuring talent from various History series.
A&E
A&E Network has greenlit a competition series featuring working K-9s and their handlers who compete against their amateur counterparts.
From MGM-owned prodco Big Fish Entertainment comes Top Dog (w/t), a series that features fan-favorite K-9s, a.k.a. police dogs, in addition to new furry faces as they battle in head-to-head competition through multiple rounds on a full-run K-9 course.
Each episode of the series will see these furry protectors, accompanied by their handlers, as they are tested on their agility, speed, and skill all while competing against the nation's top competitive civilian canines, with the winning dog crowned "Top Dog."
Executive producers for Big Fish Entertainment are Dan Cesareo, Lucilla D'Agostino and Jordana Starr. Executive producers for A&E Network are Shelly Tatro, Sean Gottlieb and Brad Holcman. A&E holds worldwide distribution rights for Top Dog.
Returning to A&E Network is the Emmy Award-winning strand 'Biography.' Six-time CMA Entertainer of the Year  Garth Brooks is the subject of the four-part special, Garth: The Road I'm On (w/t). The program is slated to air on the network in Q4 2019.
LIFETIME
On the heels of its acclaimed docuseries Surviving R. Kelly, female-focused network Lifetime has greenlit a roster of unscripted programming that continues its commitment in sharing women-led stories.
Following the 2018 film detailing the untold story of Elizabeth Smart, Lifetime has ordered the 90-minute documentary Smart Justice: The Jayme Closs Case. The special features Smart's exclusive interviews with key figures in Closs's case and rescue. Additionally, Smart brings together six other high-profile victims of abduction for a roundtable discussion to help tell Closs's story. Smart Justice: The Jayme Closs Case premieres April 27 at 8 p.m. ET/PT.
Elsewhere, Lifetime has greenlit a docuseries featuring three-time gold medalist Aly Raisman (main image) who provides a platform for other victims of sexual assault and their journey as survivors. From Darkness to Light is produced in-house by A+E Originals and Emmy winner Leah Remini's No Seriously Productions. Raisman serves as executive producer alongside Remini.
Additionally, Lifetime has ordered the documentary series Hopelessly in Love, which will join its unscripted slate next year. Each two-hour documentary film will explore the highs and lows of the world's most famous couples, and the untimely deaths that plagued each relationship. Featured partners include Anna Nicole Smith and Larry Birkhead; Notorious B.I.G. and Faith Evans; Lisa "Left Eye" Lopes and Andre Rison, and more.
Global parenting/family expert Jo Frost, meanwhile, will return to television screens in 20 all-new episodes of the award-winning series, Supernanny.
Finally, Lifetime has also partnered with the Association of National Advertiser's (ANA) #SeeHer initiative to help foster programming that portrays more accurate and positive depictions of women in the media.