As content distributors and creators prepare to descend upon the Croisette in Cannes for the 55th annual MIPTV market, running April 8-11, realscreen presents its annual round-up of "new to the market" non-fiction and unscripted titles heading to the French Riviera next week.
For selections from our editorial team, check out our 2019 MIPTV Picks (parts one and two). Keep an eye out for parts two and three of our Shopper's Guide, coming later this week.
LOOKING GLASS INTERNATIONAL
The Melbourne-headquartered boutique television and film distribution company is heading back to the Croisette with a raft of factual television and documentary titles.
Highlighting Looking Glass' factual slate are Spiky Gold Hunters (6 x 60 minutes; Pango Productions), detailing the exploits of six free divers as they battle the treacherous waters of Southern New Zealand to deliver one of the world's most expensive delicacies, a unique sea urchin, to fine diners around the globe; and lifestyle docuseries Village to Villa (13 x 30 minutes; Village To Villa Productions), which follows the travels of pet and house sitters Gai and Neil as they live like locals in five different countries over a year-long adventure.
Documentary titles heading to the French Riviera include investigative wildlife film Save This Rhino (2 x 60 minutes; This Film Studio), which documents former English cricketer Kevin Pietersen and outback wrangler Matt Wright as they head to the front lines of rhinoceros poaching in South Africa in an attempt to protect the species for future generations; feature-length doc Gladesmen: The Last of the Sawgrass Cowboys (1 x 90 minutes; A David Abel & Andy Laub Production), about the U.S. federal government's ban on Florida's airboats in much of the Everglades in an effort to repair the damaged ecosystem; and Michelle Obama (1 x 60 minutes; An Entertain Me Production), which provides intimate insight into the journey of the former First Lady of the United States from a working-class family on the south side of Chicago to the White House.
DISCOVERY, INC.
Discovery Program Sales, which represents the TV broadcasting rights to Discovery Inc.'s portfolio of networks, is returning to the French Riviera with a host of premium non-fiction programs to its name.
Anchoring the company's slate is the investigative docuseries Why We Hate from acclaimed filmmakers Steven Spielberg and Alex Gibney. The 6 x 60-minute project, produced by Amblin Films, examines the human capacity for hatred, drawing on ground-breaking research in psychology, neuroscience, evolutionary science and history.
Further titles heading to the Cannes market this April include Silicon Valley: The Untold Story (3 x 60 minutes; Kikim Media), offering a comprehensive look at the history of America's hub of innovation, revealing how and why Silicon Valley became fertile ground for technological breakthroughs; the 120-minute documentary Above and Beyond: NASA's Journey to Tomorrow (pictured, below) from Moxie Films, which examines the role NASA plays for our planet while investigating current initiatives and surveying future plans; and Giada on the Beach (7 x 30 minutes; Linguine Pictures), which follows Giada De Laurentiis and her daughter Jade as they head to the coast to cook up delicious, casual meals in the kitchen and around the grill.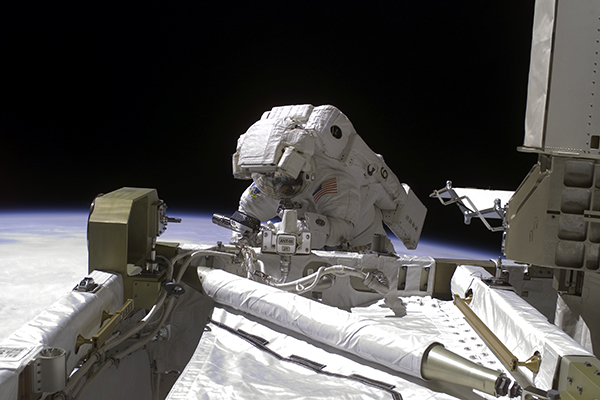 SCORPION TV
London-based indie content distributor Scorpion TV is heading to the Croisette with hard-hitting current affairs documentaries and series.
Inside Britain's Black Market (1 x 30 minutes; produced by TI for BBC3) peels back the curtain on the black market that operates on both Britain's streets and online, exposing the criminals who are flooding the country with fake goods. Also produced by TI for BBC3 is Inside the Real Saudi Arabia: Why I Had to Leave (1 x 45 minutes), which follows Saudi-born UK fashion stylist Basma Khalifa on whether or not she could return to her home country of Saudi Arabia.
In a second representation deal, Scorpion has acquired Britain: A Year of Hate Crime (1 x 45 minutes; produced by Century Films for Channel 4). The documentary charts the increase in hate crimes against British Muslims in the aftermath of the Manchester Arena bombing.
Also headed to MIPTV with Scorpion is Great Decisions 2019 (13 x 26 minutes; produced by the Foreign Policy Association for PBS in the U.S.), which features interviews with powerful figures, in addition to tackling global issues like populism, climate change and nuclear negotiations.
A final deal with indie Dutch producer and director Tim van den Hoff sees the documentary Monumental Crossroads: The Fight for Southern Heritage (54 minutes) join Scorpion's catalog of current-affairs programming. The film follows the legacy of confederate monuments in the American South.
BARCROFT STUDIOS
Indie factual producer Barcroft Studios' slate for the MIPTV market includes a documentary, along with four new long-form television series.
Anchoring the studio's slate  are acclaimed documentary Sleeping with the Far Right (1 x 60 minutes; Channel 4) follows British broadcaster Alice Levine as she attempts to spend a week with a radical racist family to see how their everyday lives are shaped by their beliefs; and Too Fat to Dance, which follows dancer Charity Holloway and her plus-sized female dance troupe travel to a different city each week to audition and train a new group to dance in a performance of a lifetime.
Meanwhile, couples who are on a mission to find acceptance for their unusual relationship are the subject of the series Love Don't Judge, while YouTuber Big Lew sets out in the new food review show, Sickest Eats, where he heads across UK's foodie hot spots, tasting some delicious delights.
Finally, Homes on the Edge (pictured, below) follows modern-day amateur pioneers who are making their dream of wilderness-living a reality. Their journey will test the strongest of relationships as couples pour their time, money and resources into fulfilling their dreams.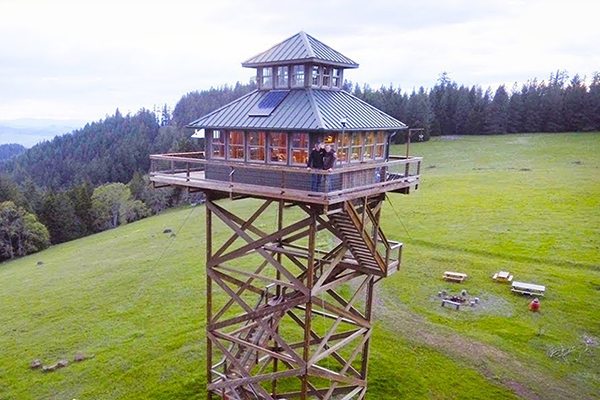 FRANCE TV DISTRIBUTION
France TV Distribution will be bringing a portfolio of documentary projects to the shores of Cannes at both MIPDoc and MIPTV next week.
Highlighting the sales house's catalog is Trees: A Global Superpower (1 x 90 minutes), produced by Hauteville Productions, which reveals a largely unknown world, from the molecular to the planetary scale, through the combination of photography and animation.
Pernel Media's Extreme Lands (4 x 52 minutes), meanwhile, will look at how human inventions have been designed to thrive in nature. The docuseries explores an array of territories from Chile to Japan and everything in between.
"Blue zones", which are home to great numbers of hundred-year-olds is the subject of La Famiglia's docuseries The Blue Zone Longevity (4 x 52 minutes). The series follows a naturopath chef and a family practitioner who try unlock the reasons for this longevity. Their search leads them to numerous "blue zone" areas to find out what the secrets are of a longevity.
Finally, China's decision to reform its cultural and industrial policies in 1978 opened up the nation to the world. Now, China's Xu Li and France's Jérémy travel across the country with more than 30 stopovers and six thematic journeys in Etoile Noire's China Express (6 x 52 minutes) in celebration of the country 40 years on since its move on the world stage.
SKY VISION
Sky Vision, the production and distribution arm of Sky, is bringing a slew of factual titles to the sandy beaches of Cannes.
Famous & Fighting Crime (Blast! For Channel 4; 4 x 60 minutes), sees celebrities step out of their comfort zones to join the police on the front lines as they fight everyday crime.
In each episode of Puppy School (Red Sky Productions for Channel 4; 4 x 60 minutes), located at the stately home Chatsworth House, audiences meet three puppies and their owners as puppy trainers try to help them overcome a particular issue they are having with their pup.
If We Built It Today (Arcadia; 8 x 60 minutes) looks to answer the question of how we would construct humanity's greatest feats today, while also exploring the engineering, design, politics and high stakes of our greatest achievements.
The science and nature series Tide (Cwmni Da & Mac TV and funded by The Wales and Sky Vision Entertainment & Factual Fund; 3 x 60 minutes), explores the powerful and mysterious natural force of tides.
Sky Vision will also be representing several true crime titles: Forensics: The Real CSI (Blast! Films for BBC2; 3 x 60 minutes; pictured, below) charts how individual pieces of evidence impact criminal investigations; and Inside Midlands Prison(Midas Productions for Virgin Media Television; 4 x 60 minutes) brings viewers inside Ireland's biggest prison.
Meanwhile, Murder For My Man (Jupiter Entertainment for TV On; 25 x 60 minutes) follows women arrested for crimes committed in the name of love; and Killer (Jupiter Entertainment for Sky Pick TV and HLN; 40 x 60 minutes) tells the stories of people driven to murder by a need for vengeance.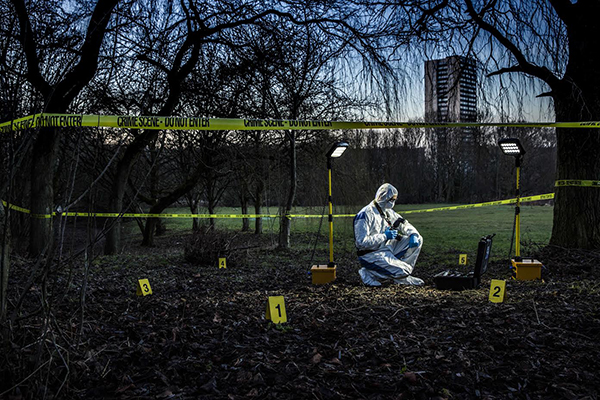 PASSION DISTRIBUTION
The London-based international distributor is bringing a slate of more than 150 hours of factual, entertainment and documentary titles to the French Riviera.
Headlining the factual entertainment slate is Mums Make Porn (3 x 60 minutes; for Channel 4), which follows the mothers of teenagers as they research the world of pornography to produce their own adult film; The Sex Clinic (6 x 60 minutes; for E4) in which a host of experts tackle young people's sexual health issues; and The Customer Is Always Right (15 x 60 minutes; for BBC1), in which the successes of an entrepreneur's invention lies in the hands of a cast of returning customers. All three titles are produced by London production outfit Firecracker Films.
New entertainment programming includes the fact-ent series My Family Secrets Revealed (15 x 60 minutes; Big Mountain for C4), which features a team of genealogical and historical experts pouring over family records to reveal heartwarming stories about long lost relatives.
Headlining Passion's documentary slate are a selection of human-interest programs that include Miriam's Deathly Adventure (2 x 60 minutes; Wild Pictures for BBC2), which chronicles actress Miriam Margolyes on a journey to confront her fear of ageing and death; World's Deadliest (13 x 60 minutes; Back2Back Productions for 5Spike), which focuses on user-generated content to explore how split-second decisions can make the difference between life and death; Grime and Punishment (6 x 60 minutes; Lambent Productions for Channel 5), which follows Britain's grime fighters as they tackle dirty restaurants, dumped garbage and filthy homes; and My House and Other Animals (2 x 60 minutes; Lambent for C5), which documents stories of those who open their homes to wildlife and animal rehabilitation.
Passion's lifestyle titles, meanwhile, will include Best Christmas Food Ever. The 10 x 60-minute series from Hungry Gap Productions for BBC1 features Michelin starred Chef Paul Ainsworth and home cook Catherine Fulvio as they host a festive feast of seasonal dishes worthy over the Christmas period.
3BOXMEDIA INTERNATIONAL
The Spanish-German distributor is bringing a handful of wildlife titles and politically charged-feature length documentaries to this year's France-based television confab.
On the wildlife front, Saliega's Lineage: The Return of the Iberian Lynx (pictured, below; 1 x 48 minutes; 1080 Wildlife Productions) follows efforts to protect the most endangered feline species on the planet, the Iberian Lynx, while The Magic Forest of Spain (1 x 50 minutes; Tierraviva) chronicles a near-mythical forest outside of Madrid with one of the most fruitful ecosystems on the planet.
3Boxmedia is also presenting I Am the Revolution (1 x 52 or 74 minutes; Possibile Films and Rai Cinema), which premiered at DOC NYC and tells the story of three women leading the fight for gender equality and freedom in Iraq, Afghanistan and Syria. Additionally, One Girl (1 x 52 or 64 minutes) follows four young girls over the course of a day, each living in a different country — South Sudan, Romania, Palestine, Finland — but sharing a time zone.
Finally, Battle of Social Networks (1 x 52 minutes; La Kaseta) looks at the ways in which social media threatens the very fabric of democracy, using the example of the unauthorized independence referendum in Catalonia in 2017.